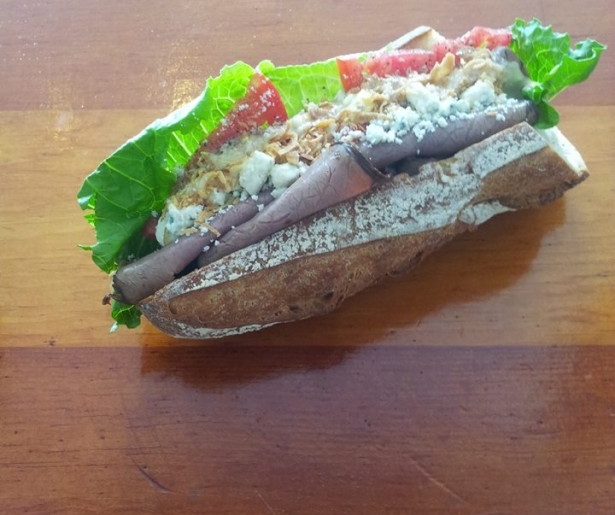 SHARE
Sometimes, you want ingredients slapped between two pieces of bread that does not involve Leidenheimer or Dong Phuong or fried shrimp or roast beef or debir or lettuce, tomatoes and mayo; in other words, sometimes you want a sandwich but not a po'boy.
Put away your pitchforks, people: I love a po'boy as much as the next guy. Just saying there's other ways of making a sandwich. Here's a list of folks doing a smash up ob of it in New Orleans.
Stein's , 2207 Magazine St
Stein's is, hands down, the best deli in New Orleans. That's 'deli' in all its incarnations, from the Jewish version of chopped liver, pastrami, corned beef and brisket and rye bread, to the Italian version with prosciutto, capicola and salami; plus, great meats and cheeses and bagels behind the counter and a well stocked beer fridge.
Satsuma, 3218 Dauphine St and 7901 Maple St
We're not the healthiest city when it comes to food (or, OK, much of anything), but Satsuma is a bulwark against fried food and grease. That's not to say it isn't delicious; the pear and brie melt and turkey with a hummus and pesto spread are addictive, but you don't quite feel like having triple bypass surgery when you're done with them.
Central Grocery, 923 Decatur St
The home of the muffuletta, the only sandwich in New Orleans that could conceivably claim more name recognition than a po'boy. Plus, while po'boys can be found across much of the Gulf South, the muffuletta is an entirely localized phenomenon. Also, those sandwiches are the size of a freaking barn door. You will not walk away hungry.
St James Cheese Company, 5004 Prytania St
What's the point of the delicious delivery system? You can have the best bread in the world, but if a sandwich doesn't have fresh greens and good meat and cheese in the middle, it's just two tasty plates. Enter St James, which prides itself on providing some of the finest cured meats and cheese in the city. Seriously; walk in here and the smell causes the old drool sensors to start operating in overdrive.
Mister Gregory's, 806 N Rampart
Mister Gregory's is a new and welcome addition to the New Orleans restaurant scene. In some ways, this place is as French as a croissant singing La Marseillaise – the crispy baguette sandwiches stuffed with Dijon, roast beef, fried shallots and bleu cheese, pictured above, or just 'good French butter' if you please – but in other ways (the tatted guy behind the counter and the general anarchic sense of DIY-meets-delicious) it's True Orleans. Visit this spot for your next lunch.
Images by Mister Gregory's.