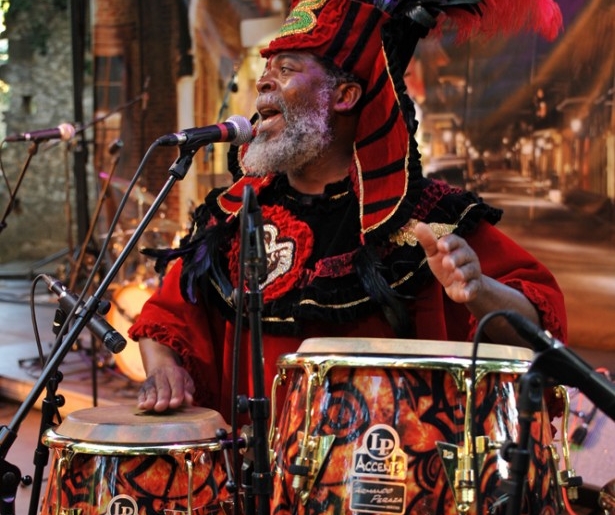 SHARE
At the Donald Harrison Sr. Museum (1930 Independence St), I sit near a pair of Mardi Gras Indian suits, lush with feathers, silk rosettes, and intricate beadwork sewed by unbelievably expert hands. It's like being near medieval armor, or 18th century Japanese scroll paintings; you almost can't understand how an actual person, with thumbs and fingers just like yours, once created these objects.
But for Cherice Harrison-Nelson, facilitator of an upcoming panel on Mardi Gras Indians at the University of New Orleans, these transcendent feats of design are just facts of life.
"Being part of this tradition is like a spiritual calling. Once you're called to do it, you're helpless," she says. "It's in the environment, it's what you do."
With their flamboyant suits and arresting chants, the Indian tribes are another piece of New Orleans discovered by the popular media in the post-Katrina era. Appearing in Treme and at national-scale events like Jazz Fest, the rest-of-the-world, tourists and New Orleans newcomers have a vague understanding of the Indians as having something to do with Mardi Gras, and maybe Native Americans.
At a panel titled "Drum Circle: The Beat Goes On…", Harrison-Nelson wants to furnish the public with a deeper understanding of the Indians and the importance of keeping nearly two centuries of history alive.
"[The panel is] a public glimpse of what we do when we get together," she says. "I am a Mardi Gras Indian, so I know the people in the past. I'm not just asking questions, I know your mom an' dem." She mentions "bridge" Indians, who were alive in the first part of the 20th century, who knew the Indians who came before them. It's a complex oral history based on memory, family lore and weathered black-and-white photography.
At the event, Harrison-Nelson, several Big Chiefs and other Indians will host a seated educational discussion. They'll explain "masking," some of the symbols they wear and talk about how things have changed from the time when a "drum" was a homemade tambourine made from beer caps stuck on a stick.
They'll also discuss the Indian connection to African culture, and how some of the traditional Indian songs mirror West African rhythms. Near the end of the night, they'll break into what Harrison-Nelson calls a "jam session," featuring Indians from ages four to seventy-eight.
"One of the things we want to do with this [event] is paint a picture of the Indians as regular people who do something extraordinary," she says.
Panelists will also speak to more contemporary issues of copyright and intellectual property. There's a recurring question of identification in photography, when photographers profit from pictures of unidentified Indians, or photographing children dressed in Indian regalia. It's bound to be a lively discussion for artists, anthropologists, and those getting to know the New Orleans that can't be picked up on a bus tour or from a travel guide.
"We're trying to change the paradigm…we want to sit people down and have them listen to our voices," she says. "We have to take ownership of our culture and the ways that it's presented."
Drum Circle: The Beat Goes On… will take place on Fri., Oct. 4, at UNO's Sandbar venue at 6 p.m. The event is free, but reservations are highly recommended due to limited capacity. To make reservations, contact 504-214-6630 or queenreesie@gmail.com.
Another celebration of Indian culture will take place the following night at Tipitina's, when the Mardi Gras Indian Orchestra will collaborate with cellist Helen Gillet and the Francophone Cajun band Sweet Crude. For more information on that event, click here.
Images of the Mardi Gras Indian Hall of Fame.