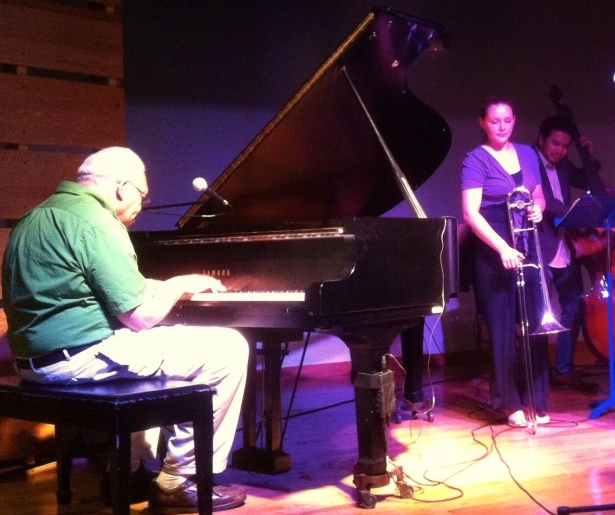 SHARE
Jazz appreciation takes some work.
The study has rich rewards, producing active listeners who hear not just pleasant sounds but improvised artistic expression. But where to begin?
The first jazz record was released less than a century ago, but the experimentation and improvisation that are integral to jazz have produced a broad array of styles that can prove daunting to a new listener.
One great way to get started as a student of jazz is to listen to students of jazz. At the University of New Orleans, the Jazz at the Sandbar series provides a low-cost way to be entertained and exposed to fresh sounds while experiencing the development of technique along with the students.
The fall series of Jazz at the Sandbar begins today, with a guest appearance by UNO professor emeritus and jazz education icon Ellis Marsalis. The performance will take place from 7 p.m. to 9:30 p.m. at The Cove on Founders Road on the UNO Lakefront Campus. General admission is $5 at the door, with proceeds going to the George Brumat Memorial Scholarship Fund. Campus parking enforcement is suspended for the lot near The Cove during the event.
Marsalis established Jazz at the Sandbar in 1990 to provide UNO jazz studies students an opportunity to get real-life experience performing with respected professional musicians in front of a live audience. Concerts are presented on Wednesday nights during the fall and spring semesters and feature a different guest artist each week.
On Wednesday, Marsalis will join jazz studies students Amber Matthews, Jeronne Ansari, Albert Allenback, Glenn Hall, Jordan Baker, Tanarat Chaichana, and Peter Varnado, under the direction of assistant professor Victor Atkins.
Those who follow the New Orleans music scene closely will recognize the names of several of the UNO students, who are already familiar faces on the city's bandstands. Still, repeat visitors to Jazz at the Sandbar will clearly hear the progression as these fine young musicians expand the depth and breadth of their craft. They can be counted on to give their best performances, because their friends and teachers are in the audience, and their heroes are playing along with them.
The Cove has garage-style walls that are opened to the nicely landscaped courtyard when the weather allows. Food and drink, including beer and wine, are served at a counter that stretches back away from the stage. Seating is ample.
Later this fall, the scheduled guest artists are:
Oct. 9, trumpeter Ashlin Parker, a UNO alumnus
Oct. 16, saxophonist Dmiry Mospan from Russia
Oct. 23, drummer Johnny Vidacovich
Oct. 30, UNO professors Steve Masakowski, Ed Petersen and Victor Atkins
Nov. 6, Don Vappie, playing guitar and banjo
Nov. 13, pianist Jeff Gardner from Brazil
Nov. 20, trumpeter Randy Brecker.
Above image: Ellis Marsalis performing with Emily Fredrickson and Tanarat Chaichana from Jazz at the Sandbar, Oct. 3, 2012. Cover image of Johnny Vidacovich.