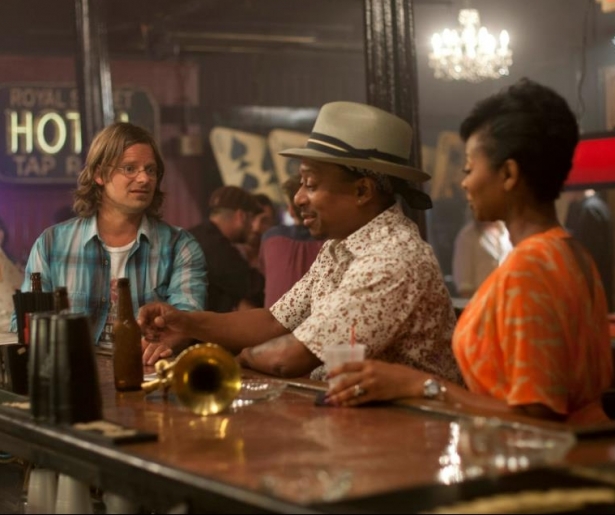 SHARE
Offbeat bids a bittersweet farewell to Treme this week. From their story:
"We joked about Davis getting married next month and ruminated on which local musician received the biggest boost from Treme's run. John Boutte was the consensus pick but it was a difficult choice because so many local musicians were cast into new relief by the international exposure the series has given them."
If we pull back the camera above the city's musicians, I'd say that sentiment represents one of the best things Treme provided for New Orleans as a whole: casting the entire city into new relief. Giving the whole of the greater New Orleans metropolitan area some international exposure.
Still, there were times said exposure was problematic, and I'm not talking about the depictions of violent crime and corruption, both of which I thought were well (excuse the term) executed. Rather, I got annoyed with Treme when it tried too hard to be local, when every episode felt like a NOLA-themed cameo parade — "Oh, hi Kermit Ruffins! Are you eating gumbo z'herbes from Dooky Chase Leah sure can cook!" I feel like this New York Review of Books piece nails those issues. If you don't feel like going through the whole piece (I highly recommend you do; it's an excellent analysis of both the show and the city's relationship to the tourism industry), these are the grafs that stuck out to me:
_"Treme is tremendously concerned with being authentically New Orleanian, and also with distancing itself from whatever is inauthentically New Orleanian. Every distinctive pattern of speech ("What that is?" instead of "What is that?"), every bit of local nomenclature ("Lower Nine" for the Lower Ninth Ward), every native foodstuff, seems to appear somewhere in the [first season's] ten episodes. Characters effortlessly pronounce place names that defeat newcomers, like Natchitoches and Tchoupitoulas. Conversely, Treme takes pains to make fun of "When the Saints Go Marching In," Bourbon Street, Sazeracs, the most famous but least cool Mardi Gras parades, such as Rex and Endymion, and anything else that unschooled tourists associate with New Orleans.
The procession of New Orleans signs and signifiers is relentless to the point of being exhausting; I found myself longing for a character just once to sit down for a meal and have a hamburger and a Coke instead of mirlitons and a Barq's. Also, the line between insider and general-public taste is difficult to maintain strictly; Treme has to note, and can hardly be against, red beans and rice and gumbo, Mardi Gras and jazz funerals, Jackson Square and the Mississippi River, but you can't get ten yards down the airport concourse after deplaning without being made aware of these. Most of the classic artistic renderings of New Orleans—A Streetcar Named Desire, Walker Percy's The Moviegoer (which John Goodman's character is seen reading—in a first edition!), or John Kennedy Toole's A Confederacy of Dunces—didn't work nearly so hard to be local, and neither did The Wire."_
***
Of course, we at New Orleans & Me are also doing our damnedest to answer the question; what is 'real' New Orleans? What does that mean to a visitor? A local? Who draws the lines between insiders and outsiders?
There's a rule of thumb when it comes to 'knowing' New Orleans that states your nativeness is measured by your knowledge of local joints. Clearly, as editors of a website devoted to local businesses, we espouse this point of view. To a degree. New Orleans, after all, is a city made of local joints, a city largely lacking in big chains that can be found just west or north or east of here in Metairie or Slidell or Mandeville. A newcomer can know those cities with a bit of ease because they consist, to a much larger degree, of Anywhere, America (McDonald's, Pizza Hut, pre-fab, Target) than New Orleans. But you can't just stroll into Orleans parish and order a Big Mac over a Port of Call. That's a bloody travesty.
Then again…look, I'll admit it: I'm pretty convinced the best fried chicken in this city comes out of a Popeye's, and while that's a local chain, it's still a chain. It's not Willie Mae's. And while not all locals would agree with me, I know many who share this sentiment. Are we less New Orleanian for that? Or have we gone through a rabbit hole where we end up being a little more New Orleanian because, occasionally, we opt for the convenient chain over the shack-esque local business, like any real person?
The point is: New Orleans is a city made up of plenty of local signifiers. Knowing these signs is an important element when it comes to understanding the city, but it's not the only facet of NOLA identity. I love listening to brass music, but I'll pop on some Carly Rae Jepsen (I admit it!) when the mood strikes me.
That said, we salute Daivd Simon and Eric Overmeyer for bringing Treme, and our town's native culture, as represented by priceless local symbols like Leah Chase and Kermit Ruffins, to the world. Our city is better for having its story shared, and while the storylines on Treme were occasionally a little clunky, we'll miss watching new episodes in Buffa's backroom (see how we did that little local knowledge drop right there? Ah, nevermind).
Photo Credit: Treme