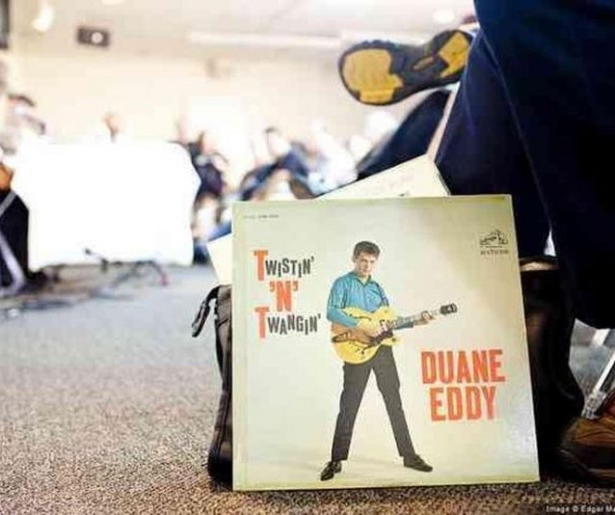 SHARE
There's no shortage of high profile music festivals these days. But if you're like me, the pure-corporate-excess environment of festivals like Coachella, Bonnaroo, and Lollapalooza doesn't always lend itself to a pleasurable concert, or series of concerts. Sure, it's all about the collective experience with one's fellow music lover, but between the heat, the close quarters, and the throngs of drug-induced, headband wearing college kids, I'd just as soon stay home and listen to my favorite artist on vinyl than squint to see them a football-field away.
Fortunately, in the last decade or so there's been in an increase in smaller niche festivals catering to genre (and genre fans) fromelectronic to hip/hop, jazz and punk, or in the case of this year's 11th annual Ponderosa Stomp Festival, roots music, particular the forgotten musicians of the 50's and 60's. After taking last year off, the weekend-long celebration of "the best music you've never heard of" returns Oct. 3rd-5th with a variety of events all over New Orleans.
Rock 'n' roll, soul, blues, R&B, garage, rockabilly, early punk — Ponderosa Stomp delves into the history of American roots music like few other festivals in the country, booking acts from a bygone era to perform for devoted followers and a generation of new fans. An assortment of legends will grace the stage at the Rock 'N' Bowl in Mid-City for an event dedicated to the oldies and the unsung heroes of American music. With its eclectic mix of entertainment options, as well as relatively cheap ticket prices, 2013's Stomp looks to be one hell of a good time. Here's a guide of what to see and why you should you check it out:
The Concert
Friday night presents an eclectic mix of bands, from sultry R&B divas Baby Washington and Maxine Brown, to the raw, propulsive garage rockers The Sonics. Also on Friday's docket: Swamp Dogg, this writer's personal pick for can't miss act of the festival. For decades, he's been one of the most idiosyncratic R&B talents out there, unafraid to satirize any subject, no matter how raunchy or taboo (also, at every record store I search for his album Swamp Dogg, simply because I remember reading about it being voted as one of the worst album covers ever, which makes it a must have!).
On Saturday, there's a definite emphasis on early rock and proto-punk bands. Two obscure west coast artists, rock 'n' roller Ty Wagner and short-lived garage band The Sloths, who reunited for the first time since 1966 last year, share the stage with the more prominently recognized California rock group The Standells, known for their smash hit single "Dirty Water" (a song perhaps most famous for being played at Fenway Park after every Red Sox victory). Another must-see is Philadelphia rockabilly legend Charlie Gracie, an American Bandstand regular and one of the most quietly influential pop stars of the 50's.
Why You Should Check It Out 2-day passes are available for $100 each, which is a steal for the variety of musical content you'll get for both nights, and single night tickets are $50 per ticket. Another reason; these acts had major impacts on the direction of popular music in the mid 20th century, and there won't be many more opportunities to see them live. Held at the Rock 'N' Bowl in mid-city (3000 S. Carrollton). Friday and Saturday night (Oct. 4th-5th). 8pm-2am.
Hip Drop VI: Stomp DJ Kickoff
Beyond the two days of performances, there is a lot going on at this year's festival. It begins Thursday night with Hip Drop VI, a DJ kickoff party at d.b.a.. Ten DJ's showcase old-school soul, garage, deep funk and R&B. The Hip Drop began as an unofficial Ponderosa Stomp event thrown the Monday before the festival by DJ Soul Sister, but has since been incorporated into the festival itself,
Why You Should Check It Out This isn't just collectors and archivists spinning old 45's for the sake of obscurity; these DJ's are here to make you dance. The atmosphere of drinks, oldies, and sweet, sweet vinyl will prep you for all the live music to come the rest of the weekend. At d.b.a., 618 Frenchmen St., Thursday, October 3rd. Starts at 10pm.
Film Screening of Muscle Shoals
Also Thursday: a special screening of Muscle Shoals, a documentary that chronicles the historical importance of several recording studios in Muscle Shoals, Alabama.. Starting in the 50's and 60's, these studios helped usher in the model rock 'n' roll era, recording hits from soul legends such as Wilson Pickett and Aretha Franklin, as well as generation defining bands like The Rolling Stones.
Why You Should Check It Out The documentary is a perfect way to learn about the rich southern history of American roots music that Ponderosa Stomp so proudly celebrates. Held Thursday, Oct 3rd, at the Contemporary Arts Center (900 Camp St.) in the Warehouse District. Doors open at 6:30 and the film starts at 7pm. Tickets are $10 general admission and $8 for CAC members and Stomp Music Conference attendees.
Music History Conference
Downtown, the Wyndham Riverfront New Orleans hosts both the Music History Conference and the festival's annual Record Show. The conference features discussions with historians, musicologists, and artists performing at this year's festival. Highlights include:
Total Destruction of Your Mind: Swamp Dogg Explains the Synthetic World A one on one conversation with Jerry Williams Jr., the man behind cult American soul artist Swamp Dogg, moderated by New York DJ and musician Michael Shelley (Thursday, Oct. 3rd, 3-4 pm)
Riot On The Sunset Strip A panel discussion with early underground punk and new wave artist Ty Wagner, as well as members from other California bands like The Standells and The Sloths. Rock and Roll Hall of Fame Museum education director Jason Hanley leads a discussion on the importance of early 60's garage and punk as a contrast to the folk/hippie movement that most tend to associate with the era (Friday, Oct. 4th, 2:45-4:15pm).
Heroes of the Ponderosa Stomp Historic Films archive director Joe Lauro's annual performance compilation showcasing vintage clips from this year's Stomp artists (Thursday, Oct. 3rd, 1:45-2:45pm)
Why You Should Check It Out A treat for any music history buff looking to learn from the legends themselves and the critics who study them, and a perfect way to gain context about many of the bands performing at the festival. For just $20 per day, you can see an entire afternoon's lineup of discussions, panels, and interviews, as well as treat yourself to lunch and free admission to the Ponderosa Stomp Record Show (see below). At the Wyndham Riverfront New Orleans (701 Convention Center Blvd). Friday: 11am-5:15pm. Saturday: 11am-5:30pm.
Record Show
The Ponderosa Stomp Record Show is a haven for audiophiles with an interest in collecting rare 45s, 78s, and LPs from festival acts as well as local New Orleans bands. The show is a record digger's dream, and a plethora of knowledgeable vendors can help you find exactly what you're looking for.
Why You Should Check It Out Whether you're browsing or searching for that missing link to your collection, if you like to spend hours sorting through vinyl, this record show is for you. If you don't attend the music conference, tickets for the record swap are $5 a day. At the Wyndham Riverfront New Orleans (701 Convention Center Blvd). Thursday, Friday, and Saturday: 11am-5pm.
This is a festival for a particular brand of music listener, for audiophiles with a deep-interest in musical and cultural history, an event designed to celebrate an entire generation of musicians and influential artists whose music has never gotten the praise it deserves. Also, it's just plain good music, with a fun-loving crowd, energetic performers, and an inclusive atmosphere that is undoubtedly New Orleans. Check the Ponderosa Stomp website for more ticket information:
Images courtesy of the Ponderosa Stomp Foundation