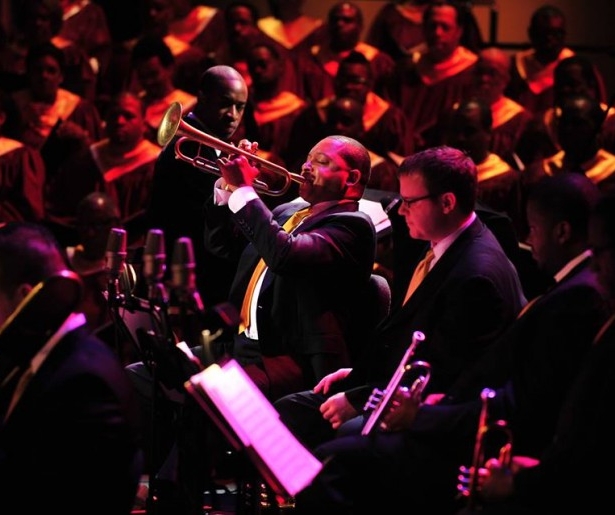 SHARE
It's a busy weekend in New Orleans.
First of all, Ponderosa Stomp is our absolute big pick of the weekend. Seriously America, this is why New Orleans is great: because we are hsting the best damn collection of roots musicians anywhere. You can read our preview on the festival and what to attend here.
You've seen it on the corner of Canal, the marquee listing, sitting there lonely and unused since Katrina. Well, not entirely since Katrina, considering the Saenger Theater already had its soft opening at the end of September. But the official grand opening ceremony is this weekend. The big gala, featuring Kristin Chenoweth and the Louisiana Philharmonic Orchestra, kicks off Saturday at 8pm. Or, you could just pop in tonight and see D.L. Hughley and Eddie Griffin.
Tonight, Bill Summer has assembled a frankly ridiculous crop of drumming talent, including Jason Marsalis, Johnny Vidacovich Alexei Marti and Judah Mason, for Drumanola. At $10, this show is ridiculously worth the cost of entry. Show kicks off at Gasa Gasa on Freret at 9pm.
Art for Arts Sake takes over the Contemporary Arts Center on Saturday from 6-9pm. The event involves the pening reception for five new exhibitions at the CAC; on top of that, the entire 300-600 block of Julia St will turn into a giant party complete with cash bars, one night only art installations and DJ Rotten Milk.
Get over to the West Bank for the Gretna Heritage Festival, which starts today and lasts through the weekend. Earth Wind & Fire, Uncle Kracker and _Rockin' Dopsie Jr are all headlining, and there will of course be a silly amount of excellent food.
Home tours kick off in the French Quarter this weekend on Sunday from 1-4pm (apparently, the five featured homes will be showing the Saints game, so don't panic). Tickets can be purchased on the day of the tour at 629 Gov. Nicholls St. or 924 Gov. Nicholls St,a nd admission is $20.
And of course, there might be a Tropical Storm. So, y'know, get some wine and plywood tonight.
Images courtesy of The Saenger