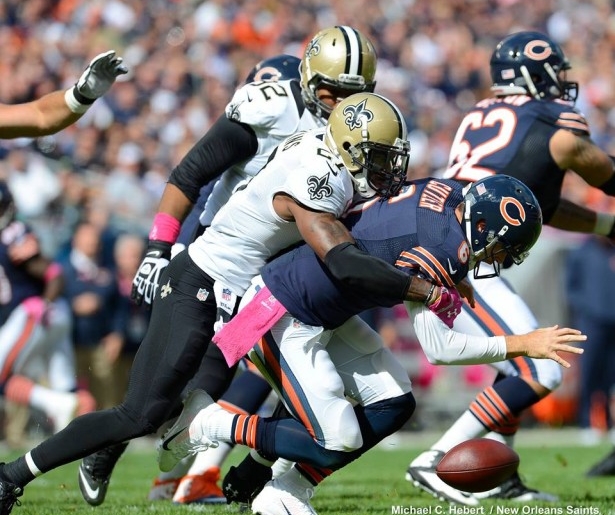 SHARE
After tonight's game, we will be 29% through the NFL regular season and sports pundits will turn from discussing individual teams in a vacuum to their placement within the larger context of the playoffs. Among other things, they will be talking about the Saints.
Yesterday morning there were five undefeated teams. Today, there are three.
The Patriots got thumped by the Bengals, whose elite defensive line and strong cornerback play gave Aaron Rodgers nightmares two weeks ago. The Patriots converted one third down in the entire game, and the ladies were treated to Tom Brady's adorable pouty face. The Patriots are still sitting pretty atop their 'meh' division at 4-1 despite a slew of injuries and wildly inconsistent play on both sides of the ball.
The seemingly unbeatable Seahawks lost a roller coaster game to the Colts, who are probably the best AFC team that does not contain Peyton Manning. In keeping with yesterday's theme, Seattle converted a sole third down, causing their fantastic defense to falter from being kept on the field for way too long. Both teams are now 4-1 and are leading their respective divisions.
The Chiefs remain undefeated after a comeback win over the above-average Titans. KC is definitely the most surprising 5-0 team, with a much-improved defense, a healthy Jamaal Charles and a risk averse quarterback who does not make mistakes. These factors add up to a team that can beat five crappy teams in a row. Like Seattle and New England, KC only converted one third down yesterday. Unlike those teams, the Chiefs won. They will continue to win most games due to ease of schedule. Being scheduled against the NFC Least this year is a beautiful thing. The Chiefs don't play a legit team until mid-November.
The awesome Broncos showed yesterday afternoon that they are mortal after all, needing help from a fitted cap aficionado to maintain their perfect record. The usually stout Denver defense is riddled with injuries and is still missing its best pass rusher due to wanton idiocy, and was completely shredded by Tony Romo, who found a way to lose despite throwing for over 500 yards and 5 TDs. The Broncos are a much better team than the Chiefs with a similarly easy schedule, and it is difficult to envision them losing more than a couple of games this season.
Sufficient context has now been established to say that the Saints are the best team in football right now. Not only that, we are trending upward.
Yesterday's game was not as close as the score would suggest. We got after Jay Cutler early and often, Malcolm Jenkins causing an early fumble that seemed to take the wind out of the Bears' sails off the bat. Cutler has long been susceptible to this, if you get in his head early you can unbalance him for the whole game. He has the mental fortitude of Andy Roddick. The secondary did a decent job of covering their giant pass-catchers with the exception of Alshon Jeffery, who was unstoppable.
But Rob Ryan realized that these size mismatches would be an issue and wisely committed more resources to complicated blitz packages that collapsed the underperforming Chicago offensive line all day. They specifically had no answer for the safety blitzes, like the one that caused the aforementioned fumble and the one that led to the Jenkins/Vaccaro Cutler sandwich that stalled the Bears fourth drive. We sacked Cutler three times, and there were white jerseys in his face virtually every passing down. Keenan Lewis looked very good in the fourth quarter, coming up with some huge breakups that ended Chicago's attempt at a comeback drive.
Brees and Graham did their thing again, picking apart a Bears defense that boasts one of the best cornerback pairs in football but is soft in the intermediate-to-deep middle. The playcalling was methodical, if overly conservative. We punted on fourth and short four times, converting the only fourth down we attempted. We called a running play on third and goal at the nine after recovering the Jenkins fumble, inevitably resulting in three points. Sometimes one must accept one's limitations and simply acknowledge that screens and blocking are our only legitimate uses for our tailbacks.
Brees is back to '09/'10 form. He is accurate and decisive. He's making quick progressions, stepping in and threading deep passes beautifully into brackets. He is mind-melded to Jimmy Graham. If you stab Jimmy in the leg with a knife, the same wound magically appears on Drew. They are sharing lucid prophetic dreams at night. It is time to free up some cash to pay Jimmy Graham and keep him in New Orleans. He's averaging 118 yards per game and is the best receiver in the NFL.
Everything is working for the Saints right now. Bring on the Patriots. I envision Sean Payton texting Rob Ryan something like "LOL see I told you that moving here from Dallas would be srsly awesome. Let's win a superbowl. TTYL xoxo"