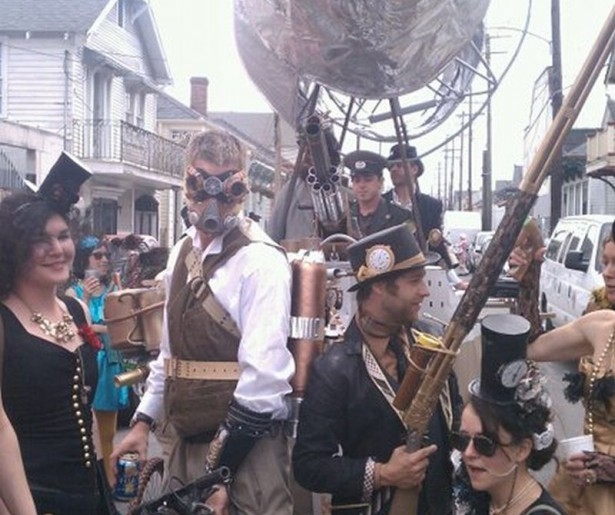 SHARE
Grab your top hats and flight goggles, folks, there's a steampunk party in…Metairie? At East Bank Regional Library this coming Tuesday (Oct 15) is the launch party for New Orleans by Gaslight, an anthology of local steampunk fiction and poetry, edited by area native Brandon Black. If you're monocle and corset-inclined, stop by 4747 West Napoleon Ave from 7-8:30pmto pick up a copy and meet the contributors.
Steampunk as a term originated in the 1980's but has been retroactively applied to novels written far earlier. It is essentially a hybrid sub-genre of science fiction and alternative history that envisions Victorian-era settings in which contemporary technology has been discovered using the engineering capabilities of the period (e.g. steam power and clockwork). Literary steampunk themes became more prevalent in the nineties but steampunk really exploded as a prominent subculture in the aughts with the increasing popularity of the convention/cosplay scene.
Downtown New Orleans works peculiarly well as a steampunk setting. The architecture is historic, sure, but there is also the sketchy mythos, the eldritch vibes of the city on a hot summer night that make fantastic possibilities seem possible. As "Gaslight" editor Black says in his intro, New Orleans "is a beautiful city, an exalted city, filled with wonders and terrors, sorrows and triumphs both to Her own denizens and to the less fortunate peoples of the rest of the world, She constantly says one thing: that you could do a lot worse."
The book opens with a very short, open-ended piece by Philip Karash called "Welcome to N'awlins" that frames the anthology by bringing readers across the threshold from the actual into the realm of the possible. Next, in "Arms R.A.C.E.", David Ducorbier plunges us into action as a Zulu prince seeks to turn the tide of a war of his people versus the British. Similarly open-ended as the preceding entry, it feels like an opening chapter in a larger work, a snapshot of an epic. "Arms" establishes forward momentum and cleverly compels the reader to venture further into the anthology.
The subsequent works, "Farewell and Adieu" and "Twain, Tesla, and the Ghost of the Old Opera House", read more as stand-alone entries than as fragments of larger works. "Farewell", by Gary Bourgeois, is a New Orleansy take on a Frankenstein tale. Rober Cerio's "Old Opera House" pairs the quippy Sam Clemens with brilliant Nikola Tesla as a ghost hunting duo in the French Quarter.
What follows is a poetic interlude featuring three very different pieces. The least overtly steampunky is "Cartoon Whirlwind" by Dionne Cherie, which portrays hurricane Gustav as a sort of portal to a Lewis Carroll dimension where wonderland bleeds into New Orleans reality.
After the poems is anthology editor Brandon Black's "Songs of the Divine Pulsation", a well-written piece of eastern mysticism-laden fantasy erotica that is very awkward to read on an elliptical trainer at the gym.
The final five works are short stories and are the strongest offerings in the text. "Crescent City" by Jackson Kuhl is a metaphorical story about engineers changing the geography under and around New Orleans to make it more commercially viable; it's safe to say Katrina-esque lessons are learned. Jay Wilburn's "Super Dome" is also about the failings of government during natural disasters. The storm of racial oppression is weathered in "You Gotta Give Good" by C.M. Beckett, a slavery parable about strength in the face of adversity.
The final two stories are the longest in the collection and the most epic in scope. Editor Brandon Black's "The Gift" is about an airship love story that goes awry, ending in a mid air thriller. The longest and final story, "Kilkarney's Map" by Bourgeois is also an airship story, culminating in a romantic swashbuckling treasure hunt.
If you're a fan of the genre, "Gaslight" is worth your time as a recreational read. I personally am glad to know that there's a burgeoning steampunk fantasy lit scene here, and I feel like some of these stories could be precursors to longer works by these authors. The next China Mieville might be right under our noses.