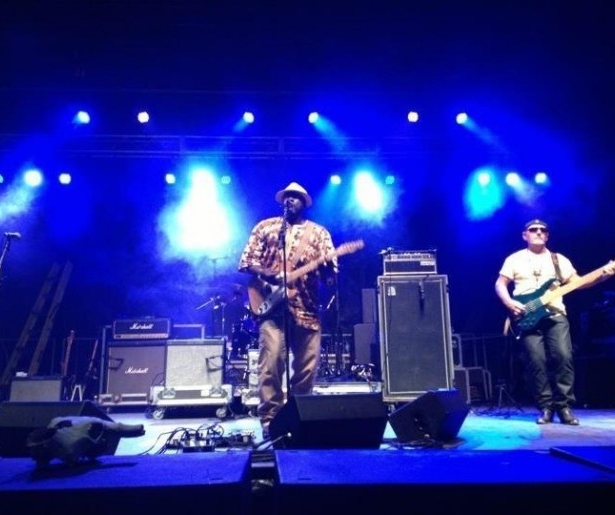 SHARE
The Louisiana Seafood Festival hits City Park throughout the weekend, starting at 11am and going til 9pm Fri & Sat (7pm Sunday). Half the damn restaurants in the state are catering the thing, and Honey Island Swamp Band, the Wild Magnolias, Amanda Shaw, Sister Hazel and this being Louisiana, a band that begins with 'B' and ends with 'etter Than Ezra' are all going to provide the requisite musical backup.
One good fest deserves another, right? So while we eat seafood here, out in Houma they celebrate where sea and land mix at the Voice of the Wetlands Festival at the Southdown Museum Grounds (1208 Museum Drive). Besides being a concert that benefits the very watery land we inhabit, the VOW fest brings together the Voice of the Wetlands All-Stars: Tab Benoit, Cyril Neville, Corey Duplechin, Johnny Vidacovich, Big Chief Monk Boudreaux, Johnny Sansone and Waylon Thibodeaux. How awesome is that lineup? Imagine if a Louisiana based S.H.I.E.L.D. agent yelled "Avengers, assemble"! in a Creole accent – all of the above guy would get together and start rocking out. That's how great that lineup is. Also, the food will be delicious and it's free.
Folks will be getting some serious head dressage on at Pasta & Puccini, put on by the Jefferson Parish Performing Arts Society. The whole spiel is an introduction to the Opera season done via the most ridiculous head dresses possible, as if a court dance at Versailles got drunk in South Louisiana and birthed a supremely ridiculous fancy ball. See wealthy art patrons get their silly on, plus some of the most amazing adornment and accoutrement this side of the French Revolution.
In the continuing theme of vintage burlesque, which is sort of a thing here in New Orleans. Bustout Burlesque is bringing their own version of sexy performing arts to House of Blues tonight (Oct 11) at 8 and 10:30pm. This is one of the top rated burlesque shows anywhere, and while it might be raunchy and risqué, it's a showcase of talent and genuine passion for a certain aesthetic and dance style.
On Saturday (Oct 12), out in Kenner, brah, Deutsche Haus is having no problem playfully reiterating national stereotypes with the annual Oktoberfest. This will be going on throughout the month; this weekend, expect beer, brats and maybe some daschund racing.
Above image courtesy of Voice of the Wetlands. Cover image courtesy of Bustout Burlesque.