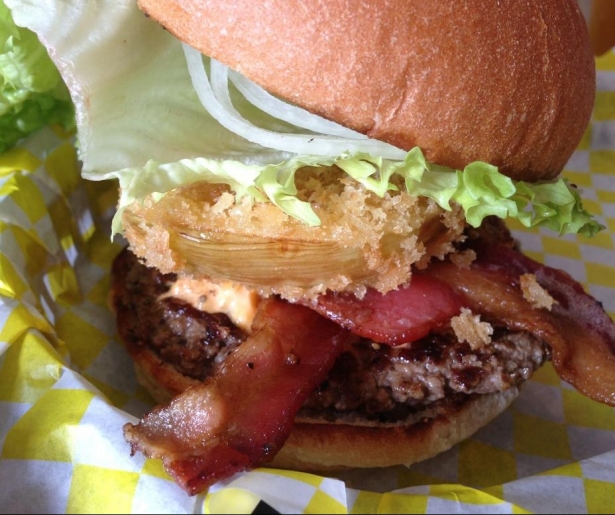 SHARE
While I harbor no ill will towards vegetarianism, or its faithful, I worship at the altar of Burger. For my earnest and dutiful reverence, I'm frequently rewarded with juicy rapture. I could discuss the houses of Burger in some kind of strategic way, building suspense, to eventually culminate in the declaration of the fairest of them all. But why keep you waiting? You could be in a state of dire need! Get to The Company Burger. Company Burger! Now. Just go.
There's two locations: in the Freret St. corridor (4600 Freret) and in the CBD/Warehouse District. This establishment honors all that is straightforward and majestic about my favorite beefy sandwich. The Classic is composed of two patties, with dressings, and optional cheese, fried egg, or Neuske's bacon additions. The bun is toasted to a nice bronzy sheen, and the condiment bar is like a candy store of creatively delicious house-made sauces. The details are all here, each element handled with care and attention. There's always the option to get a Single, if two patties would be too much commitment, and a Lamb, or Turkey burger version as well. In this post-Carnival season there will even be a Lenten Fish special to change daily.
Have I mentioned the tater tots? I can't resist them. They speak to a much younger, sweet-talk-your-babysitter-into-letting-you-have-a-whole-bag-as-dinner part of my identity. And they are absolutely perfect here: crunchy, golden little friends. Company Burger also makes a deliciously savory Bloody Mary, in a chilled silver cobbler cup, with crushed ice and pickled veggies. The equation here is complete, balanced, and has brought me back to life more than once.
If the caliber of your burger need has taken on an extreme quality, I would direct you to lovely Esplanade Ave, on the edge of the French Quarter, to a veteran of the beef scene, Port of Call. I'm not alone in harboring a great deal of respect for the half pound monster that is Port of Call's beef injection. It sits tall on the plate, stacked with lettuce and tomato, requiring dexterous maneuverings to get the thing in your mouth. One could request the mushroom cheeseburger rendition, to deliciously complicate the process further.
Every burger comes with a baked potato on the side, laden with sour cream, bacon, chives, cheese, or any combination therein. Also, should your liver not want to be stuck on the bench, the Tiki-inspired cocktail options are as hyperbolic in size and strength. Back on your feet sailor!
At my next spot, the burger is only a singular member of a much larger and more intricate cast. But I can't consider my coverage complete without mentioning it, this treasure among burgers. Not an everyday indulgence, the Foie Gras Burger at SoBou, in the French Quarter, takes things to an obscenely delicious level. At times I wish I just didn't know the thing existed. It visits me in dreams. Pan seared Hudson Valley foie gras, a fried yard egg, and duck bacon, on a carmelized onion brioche bun, with a side of cracklins and a root beer-foie gras ice cream float. Gah. Take my money and my heart. Please and Thank You.
While I'm very particular, and rather set in my ways, about keeping as few things as possible between myself and the meat, some folks prefer some more decorative options. And then there was Tru Burger, Oak St. Incredibly affordable and creatively composed, the menu is full of gourmet dressings. The single/double option keeps it simple, or you could venture onto the specialties board. Take the Red Neck Burger: beef pattie, topped by a house made sausage pattie, American cheese, a fried egg, and pickled pepper mayo. Or the Truth Burger, with thin-fried onion rings (think green bean casserole crunchy curly topping), Swiss cheese, and Tru sauce.
They also have specialty burgers on rotation, appearing here and there as the seasons change. Gluten free buns are available, as no one should be left out of the glory that is eating burgers for lack of a vehicle. Made-to-order milkshakes, that classic companion, are generous here, and quite hard to resist once that machine kicks on and the frothy sweet magic is doled out in front of you.
Further up Oak St, and deeper into the quaint Riverbend neighborhood, is Cowbell. There's the beef option, and the vegetarian option (made with red beans, brown rice and roasted veggies). The only choice one really has to make is temperature. It comes on a nice lofty potato roll, with hand cut fries, and a house ketchup that pays tribute to the red sauce's Indian roots, with a unique cumin-laced quality. The atmosphere here is playful and full of witty quips, as much a feast for your eyes as your stomach. While they are known for their burgers, there is an extensive menu beyond the topic at hand that warrants exploration.
Company Burger: 4600 Freret St & 611 O'Keefe Ave, Daily 11am-10pm ($5-11)
Port of Call: 838 Esplanade, open 7 days a week, lunch & dinner ($10-14)
Tru Burger: 8115 Oak St, T-Th 11am-9pm, Fri-Sat to 10 pm, Sun to 8pm, closed Mon ($5-10)
Cowbell: 8801 Oak St, M-Thu 11:30am-9pm, Fri-Sat to 10 pm, closed Sun ($11-15)
SoBou: 310 Chartres, Daily 7am-10 pm, Bar until Midnight ($7-24)
Photo credit: Tru Burger and Cowbell