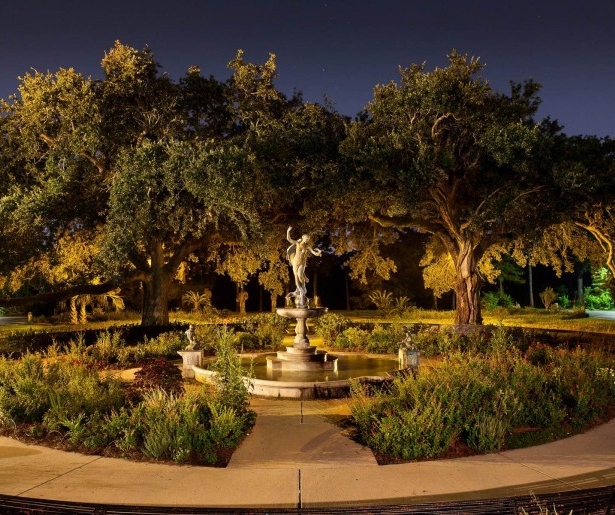 SHARE
During the 'golden hour,' that period before sunset photographers prize for its honey-colored light, Frank Relle and I stand in a not-quite-refurbished church on Felicity, looking at his recent pictures. They lean against brick walls waiting for someone to hang them, though one gets the feeling Relle wouldn't mind too much if they stayed propped up on the dusty floorboards.
"This show is looking at two extremes; the chaotic natural abundance, overgrowth and mystery, next to these scenes that are taken care of and calming and recreational," he says. "When I work in [well-maintained spaces] for too long, it's not long before I start looking for something wilder, that has more of this edge feeling."
Relle is preparing the photos for "Night Shade: Exploring Natural Spaces," Saturday's exhibition of his recent series about nature and trees. In the series, he borrows the style of his renowned photographs of New Orleans houses, creating haunting images of the dissonance between overgrowth and decay in the humid city. Some photographs frame City Park oaks with immaculate landscaping and symmetrical stars. In others, like images of the West Bank's Brechtel Park, vines and epiphytes overrun trees to create a darklit forest out of Tolkien.
"I think New Orleans is a city that economically, sociopolitically, is always playing with these lines of order and control, and correctness and freeness…[but] we live in a very tropical atmosphere; we live in a place between moisture, hot air, storms, things are not…they don't want to stay ordered. Disorder is the order of the day," Relle says.
Growing up on the North Shore, Relle was fascinated by the interplay of landscape and water that continually reconstructs the bayou and the wetlands. After college at Tulane, he spent three months in a canoe with his highschool environmental science teacher learning about the waterways and grasses of Canada, learning the basics of ecology inspiring his first photographic subjects: plants and ducks.
It would be some time before he was able to work on a major photographic series reflecting these interests; a detour to New York and his nationally-acclaimed work capturing the spectral deterioration of New Orleans homes interfered. Today, he expresses great excitement about capturing evening photographs of a surprisingly elusive subject, with the help of John Benton (of Bayou Tree Service, who takes care of the trees in the city's parks), a big generator and a beer cart.
"Working with natural scenes at night is very difficult," he says. "I have a reputation for these expressive photographs I can achieve at night, [but] photographing plants is [also] difficult because they move, [and] you need the dark to find the photograph."
Saturday's event features catering from Bywater pop-up Dim Sum & Then Some and craft cocktails from a resident mixologist at Magazine St. restaurant Apolline. Relle says he sees these types of events appearing all over New Orleans, in which artists in various fields converge for collaborative, multisensory experiences. And he's delighted to have the chance to witness audience response to his work, a process he describes as "trying to see what my job is."
"I'll start listening to people respond to the work, both verbally, physically, what they're drawn to, then I start to learn what that work actually means," he says. "I don't ever really figure it out until people start to respond to it. That's what completes the cycle.'
When: Saturday, Oct. 19, 6-10 p.m.
Where: The Old Church, 1220 Felicity St.
How much: Free with ticket