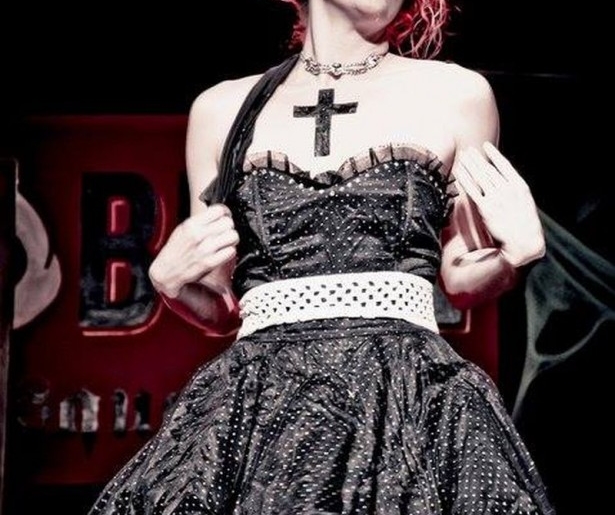 SHARE
There is a lot of Halloween-y stuff happening the weekend before the weekend before Halloween. What can we say? We're a city that loves ghosts and dressing up, and we are noting: costumes are strongly expected and encouraged at all of the below events.
We're most excited about the Anba Dlo festival and parade on Saturday. The parade rolls at 6pm from Franklin and Royal thrugb the Marigny to the Healing Center (2372 St Claude), where the party commence at 7pm. At both parade and party , expect a strong sense of loss and remembrance; Anba Dlo Festival is Haitian Kreyol for "Beneath the Waters", and the event is both a celebration of those who have passed and a calling out to their spirits. It's also a time for remembering water – the way it underpins and flows through all elements of New Orleanian life. Music by Henry Butler, the New Orleans Suspects, John Mooney, Rotary Downs and more, plus acrobats, a silent auction, food (natch), a costume contest and a midnight Vodou ceremony to invoke the mermaid spirit of the deep waters. From noon to 4pm there will be free panel discussions about wetland and water management at the Healing Center. Water-themed costumes are encouraged.
The Junior Committee of the Women's Guild for the New Orleans Opera Association (that may be the longest organization title we've ever used on this site) is hosting Masquerade: Once Bittin, a masquerade party that mixes the amusingly incongruous elements of the surreal giant puppets of the Mudlark Theatre and a fashion week show. Plus, music by the Treblemakers. Saturday, 8pm-midnight. Click the above link for tickets (from $65 at time of writing).
We're all about the burlesque, and on Saturday at 10pm the Howlin' Wolf is hosting Slow Ghouls, a Halloween themed burlesque and cabaret put on by the talented folks at Slow Burn Burlesque
Got kids? This weekend and the next, The Audubon is hosting Boo at the zoo Friday & Saturday from 5-9pm. The event is aimed at kids 12 and under; expect haunted houses, tricking, treating and entertainment. Also, animals. Lots of awesome animals. Admission is $17, children under 1 free.
Need more family fun? Head to Ghost in the Oaks Friday and Saturday at 6pm. For $20 you get unlimited rides in Carousel Gardens, trick-or-treating in Storyland, face painting, etc. Kids under three get free entry.
Also for families, and also in City Park: on Sunday, from 10am-noon, Café NOMA in the New Orleans Museum of Art hosts chef Brett Gauthier, who till teach kids how to make edible haunted houses. It's $40 for one child and adult, and $10 for additional seats; you get all the house building material, candy and soda you can consume with that fee. Because your kids need more sugar, right? We kid, this sounds like a lot of fun; call Christina at 504-539-5516 for reservations.
Finally, there are two community tours of historical New Orleans neighborhoods this weekend: the Mid-City Porch Crawl, which kicks off at 5pm from Finn McCool's (3701 Banks) on Saturday, and the Algiers Point Home & Garden Tour, Saturday and Sunday from 11am-5pm. Check out the above links for more details.
Images courtesy of Anba Dlo and Slow Burn Burlesque.