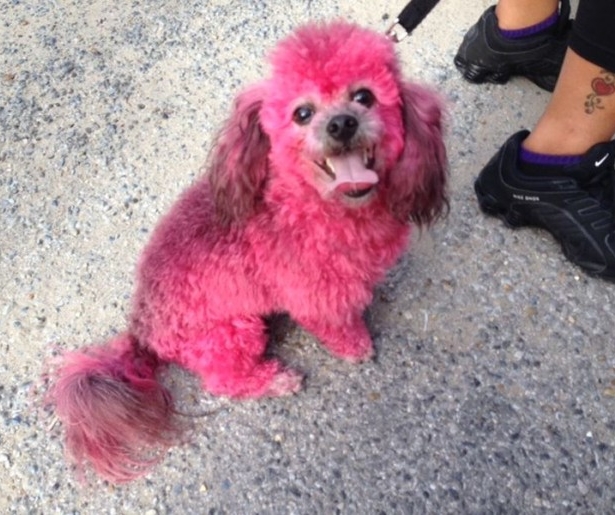 SHARE
In other cities I've lived in, my favorite day of the year is an unofficial holiday I call flip-flop day. It's the day when the weather gets so consistently warm I know I can wear sandals through the rest of spring and summer.
It's hard to pinpoint a good flip flop day in New Orleans. You can have a run of warm days in the darkest depths of January. You never have to shelve your sandals for too long here, is what I'm saying.
But this weekend, I realized New Orleans has its own version of flip flop day. My epiphany came when I was walking down Burgundy St to a Second Line dressed more or less like a ninja. I passed no less than five separate groups of people all dressed in a way that would turn heads in any other city – tutus, wigs, skeleton body suit, feather capes and robes, full body crawfish outfits, Greek gods – whichare just the normal abnormal of New Orleans. And I knew: every week between now and Jazzfest, I will see something in New Orleans which cannot be replicated elsewhere. Every week between now and the summer soup will involve Second Lines, or costumes, or street music, or some combination of all the above. Any time a friend visits, they will see something stupendous and different and soul enriching, and they will say, "So I guess I came on a good week," and I will smile and say, "Yes, you did, but it's kind of always like this here."
What do I call this day, the beginning of the cool weather and the parades and the carnivals and the chaos? "The autumn of normal?" No, too pretentious. "Quirktober"? No, because you could argue all of the above starts in September.
My buddy Nora Ellersten can often be seen at a Second Line or weird downriver parade. She'll watch the proceedings, her eyes will light up, and she'll smile and say, "A-MAZE-ing!" Which really just nails it, doesn't it? So I'm unofficially officially declaring this day, whenever it may fall whenever in the year, to be Amazing Day. This past weekend, when there were three Second Lines on St Claude Ave in the space of 12 hours, seems like a good marker for the holiday.
Here are some pictures of the Black Men of Labor 20th Anniversary Second Line on Sunday. The little dog above (pic by Andrew Holbein) is awesome, right? He's my animal mascot for Amazing Day.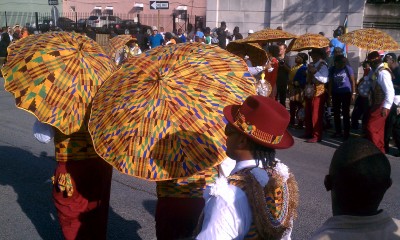 The awesome African-themed Second Line umbrellas spinning from St Claude up St Bernard.

The Treme Brass Band. Killing it.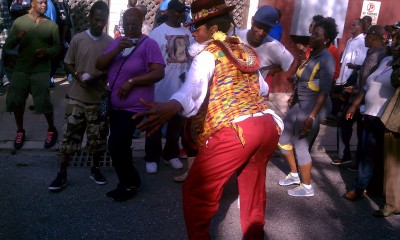 You've gotta respect a skilled Second Line booty pop.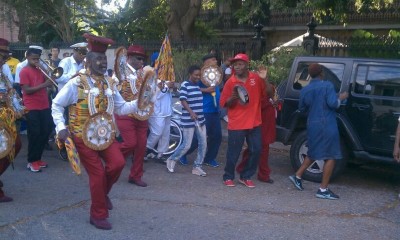 Everything happening in the above is why we live here.
I didn't see many tourists at any of this weekend's three Second Lines. Sad face. I hope visitors don't think those made by marketing group convention-and-conference parades are actual street culture. Get out there and see some of our real local culture, every Sunday – check out WWOZ's Takin' it to the Streets for more information.