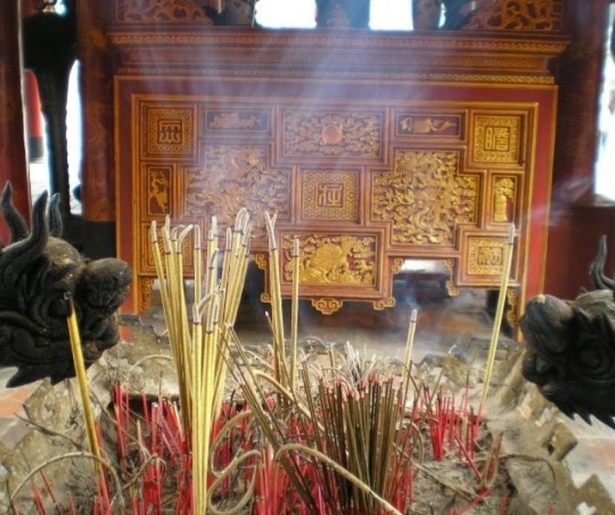 SHARE
That's "Happy New Year" (well, technically 'Happy New Spring') in Vietnamese.
It's Tết Nguyên Đán, the most important holiday in Vietnam, and the New Orleans East Vietnamese community is celebrating this weekend of Feb 15 (West Bank Vietnamese had their celebration the previous week). Tết marks the beginning of the Lunar New Year, and in a similar vein to Mardi Gras, is an opportunity for families to come together, strengthen the bonds of filial love, take stock of the past and future and of course, celebrate their faces off.
The picture I posted above is from Tết celebrations in 2008. I snapped that shot in a temple in Hanoi, and I hope it gets across the solemn sense of ritual and reflection Tết can engender. Much of the holiday revolves around not only visiting living family, but paying respect to dead ancestors at family and public altars. With that said, the holiday is just as much about loud noise and having a good time as reverent reflection. Firecrackers, scratchy stereos and car honks form the auditory soundscape of Tết even as clouds of incense flow over praying families. There's a Christmas-y gifting tradition as well, although the most common present by far is 'lucky money' wrapped in red envelopes (a hue associated with good luck).
That said, the part of Tết I like best, and the part that's generally most appealing to visitors, is ăn Tết, or "eat Tết." As in any Asian culture, the Vietnamese mark a holiday with food. Lots of food. Food, after all, and as any New Orleanian knows, is the most easily accessible and mass produced indulgence a community can produce, and indulgence and holidays go together like pork belly and sticky rice. Which are two of the main ingredients of bánh chưng, a kind of savory sticky rice cake that sits in your belly like a brick and is to Tết what king cake is to carnival.
The legend behind bánh chưng is worth telling. Back in the day, following a victory over the army of the Chinese Shang Dynasty, a Vietnamese king held a competition wherein his princes had to outdo each other with dishes for the family altar. The sons traveled far and wide bringing back increasingly exotic, indulgent platters, but Lang Liêu, the 18th and poorest prince, was too destitute to match these exploits. Using peasant ingredients of a peasant, Lang Liêu formed a square cake in the form of the earth (bánh chưng) and a round cake in the form of the sky (bánh dày, a more glutinous rice cake). The poorest prince won both the contest and the throne, and his creations became the iconic food of Tết.
I shared that story because there's something very New Orleanian about making great celebration food out of humble farmer's fare. To magnify the analogy, I think the general Vietnamese love of partying, family and food, which all reaches a zenith during Tết, is cut from the same bit of cultural cloth Louisiana inhabits. So next time Tết rolls around, roll out to Mary Mother of Vietnam Church in New Orleans East on the weekend. There's a big dragon dance at 6pm Have a rick cake.
And Happy Year of the Snake.
Photo Credit: Adam Karlin