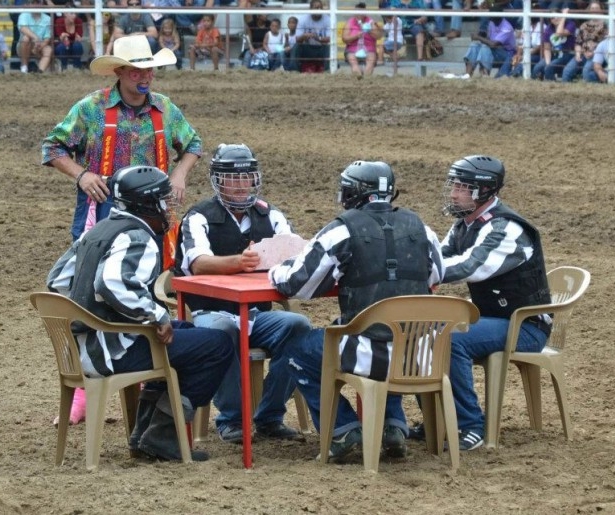 SHARE
Our regular Saints contributor Bernard Fruge uses the bye week to take a trip to Angola
I am from Lafayette, have been a New Orleanian for over a decade, and had never been to the Angola Prison Rodeo before Sunday. Ethically, it's a bizarre situation. Angola is peculiarly emblematic of the big prison business, raking in tons of cash and subsidies through keeping its cells full and putting its inmates to work. Some of them get to volunteer to participate in the rodeo, selling crafts for cash or running around trying not to get trampled/gored by a horse/bull.
Perhaps one of the darkest things about the rodeo is that it sells out very quickly and well in advance. The opportunity to attend only arose because a friend's cousin was performing in the barrel race event and they had an extra ticket.
The prison is a 130-mile schlep from New Orleans, west through Baton Rouge then northwest for another hour. I was not sure what I was expecting, but upon entering the Angola grounds I was struck by the magnitude and beauty of the farmland. Thousands of acres of crops and roaming herds of livestock stretch out in all directions from the tree-lined main road, terminating in distant walls topped with guard towers.
We saw a sign displaying the prison radio station, so we turned it on and heard this looped recording. As we passed various administrative buildings and neared the field cum parking lot, I began to appreciate the scale of the thing. There were thousands of cars parked, even though the rodeo didn't start for over an hour, as hordes of people had arrived early to pick over the prisoners' "hobbycrafts."
We walked in and my two female companions had their purses searched, but otherwise we were not frisked, searched or scanned in any way. I immediately regretted not illegally sneaking my phone in for pics. I made my usual outdoor event bee line for the BBQ turkey legs and cruised the hobbycraft grounds. There were lots of vendors hocking various carpentry, leatherwork and metalwork. Offerings ranged from cheesy leather wallets with free name engraving to beautifully hand worked pieces of furniture.
The free rein given to most of the participating inmates was interesting. When we haggled with a guy for a beautiful wooden salad bowl there were no guards around listening in or interfering. Some apparently couldn't be trusted with such freedoms, though, and we had to deal with them through a chain link fence.
My first rodeo experience mostly consisted of the typical stuff I would expect: guys coming out of the gate riding a bull and having to hold on for a few seconds, barrel racing, calf wrestling, etc. Two events presented new concepts to me, and for better or worse, stood out.
The first was kind of horrifying, and I'd like to mention that no one (animal or human) appeared to get hurt at any of the rodeo events, even though there were scary moments where severe injury seemed likely. The prisoners were wearing lacrosse-type helmets and light kevlar vests.
There were two rounds of something called "Inmate Poker." For the first round, about nine inmates stood in hula hoops scattered on the ground spaced out a few feet from one another. A bull, with the special rodeo belt tied around its junk to enrage it, was let out of the cage and charged directly at them. The rules are simple: the last man to flee his hoop wins the game.
This was pretty scary, as the bull was huge, super pissed off and many of the inmates seemed to very narrowly escape injury.
For the second round, four inmates sat with their hands on a card table. The same rules as the previous round apply, but now their backs were to the bull. The berserker exploded through the table and threw this guy to the ground and continually tried to gore him with its horn. My girlfriend and I were freaked out, but somehow, the bull was lured away and the guy got up and jogged out of the ring. I guess the kevlar vest was effective.
The second notable event was an interlude in which three border collies, ridden by capuchin monkeys in tiny saddles, herded sheep into a tiny stable. Monkey cowboys riding dogs is pretty cool, but the amazing part was the trainer's speech once the sheep were stabled. He was completely earnest and self-important in his delivery. This was his shining moment, and I would like to conclude my account of my first rodeo with some direct quotes from the monkey trainer's speech:
"You kids need to follow your dreams, anything is possible. When I was a little tyke in rural Tennessee I had one dream in life: own a monkey. People ask me, 'Are those monkeys tied down? Are they glued to those saddles?'" as he scooped up a monkey from his mount and held him aloft like baby Simba. "No. They ride because they love it."
In closing, he held the monkey in the air again then brought it down to give it a gentle kiss, saying "let's put god back in America," and exited the ring.