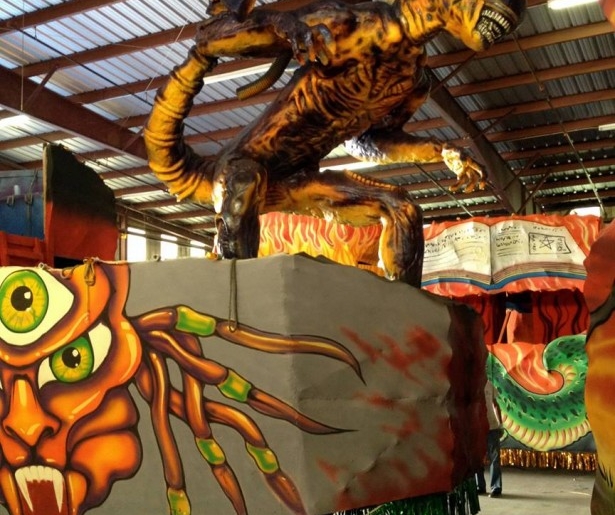 SHARE
One of the (million) ways I love New Orleans is the nonchalance with which we move about our daily lives in full-fledged costume gear. I know most of my neighbors by name, I shop at the same places every week, and I run into people everyday who know me as their bartender. Were I to be covered in glitter, wearing neon tights, a pair of wings, and a paper mache'd dragon tail, they would still speak to me as though it were just a Monday. When October rolls around, I have to remind myself that the Skeleton Dentist, Vampire Artichoke, and Zombie Faerie walking up the street at noon are actually related to a calendar event called Halloween.
And one of the (many) things New Orleans does as well as we do costumes, is parades. Generally, we, finding find as many occasions as possible to do both. Krewe of Boo is the official Vieux Carre (French Quarter) Halloween parade, and kind of an off-season Mardi Gras fix to boot, complete with huge intricate floats and New Orleans-made throws.
At sunset on Saturday, October 26th, Krewe of Boo will roll from Elysian Fields and N. Peters, through the waterfront of the French Quarter, up Canal for a jog, and then down Tchopitoulas to an after-party at Mardi Gras World. Hailing from the same studio (Kern) that creates many of the famous Mardi Gras floats, the parade will feature seasonal spooky themed floats like Brides of Dracula, Wolfman, Ghouls, and (my personal favorite) The Exorcist.
In terms of parking, your best bet is catching the parade at the beginning of its route near Elysian Fields; you'll subsequently be near the Quarter and Frenchmen St as an added bonus.a. In terms of getting a good throw, you may want to plant yourself somewhere near the end of the route, when riders try and ditch whatever throws they're left with (although with that said, you're taking a risk said throws will already have been exhausted).
The Spook Fest after-party kicks off at 8 p.m., with New Orleans funk-rock band Flow Tribe playing an opening set and then Brooklyn band the Pimps of Joytime coming on at 10:30. Tickets are $25 (18 and over only), or $75 for VIP admission that includes seating and a private cash bar. General Admission will have access to food and cocktail bars, costumes of course are highly encouraged, and the party goes on until 2 a.m..!
If the parade and Spook Fest end up being your favorite thing you've done all year, Krewe of Boo membership for next year could be yours. Since 2007, the Krewe offers walking and riding memberships., with locally produced, and ecologically-minded throws (details at www.kreweofboo.com). See you on the parade route!
Also: credit where it's due. Krewe of Boo is forgoing the usual cheap Chinese plastic tat for sustainable throws. Here's what each rider will toss, ripped from the Krewe of Boo website:
250 Eco Friendly cups from Giacona Container Company (Louisiana made)
750 pieces of candy made in the USA
100 Pralinettes from Aunt Sally's (Made in New Orleans)
36 PJs Coffee Frac Packs (Made in New Orleans)
50 Carmel Corn bags and 50 Chee Wees bags from Elmer's Fine Foods (Made in New Orleans)
50 Zydeco Sweet Potato Nutrition Bars (Louisiana made)
25 Candy Corn Necklaces (hand made in New Orleans)
25 Voodoo Doll pins (hand made in New Orleans)
25 Voodoo Doll magnets (hand made in New Orleans)
25 Mixed Children's Toys Grab Bag from Arc of Greater New Orleans includes stuffed animals, frisbees, cozies, toys and games
Images courtesy of Krewe of Boo