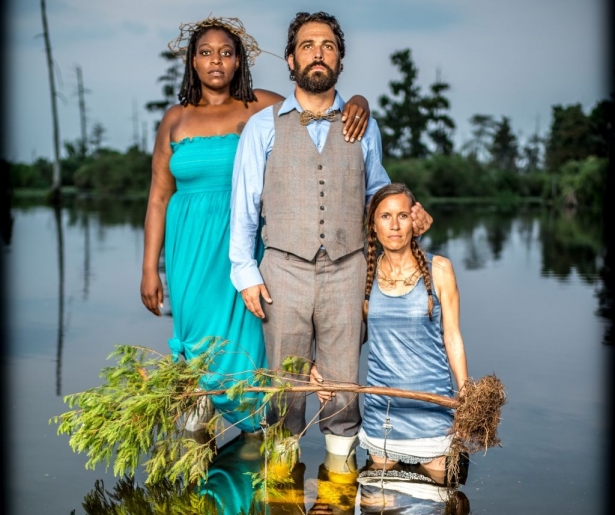 SHARE
For Rebecca Mwase, a producer/creator and performer of Cry You One, a new production from ArtSpot and Mondo Bizarro, coastal land loss was once a quagmire of white papers and statistics. She knew the talking points – a football field disappearing every day; well-meaning public relations campaigns – but they didn't sink in until she began rehearsing for seven-to-ten-day stretches in the wetlands of St. Bernard parish.
From the time of the companies' arrival, wild boar and hawks, snakes and coyotes haunted the borders of the production, blurring the lines between the structured performance and nature.
"Rabbits were everywhere; we'd wake up to the sounds of birds and the sunrise, our time clock completely shifted," she says. "One of the things we're trying to do with Cry You One is to be a channel for the land to speak to the people."
Cry You One is the culmination of more than a year of work on a project about southern Louisiana's disappearing coast, which Mwase and fellow producer-performer Nick Slie call a "journey piece." The project has two major components: its website, where St. Bernard residents and members of the Los Isleños Heritage and Cultural Society share stories about the ways land loss affects their lives, and performances, which begin Saturday.
Like the companies' earlier "site-responsive" collaborations, including the Louisiana-themed play Loup Garou, Cry You One's live performances are staged outdoors. Slie says the setting is a key component of their message, in which both audience and production company are informed by the changing landscape, weather and water.
"Very often we work and we go out to a space, and our work doesn't begin until we get there. The listening that we receive from that space puts an enormous amount of input into what we create in that space," he says.
The performances use song, acting, dance, text and visual art to engage viewers, employing archetypal figures (like the coyote as "trickster"), symbols and totems to construct a meditation on land loss. Slie says the piece is a narrative, of sorts, but audiences should expect a more abstract interaction with a variety of mediums than a more closed or linear story.
"The word 'abstract' does not mean to confuse, it means to bring closer. So when we [create] abstract things, I feel like what we're attempting to do is bring them closer for you to look at," Slie says. "[But] we raise a lot more questions than we try to preach to you answers."
Eventually, Cry You One will tour the East Coast, connecting local environmental problems with issues of land and water in the changing global climate. The website will feature new content through 2015, as the show travels and changes with in new contexts. Both ArtSpot and Mondo Bizarro include Cry You One as part of work loosely connected with the with the Alternate Roots arts activism organization.
"[We're] trying to create moments of dialogue and inspiration through our work," Slie says. "Part of our activism is knowing what we do best…we bring the same amount of rigor and professionalism to what we're doing in practice as artists, as does the Gulf Restoration Network."
For the next month, the show will shine a light on Louisiana's rapidly-disappearing borders and the land, wildlife and people affected by it. Performances will be held Friday, Saturday and Sunday afternoons, with discounted tickets available for seniors, artists, and St. Bernard residents. The companies will offer shuttle service from New Orleans to reduce carbon emissions. Slie recommends getting tickets online in advance, as even though the performance is outdoors, space is limited.
"[The website and the show] offer entry points into a space that is real, and that is dying…I remember going out to the site for the first time and we were in awe. We were silent. You hear all these things, but then you see it," Mwase says.
When Oct. 26-Nov. 24, Fri.-Sun., 1 p.m.
Where 1357 Bayou Rd., St. Bernard (see website for details)
How much $20 (discounts available for certain groups)
Above image: Pam Roberts, Nick Slie, Lisa Shattuck
Cover image: Hannah Pepper-Cunningham, Pam Roberts, Nick Slie, Rebecca Mwase, Lisa Shattuck, Sean LaRocca
All photos by Melisa Cardona