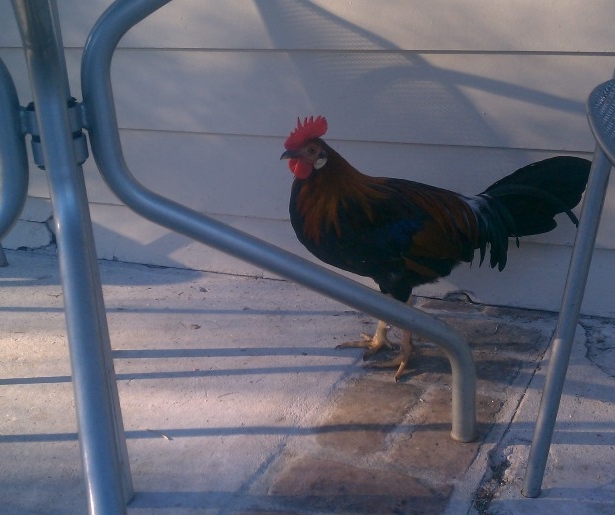 SHARE
The weather was gorgeous yesterday, which seemed as good an excuse as any to sit outside of The Orange Couch and watch Faubourg Marigny amble, stroll and cycle by. Then, in the midst of this downriver serenity, at one of the more serene cafes in the city, a crowd of Bourbon St refugees, some still clutching Big Ass Beer cups, stumbled into the scene. You heard them (laughter, shouting [dudebros], screaming [girls]) and smelled them (a double whammy of Big Ass Beer and Hurricane residue) before you saw them.
They came up to me and my friend and asked, "Hey, which way is Port of Call."
I raised an eyebrow. They were stumbling towards the Bywater. "You're going the wrong way."
They laughed, and we tried to point them in the right direction. Then, one of the girls noticed the resident rooster that hangs out near the Couch, pictured above.
"OmiGodhe'ssoCUTEcanItouchhim?" she cooed.
Out of nowhere, a local roughneck shouted from the sidewalk. He was a big guy – 6'1 or 6'2, on the far side of 200 pounds and tatted up. "Don't touch that mean motherf@#$er," he said, and there was fear in his voice. "He'll tear you up. I mean it. Don't mess with that dude."
i think they got the picture: if that guy, with his size advantage and dragon tattoo, was deathly afraid of this Sriracha mascot, how would some drunkies out of the Quarter fare? The girl reared back, almost screamed. Her boyfriend looked like someone had pulled a gun. In general, I've never seen a group of sloshed tourists sober up so quickly.
We turned them around and sent them on their way to Port of Call. And outside The Orange Couch, the rooster strutted, quite literally the Marigny's own Cock of the Walk.