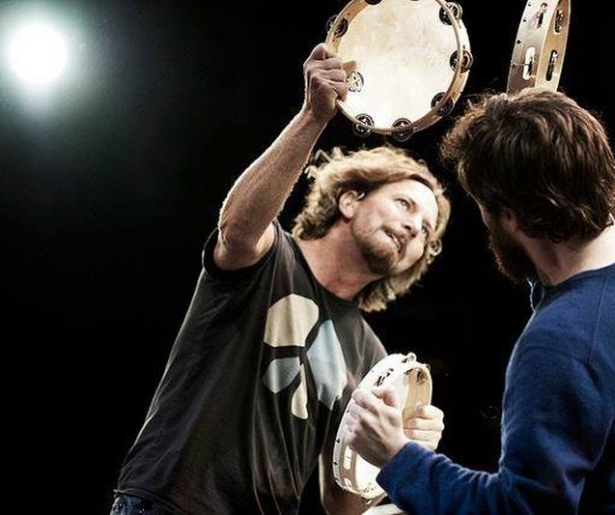 SHARE
Where do you have to go to see festival turns from Pearl Jam, Nine Inch Nails and The Cure – all at once? No, not 1993, silly goose. Time machines are unnecessary this weekend, as all three acts grace the headline spots for Voodoo Fest 2013, taking place at City Park's Festival Grounds from 1-3 November.
The black-clad trio of aging rock colossi still draw crowds of madly devoted fans. Eddie Vedder leads his Seattle grunge titans into battle on Friday night. They'll be closely pursued by the world's highest paid DJ, nu-disco tycoon Calvin Harris and Thrift Shop denizens Macklemore and Lewis. Pres Hall Jazz Band keep it local that evening, as does the critically-fancied John Michael Rouchell.
Formerly of this parish, Mr Trent Reznor brings his Nine Inch Nails to the fore on Saturday, promising two hours of light dinner jazz, or more likely pressing the button on a synthesiser marked 'Steel Foundry' and turning up the drums. Boston's Billy Squier brings more traditional arena rock and Afrojack unleashes some Dutch DJ sensibilities at the supporting stages. Sleeper hit of the afternoon for me would be the beguiling Breton Sound.
Early doors on Sunday, and the organizers are confident they won't be causing too many attendees a headache having to decide between The Cure, Bassnectar and Dr John, all of whom wrap up around 9pm. Kid Rock and Maxim (from The Prodigy) will be making loud noises minutes earlier for anyone that still has the energy. Quintron and Miss Pussy Cat would be a cheeky mid-afternoon choice.
Too cool for mere entry tickets, attendees must purchase 'credentials' through the Voodoo Fest website, either for individual days or one three-day credential to rule them all. Don't bring professional cameras or recording devices or security will get cross. There are lockers available on site (also bookable through the website).
Unless you're ultra sneaky, you'll be relieved of your food and drink at the gate, too, but don't furrow your brow too much (at least no more than you need to before listening to two hours of The Cure), because what would a NOLA festival be without a stellar line up of food and drink? Expect pop-up stands serving festival-friendly portions from many of your local restaurant favourites once inside.
Get grub
If you want to fill up before you enter, we'd recommend Lola's on Esplanade, Taqueria Guerrero on Carrollton or Café Minh on Canal. A craftily-timed po-boy from Parkway Bakery and Tavern should soak up enough booze to see you through until it gets dark at least.
Get drinks
Drinking at festivals isn't the cheapest hobby you can take up, so affordable pre-gaming for those that are so minded is probably best done at Pal's, or keep it classy with cocktails at Twelve Mile Limit. The Seahorse Saloon at 1648 Gentilly Boulevard is a trusty cheap and cheerful bet.
Get to the show
At the time of writing, the VIP camping experience had sold out, so unless you're comfortable napping up in the branches of the tallest trees, you'll be ferrying there and back each day.
If you're from out of town, both American and Delta Airlines were offering 5 per cent off flights (see worshipthemusic.com for promotional codes, airport shuttles can also be booked through the same website. There is also information for discounted car rental).
Our advice? If you can't walk, bike. There are specially erected bike racks (in front of NOMA) and it's a comfortable straight shot from downtown (i.e., the French Quarter). Bus and streetcar services will be in effect from the usual locations, but don't bank on them breaking any speed records – likewise for cabs. Post-headline times will be especially tight on public transport.
If you can't contemplate not driving, good luck. VIP tickets include parking for three days at the Fairgrounds, but otherwise you're on the street with a ticket-happy traffic patrol on the beat. The best advice for drivers is to park as far away as you're comfortable walking from, be careful not to park where you could get blocked in, be extra careful about no parking spots (many pop up just for the weekend) and go as early as you can.
All this aside, it's usually a glorious time for weather in NOLA. Hydration, sunscreen and shade are all essential nonetheless. Wear shorts. Carry a backpack. Go and see a band you've never heard of. Costuming is for the brave, watching a set through a phone screen is for the dull. Party. Perhaps like it's 1993. And have a safe and happy Voodoo Fest.
Images courtesy of Voodoo Experience