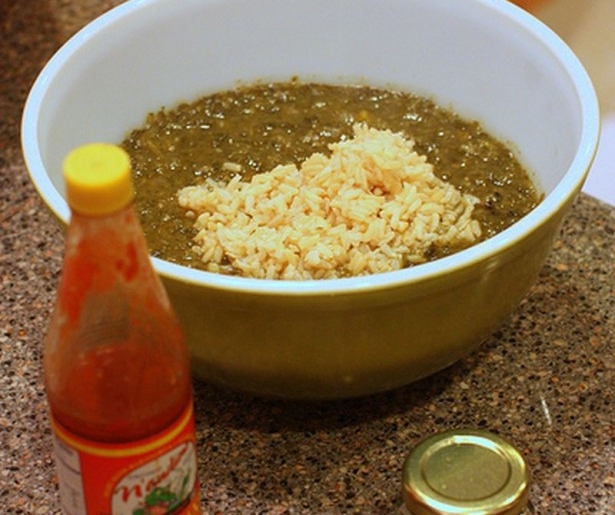 SHARE
We're willing to bet gumbo is the most iconic dish of New Orleans . I love po'boys, but get the right bread (admittedly a trick) and they can reasonably be replicated elsewhere. Beignets are fine, but despite their fame, they're really only served in a couple of places in the metro area – Café du Monde, Café Beignet and Morning Call. I'm sure I'm missing others, but you get the point; you can't walk into any random breakfast joint down here and find a beignet. On the other hand, while the little fried donuts are relatively hard to find in New Orleans, they can be found anywhere in the world where the French planted the colonial flag.
Jambalaya and etoufee are decent contenders, but don't quite possess the name recognition and succinct syntaxical punch of gumbo. Those two syllables immediately call to mind a dish that, whatever its roots may be , is in its current incarnation native to and emblematic of Louisiana. From the stuff your mom makes on a Formica counter top to slick start up style infographics., gumbo is us, greater New Orleans, food-ified. And it's ubiquitous – from fine dining to corner joints, gumbo isn't hard to find. Even gas stations occasionally keep a pot on a hot plate behind the counter.
Anyways, that was all a long way of saying there's a new gumbo coming to town, and unexpectedly, it's vegan. After working with the folks at the People for the Ethical Treatment of Animals, the participants in the Treme Creole Gumbo Festival, held Nov 9-10, will all be offering vegan gumbo options.
OK. Hold on.
We know, this might sound likeblasphemy to many of you. Whether made with seafood or andouille and duck, gumbos tend to rely on meat. Even ostensibly vegetarian gumbos often use a stock that smacks of latent carnivorism. When I tried to make a gumbo z'herbes, I ended up throwing a ham hock into the pot for an hour to impart some smoky goodness to the greens. My wife raised an eyebrow when I told her the finished dish was vegetarian; at the time I argued, "Well, there's no ham in the gumbo now,' an argument that was about as effective and accurate as advocating for 2+2 equaling 5.
But in the interests of being open minded, let me advance this position. Great food comes from chefs working magic with what they have in front of them. Sometimes, what they have is not a lot, or at least unfamiliar. This was very mucht he case with the first French, German and African settlers of Louisiana, who created one of the world's great cuisines out of the bounty of bayou and prairie they were initially ignorant of.
So in that vein, perhaps, perhaps, chefs working with the limitations of veganism will create great and beautiful food, not hindered by but if anything defined by the narrower scope of available ingredients. I'll just add: one of the elements that sets Louisiana cuisine above other American foods is our love of vegetables. Whereas the rest of the country over relies on starch and meat, down here we have managed to coax the best out of bell peppers, onions, greens and tomatoes. We know rice is not just a sopping agent for other tastes, but a flavoring agent in and of itself. So: knowing that vegetables can work magic, let's embrace this vegan gumbo and see what our best chefs come up with. There's gonna be a lot of talent on tap; Lil Dizzy's, Dickie Brennan's Bourbon House and Miss Linda Green have already signed on. We'll be there, spoon in hand.
The Treme Creole Gumbo Festival is put on by the Jazz & Heritage Foundation. It goes from 11am-6:3pm on Nov 9th and 10th, at Louis Armstrong Park. Admission is free.
Images courtesy of Wikipedia and the Treme Creole Gumbo Festival.