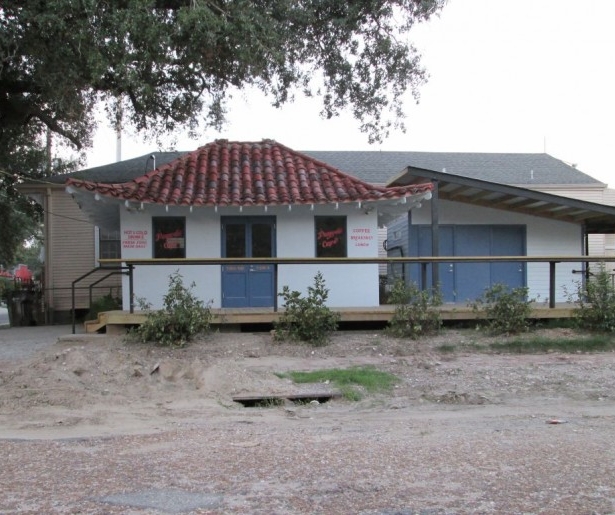 SHARE
The first time I spotted the building pictured above, at 1430 N Dorgenois, I grinned and shook my head. Look, I don't think I'm being drastically oversensitive when I say that building a Chinese Laundromat to resemble an ersatz Chinese temple is kind of in bad taste, but the building clearly comes from a different time, and honestly, it's a unique architectural gem in a city full of interesting buildings. I'm not the only one who thought this either; the little faux Taoist temple has since been bought by architecture professor Dan Etheridge and business partner Shana Sassoon
What hath Etheridge and Sassoon wrought? The old Laundromat is now the Pagoda Café, and the 7th Ward now has a(nother) excellent local breakfast and lunch joint. What's on offer? My wife is from San Antonio, and has been craving breakfast tacos the way a wolf craves the sweet thrill of the hunt. Pagoda Café has breakfast tacos, and good ones at that. And savory pies (mmm). And sandwiches. And soup. And French Truck coffee, and a general sense of pretty neighborhood conviviality. Go, eat and support a local business.
Where 1430 N Dorgenois, corner of N Dorgenois & Bayou Rd
When 7am-4pm, Tue-Sat
Contact 504-644-4178; pagodanola@gmail.com
Image courtesy of Wikimedia Commons.