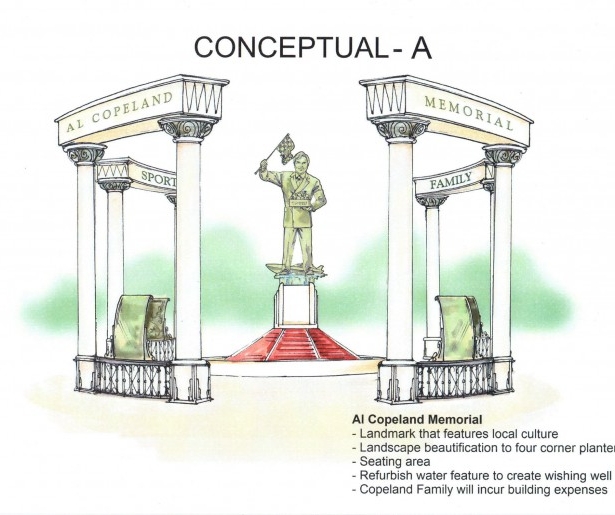 SHARE
And that makes us a little sad.
Remember the original plans for the Al Copeland memorial? There was gonna be, and we are not making this up, old Al, in front of a speedboat, waving a racing flag, holding a box of Popeyes. In, of course, a faux-Roman be-columned plaza.
It would have been amazing.
But oddly enough for greater New Orleans, cooler heads prevailed, and today the Copeland family will unveil the Al Copeland Concert Meadow at Lafreniere Park.
It all sounds very respectable, dignified and tasteful, which we suppose are all good things, but damned if we didn't want a little colorful, crazy and eccentric:
The stage features three signs, all of which name Copeland. But unlike the signs screaming Popeye's, or the eye-popping Christmas lights that decorated Copeland's Folse Drive house, these signs are muted, painted in tans as light as the base paths on a ball diamond, accented in the green of the oak leaves nearby.
Still, the whole thing is pretty huge, which certainly fits Al Copeland's legendary outsize personality. Again, from the Times-Pic:
The Copeland stage's placement above the meadow lets it face as many as 15,000 spectators, rather than 3,000 to 4,000 spectators when the rental stage was located on the park's island. The stage itself matches the size of its audience: It is large enough to fit as many as 80 musicians, allowing for larger performances […]
Well, congratulations to the Copeland family, Lafreniere and the city of Metairie. We'll enjoy this park, the above picture will forever be the fantasy park we never knew.