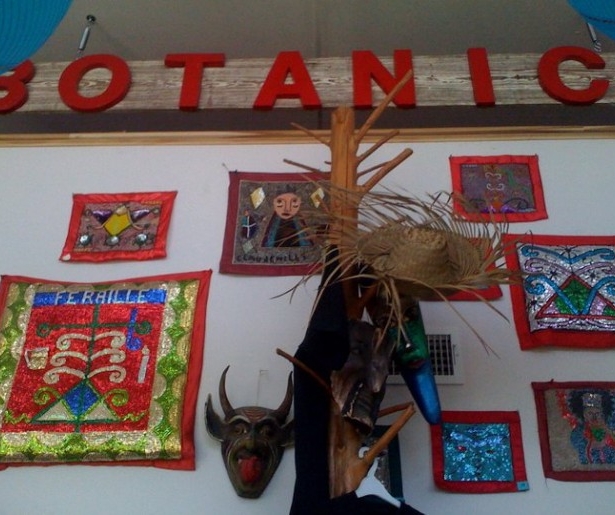 SHARE
Mardi Gras is wonderful, but All Saints Day and its sister, All Hallow's Eve – otherwise known as Halloween – should be the official holidays of New Orleans.
Mardi Gras was brought to New Orleans by the first French explorers, but the land has run thick with spirits since before recorded history, and the city's residents remain attuned to the voices of their ancestors: African and European, Caribbean and Indian.
Geoff Watland of the Island of Salvation Botanica at the Healing Center on St. Claude Avenue (2372 St Claude) sees the spirits manifesting in the everyday life of the city, as people are swept away by music and dance. It's not for nothing that "spirits" is a synonym for intoxicating liquor, he says.
Happy coincidences also seem more common here, causing some residents to question what is coincidence, and what is providence. How about the newspaper on a streetcar bench folded to display the information you needed? Or the woman in line at the supermarket who happens to be the masseuse you were aching for?
The ancestors' voices echo throughout the city, but some people have a special aptitude for hearing them. Some use tools such as candles or pendulums, drums or tarot cards, to heighten their awareness of the spirits.
Call them mediums, these people who mediate between the worlds of flesh and spirit. The fortune tellers you find burning incense in the French Quarter are only a fraction of those who willing to share their metaphysical insights. To find them, find the places where they go to be inspired and enhance their understanding of their visions.
Island of Salvation Botanica is clean, bright, and colorful with artwork, some of which was created by proprietress Sallie Ann Glassman, who studied Vodou in Haiti and was ordained a priestess in the Haitian tradition in 1995.
F&F Botanica at 801 N. Broad St. is larger and dimmer – spookier, if you are taken aback by the gantlet of religious statues that you pass through when entering. The walls are lined with thousands of ritual candles and spiritual washes. The candles on the main counter are capped with thin, tight plastic, because they have been 'dressed' with herbs and oils to enhance their effectiveness. At Island of Salvation, Watland will give your candle a custom dressing for $1.
Take advantage of the shopkeepers' knowledge of their products when visiting a botanica. Say what issues you're struggling to work through, and let them advise you on getting a spiritual leg up. They can also recommend a tarot reader or other spiritual practitioner for further insights.
Practitioners also find resources for their metaphysical work through the Metaphysical Resource Center of Metairie, operated by psychic medium Sid Patrick. An introduction to various approaches to spiritual mysteries can be had at the Metaphysical Fair of Metairie, held the third weekend of every month. Admission to the fair is free, and for $20 you can sample the approaches of psychics, healers and tarot readers for 20 minutes to see if they are right for a continuing relationship.
La Source Ancienne Ounfo (a Bywater-based voodoo congregation) and Island of Salvation will celebrate Fet Gede/the Day of the Dead on Friday evening, Nov. 1. For more information, including what to wear and what offering to bring for the dead, call the botanica at (504) 948-9961. Expect an intensely religious experience, an actual encounter with voodoo and its beliefs that belies the marketed for tourists tat you find off Bourbon Street.
Above: Island of Salvation Botanica, courtesy of their facebook page. Cover image: F&F Botanica, courtesy of Cathy Hughes.