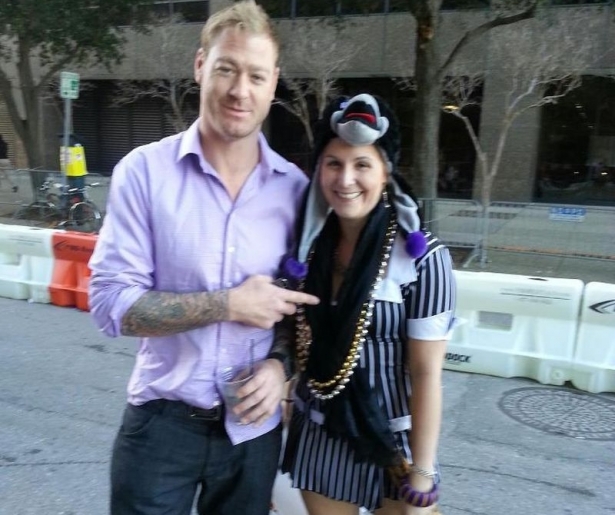 Destiny. I never thought much of that word, or even believed in it.
In 2001 I was living at my parents' house, sneaking out with my "Cool College Boyfriend" and partying at Towson University and downtown Baltimore, particularly in Fells Point. I was desperate to graduate high school, go to college somewhere away and get away from my overbearing mother.
And then, that winter: the Ravens won the AFC, Baltimore went ape-poo, and I dove headfirst into the crazy.. The college boys were screaming. TheRavens were going to the Superbowl!
I hoped my mom wouldn't realize it was Superbowl Sunday. "Cool College Boyfriend" invited me to a fraternity rager in B-more. d I picked out the shortest purple sequin skirt and tube top that I could find at Forever 21. I was ready, I was pumped and I was running around screaming "Caw Caw" like an actual Raven.
Then my mom shattered my dreams. She said it was a school night, I had finals coming up and I had to stay home and study. I was angry. I tried to sneak out, and I ended up watching the epic Ravens Superbowl win at a neighbor's house while enjoying some Boons Farm.
I always told my Maryland friends and ex-husband (a diehard Giants Fan from the Hamptons) that if the Ravens returned to the Super bowl, I would travel to Baltimore and party in the city I loved, the city where I spent most of my coming-of-age years.
Then it happened. Over two years ago, the City of New Orleans —my beloved hometown following a series of misadventures (including graduating from Towson University and eloping to Las Vegas) announced that it would be hosting the Superbowl.
I arrived in New Orleans in Dec 2005. It was only a few months since Katrina, bit I quickly feel in love with the vixen known as Nola. The food, the festivals, the fun – it all made me feel like I was at an extend-a-stay college.
My then-husband and I had a house on General Pershing across from Fat Harry's, a puppy named Lola Bean, and my life was perfect. I never wanted to leave the city; I was a full time, real deal 504 lady. I had a great job, friends, lived a block from the parade route and partied with National Guard patrol guys at Nacho Mamas on Magazine. Sure, I couldn't get a US Weekly or find a street sign that was still intact, but I loved Nola. I felt that I had finally found a home in this colorful, amazing city.
The then-husband had been a Giants fan since birth, had been on the waiting list for Giants season tickets since he was 10. He was the one who informed me that it was cheap and easy to become season ticket holders for the New Orleans Saints.
We experienced the rebirth and return of the Superdome on the opening night of the 2006 season. We saw U2 and Green Day perform and I heard a roar that I had never experienced before. It was all surreal and emotional, and in the following days I quickly bought every short and sequined black and gold ensemble piece that Forever 21 had to offer. I painted my face. I made fleur de lis cookies. I tailgated my face off. It was the best sporting experience ever.
I followed the Saints – ups and downs – and was in the Dome that night we realized the now-no-longer-'Aints were going to the Super bowl. My then-husband had family in Miami and we talked about heading there for the game. After thoughtful consideration, we realized the real party would be in da NOLA, with the crazy Who Dats, wildly sashaying on Bourbon and Esplanade.
We watched the game at Ryan's Irish pub on Decatur. We did shots with every touchdown, cheered for Bush, yelled at Hartley, swooned over Shockey and hollered for Brees with every successful pass. At some point my ex the sports expert, instructed our group to get our run on and head to Bourbon: the Saints were going to win the Lombardi Trophy.
And run we did, camera in hand, I videoed the insane and enthralling scene. It's still on my facebook page to this day, it still brings tears to my eyes and I still remember grown men hugging and crying over the victory.
***
Flash forward to 2012. With the Bounty Scandal and its associated fallout -— losing Sean, Free Payton, Go to Hell Goddell, etc – the Saints were looking more like resurrected 'Aints. When I realized the Black & Gold would not be going to the playoffs, though, II focused my sights on the Giants and Ravens and sent bad juju to the Dirty Birds and the Cheating Packers.
I would get so nervous during Ravens games I couldn't watch them. Instead I would enjoy Rom-Coms and the Kardashians and quickly flip back and forth to the football. I became that sports fan.
Then they won, and won again, and modest Flacco made me wacko. The AFC championship was awesome. We celebrated at Pat O's and Saints and Sinners in the Quarter, screaming like lunatic Raven birds. Charm City was representing in the Crescent City, ya heard?
I began receiving a flurry of calls regarding tickets, where to stay in NOLA , where to eat, etc. I had recently broken up with my NOLA-born boyfriend and was living in a 500-sq ft French Quarter attic apartment, just across from Brangelina and Robocop. I planned to fit as many people in that space as possible.
I attended the Tuesday Superbowl Media Party at Mardi Gras World with a guy on Ashley Madison – that's a whole other topic – met countless celebs including Dan Marino, Paul Kruger , Marcellus Wiley, and Jerry Rice. I actually asked Jerry Rice to dance with me and asked his entourage for condoms.
Y'know. Keeping in classy in the Big Easy
Then Cool College Boyfriend from back in the day reconnected with me. He sent his apologies, we talked, wished each other well and we continue to chat and like each other's facebook posts. Then he called. He had 4 boys and 1 girl going to the game and staying at a Frat House at Tulane. He wanted me – "The Whitney" as I was known in college—to show these youngsters alumni an authentic NOLA time.
As a freelance marketing and sales person, I often create and run social media sites for small businesses in the greater NOLA area. I decided to create a Facebook page called "Geaux Ravens," where I posted articles on cool bars, must-have dishes, and general Ravens riots occurring in both the Crescent & Charm Cities. It was much easier than mass text messages.
So the six of us, sometimes more depending on who had game on any given night, crashed at my place, partied, bought tons of Ravens gear and tried to figure out a way to get me into the game.
The Towson Group and I went to the Bud Light Hotel, tried to sneak into Justin Timberlake's party, walked the NFL Experience, saw the fireworks and bands (holler at ya girl, Soul Rebels) and heard rumors of a Ray Lewis March.
Ray Lewis, you ask? Only the most poetic and emotional man in the NFL, I answer. The one and only Number 52: He's so cool he got out of a murder charge, went to the U in Miami and is the best fake-man-tear producer out there.
We heard of a Ray Lewis 2:52 pm march to the game. We saw the free to Ravens' fans Steamboat Nachez. We meet a guy handing out white poster boards and purple markers.
And then ish got real. I grabbed the paper and pen and wrote "I SUX DIX for a TIX!" plus side bubbles stating "@Geaux Ravens," #SB47, #NOLALove, #CawCaw."
As I was writing, a large crowd gathered. Pictures were being taken of me. I was kind of confused (Important side note, I had a plush Ravens hat on my head and was dressed as a Replacement Referee complete with spray painted gold go-go boots, a penis whistle and a beer backpack.)
Soon there were massive amounts of people surrounding me. They all wanted pictures with me. Young boys, grandmas, husbands, brothers all wanted pictures with me, of me. It was insane. My only regret is that I didn't charge a dollar for a picture.
I couldn't make it up the entrance to the Natchez without photo requests. I felt like Lindsay Lohan. I told everyone I was going to the game or buying tickets at kickoff like I had done at countless Saints, LSU and BCS games. With the mass hysteria over my sign, I lost my Towson group.
I met a bodyguard type from the West Bank and he took on the role as my pimp. We got marched to the stadium, took a picture with Shaq in a car and held hands. It was super fun. We got closer to dome and went through the longest and weirdest hallway. I kept asking where Champ Square was located in these hallways. When we got to the front, they said no entry without a ticket.
This would have been helpful knowledge. We parked it at the front and hoped someone would need to lose a ticket. We brushed shoulders with John Travolta. A few women told me I needed to gain some respect for myself. I responded they shouldn't be frigid witches their whole lives. A NFL Ticket checker told me I couldn't stand around with my sign and would have to leave. We left willingly, but a stupid security guard chased me, tried to confiscate my sign and said I would be arrested if I didn't put it away.
Once out, we were hungry and walked to the Rouses on Loyola to grab beer and a pizza. We came back and quickly realized we were at the wide-open VIP entrance. We saw Pelicans Players Anthony Davis (very nice), Austin Rivers (hot girlfriend e), Sean Payton (huge Superbowl ring, hot girlfriend), some people from the CW's Vampire Diaries, ICE CUBE, Tracy Morgan, a golfer & Nascar driver, a Chicago baseball player, the cowboy from Anchorman and a WWE Diva lady.
Then I saw him. My tatted up freelance NFL-er JEREMY SHOCKEY. I had loved Mr. Shockey since my ex-husband made me a Giants fan. Shockey got screwed over by the Giants and ended up at the Saints, I was thrilled. We used to see him trying to pick up young girls at Red Eye and theBulldog Uptown. He was always gracious, wasted and hot. When I saw him years later at Suerbowl 47, he was tall, handsome and skinny! He thought my sign was "f@#king genius" but wouldn't take a picture with him in it. He joked around with me and took a picture with me.
In the shot, I'm cracking up because he is pointing at my sign and making me laugh. He invited me to a party with him but his older agent/handler said I couldn't go. He was walking away from the entrance – not sure why. Either way, he was so sweet and looked amazing.
After kickoff, we caught the game at an RV lot by the dome. The lowest price I tried to get a ticket for was $400. After kickoff that rate went up to $1500 because the game was close and exciting. My bodyguard and I watched Beyonce kill it at the little bar next to the Roosevelt Hotel. We made out, partied on Bourbon. I cried and huggedother Ravens fans. Channing Tatum was at Saints and Sinners and loved my sign, one of the kids from the Vampire Diaries was on the purple drank and most importantly, THE RAVENS WON.
River Parish boy Ed Reed went to the U with Jeremy Shockey and now had a ring too! Joe Flacco proved to be the man. Ray Lewis accomplished his destiny.
Five hours after they won, my Towson gang met me on Bourbon. They had tons of videos, pictures, and memories and I wanted to hear every story. I was beyond jealous but happy that my friends had experienced a once in a lifetime game, loved NOLA like I did and planned to go back to Baltimore and tell everyone that 1.) I was amazing 2.)NOLA was unreal.
So that's my #SB47 @Geaux Ravens #NolaLove Story. There are plenty of other interesting tidbits I could provide, but that's the long summary. I can't wait for another Superbowl in the Crescent City and can only hope that next game it's the Saints vs.Ravens!
—by Whitney Davis