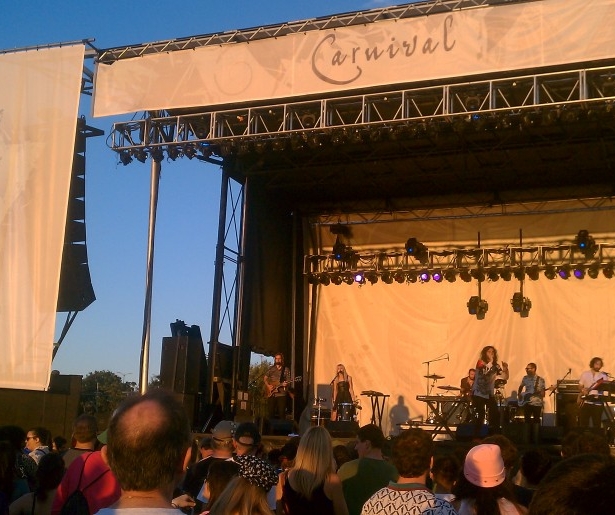 SHARE
So: being the editor of a travel website has its perks. One of those was scoring a pass to the Voodoo Experience this past weekend.
The thing is – and I am about to generate some hate mail here – maybe you should have gone in my place. I'm not big on big festivals. The port-a-potties are plucked from the seventh ring of Dante's Inferno; the sight lines to the bands are never that great; the hierarchy of plebe regular admission and VIP is exacerbated by cordoned off special entrance only areas of formerly public parks. Plus: there are too many bands to effectively take in at once. And those bands are often constrained by the festival schedule, which keeps all but headliners from playing the sort of long sets that form a complete dialogue between artist and audience member. On that note, it feels rare to get the laser focus connection between band and listener, the almost religious sense of communion and connection that is the apex of a live gig – an experience that pops off, for me, far more frequently in smaller venues.
With all of this said, I went to the Voodoo Experience on Friday, and I had a good time (although our Saints correspondent wasn't a fan).
Nothing adds to the atmosphere at the Besthoff Sculpture Garden like a little Skrillex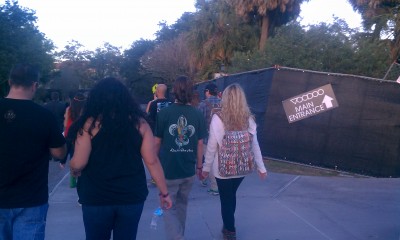 Here's the crowd coming in around 5pm. At this stage, I'm kind of annoyed. I love City Park for its serenity. Its quiet. I got engaged at the Singing Oak, just a five minute walk from where this picture was taken, because that was a place where my fiancée and I could be still amidst the chimes. I come here to listen to brids, but right now, at the entrance of City Park, all I can hear is Destructo's set. The bass is overwhelming.
'I can see Metairie from here!'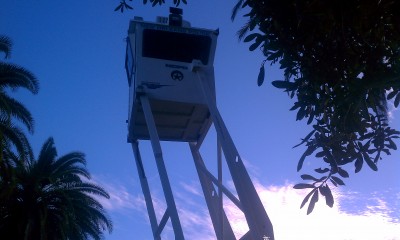 This is an NOPD security…thing, but at first, I thought it was a cherry picker.
'One weekend pass for Yogg-Sauron, please.'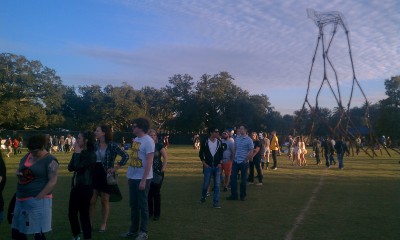 Nothing says 'Get in the Will Call line' (which is what you're seeing here) like six metal tentacles attached to Cthulu's nephew, otherwise known as Flock, the first art installation I saw at Voodoo. After I took this picture, I got my pass (or 'credential,' as they're called by Voodoo organizers). Then Flock strode across the landscape sucking the life force from countless concert-goers, energy which was subsequently used to power the amps for Trent Reznor's Saturday set. Not really, but it looks plausible.
Poppa needs a new pair of Tom's beaded moccasins!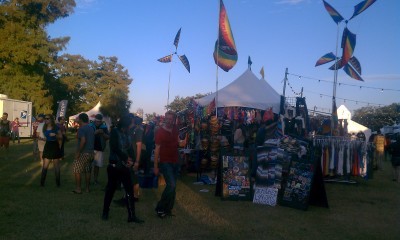 When you walk into Voodoo, you walk right into the part of every modern festival that I like to call Etsy Alley: a bunch of tents showcasing arts and crafts. I actually think these merchants sometimes get screwed at other festivals, where they're shunted to the side, so I'm glad they got to be front and center at Voodoo.
Watch the way the rainbow weather vane spins to tell where the pot is being smoked.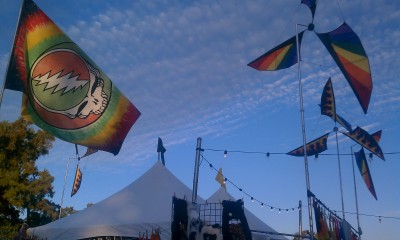 I think it is a federal law that all music festivals must contain one tie-dye Grateful Dead or Bob marley flag. The Marley flag is just out of shot to the left, by the way.
Cool.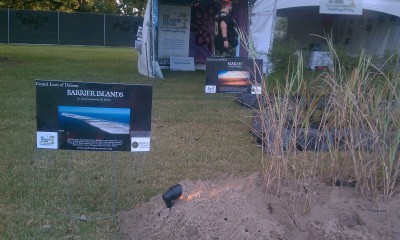 I thought this was great: the Gulf Restoration Network created a Louisiana landscape in miniature to demonstrate how barrier islands, marshes and healthy wetlands serve as natural buffers against storms and floods. Eddie Vedder is also sufficiently impressed, and will give the GRN a shot out during his set later that night.
Not as cool.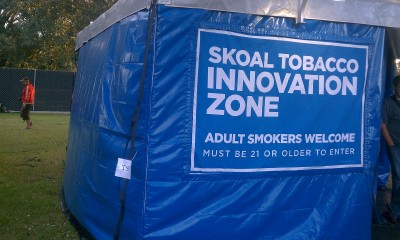 Ugh. 'Tobacco Innovation Zone.' Marketing language aimed squarely at the TEDx demographic. 'Hey, how can we get the young hip kids into dip. I know – call it disruptive.' No one is in Skoal's Tobacco Innovation Zone, presumably because anyone can see it is manned by two bored looking marketing majors with iPads who are clearly going to spam your inbox and phone with dozens of emails and texts, all for a free tin of crappy snuff.
I remember fighting this guy at the end of Star Fox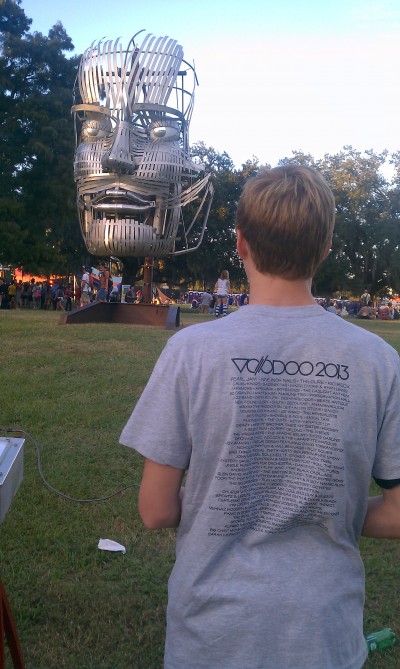 Tron has nightmares about Face Forward, another one of the art installations at Voodoo, and a definite crowd favorite. See, there were a series of control panels that allowed passers by to manipulate Face Forward's, well, face. I think the guy in front of me in the Voodoo t-shirt (by the way, see what I did there? That's called establishing a sense of place, folks) is controlling the sculpture's lower left lip. I know this is meant to create a community driven piece of interactive artwork that comes to life only by the united participation of the audience, but it ultimately looked like Face First was caught in an event horizon. That said, it also looked totally bad ass, and I sat here for a good long time watching this metallic visage undergo its crowd-controlled fit.
'LA' as in Louisiana. Not some clever French way of saying 'The Cookery.'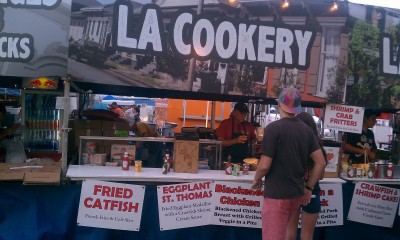 There was food. It was yum.
If you squint, you can see Robert Smith on the Super Looper singing "Friday I'm in Love."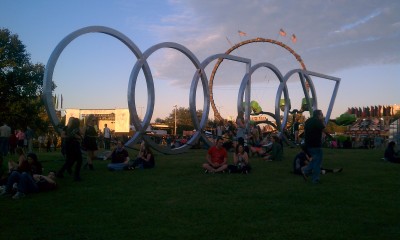 So, this is the first year Voodoo is taking place on the Festival Grounds at City Park. The idea was to make the entire experience smaller, a little more intimate. I liked that there were only four stages, that the food was close to the music was close to the merchandise, all without screwing up the sound experience at various stages. On the other hand, see those amusement park rides? With fried oreos and funnel cake? Look, I love fried oreos and funnel cake, but keep the state fair out of the music festival and vice versa. The Cure and the tilt-a-whirl just don't mix.
It's either nerve ganglia or a Tik in a Tok that Came from a Wok.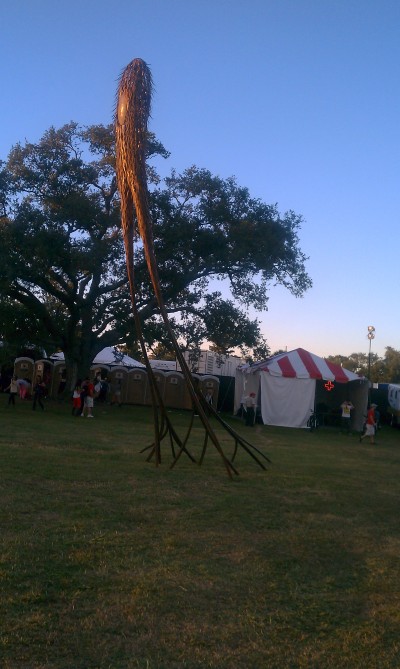 I haven't been able to find the name of this piece, but it looks like it should either be in a Dr Seuss book or a medical manual.
Nothing snarky. Y'all rocked.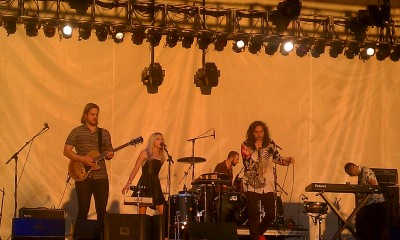 Youngblood Hawke tears it the hell up on the Carnival Stage. I like smaller stages at big festivals. The artists seem to have something more to prove. These guys brought out a bunch of drums and pounded ten kinds of shit out of them for their final song. It was powerful, moving and kicked all kinds of ass.
If you eat pizza after midnight and watch My Little Pony, you'll have nightmares like this.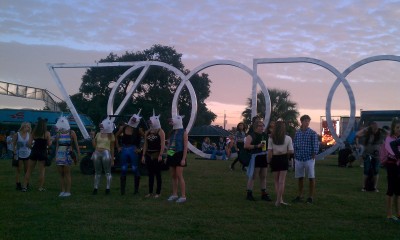 I've seen festival fashion change a lot over the years. In the '00s, you had the girls with the hippie headbands and cowboy boots and sun dresses. Those girls were at Voodoo this year, but they're being supplanted by a younger generation in shorteralls and geometric print belly shirts and cut-off daisy dukes. They say decades repeat, fashion-wise, every 20 years, so I guess it's the '90s turn. There was also a group of teenagers with unicorn heads, which was creepy as all hell.
'Nothing says I respect your culture like some High Life and bad dancing at a Calvin Harris set.'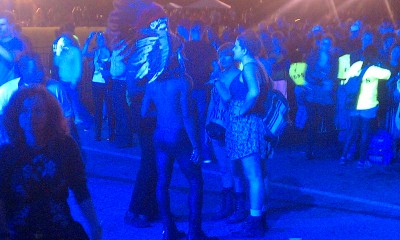 One thing that still hasn't gone out of festival fashion is Native American headdresses. So you know: those feathers on a war bonnet were earned, like military medals. You can look your boho-festival best without flipping American Indians the collective bird. Just sayin'.
Stevens County got soul like what.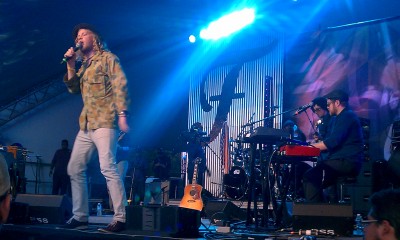 Allen Stone. The first of three acts I saw from Washington state on Friday night. And let me add: Allen is not just from Washington, but Chelewah, way out in Stevens County in the Eastern part of the state. This is decidedly not Seattle; this is basically an extension of Idaho. It's wild, Rocky Mountain country, and the racial composition is about as white as freshly driven snow. Yet this guy rocks out the soul and R&B like a young Otis Redding. His voice belts like a sonic jet engine run through a silk screen, and his stage presence is magnificent. See him every chance you can.
The indigo button showers the stage in lily-scented rainbows, but I didn't press it.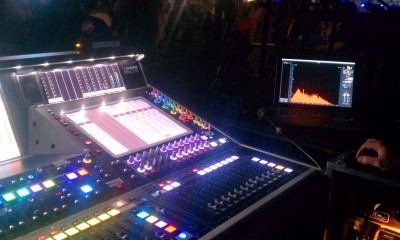 Because my boss Jay Valentino is a mensch, I got to get in the sound booth at the headliner-hosting Ritual Stage. Did you ever think the sound booth is isolated from the music? YOU ARE WRONG. Those audio techs put themselves in the heart of the music. I guess they need to feel the music in order to manage it. You haven't felt bass until you've been in this spot where I am taking this picture. It felt like an earthquake in my hips.
Macklemore's sound guy. This was [bleeping] awesome.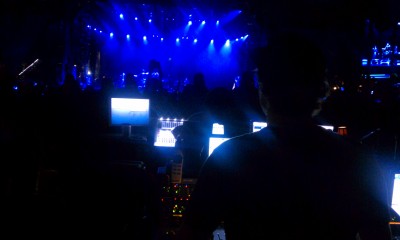 So, Macklemore gets on stage and tells the crowd this ridiculous story about swimming in the Mississippi, losing his clothes and getting a piggy back ride from an old woman. When he asks her "Where are we going?", she yells, "To the THRIFT SHOP."
OK. I get it.
But A) seemed like a lot of build up to say "We're going to the THrIFT SHOP!", and B), really, Macklemore? You opened with Thrift Shop? I know you've got more up your fur-lined sleeve, but you could tell everyone was a little surprised he led with his biggest hit. I mean, damn. That's a cold ass honky.
To be fair, he probably has jerseys for every NBA franchise. Except the Raptors. No one likes the Raptors.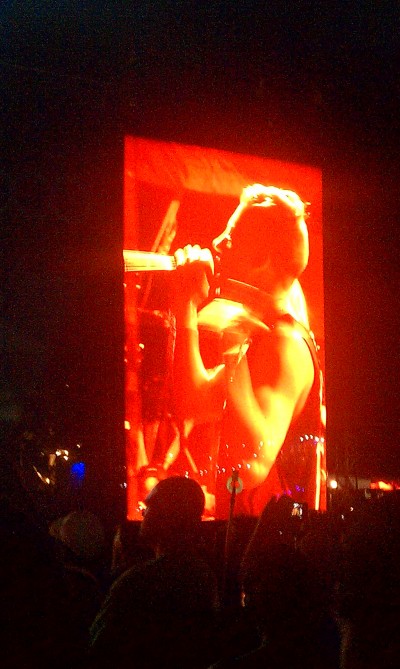 Macklemore takes off his jacket, revealing a Pelicans jersey (the crowd goes ape poo) and does Same Love. Beautiful song, but that's two out of three big singles.
Thousands of bros screaming 'I can be that penis!' Really.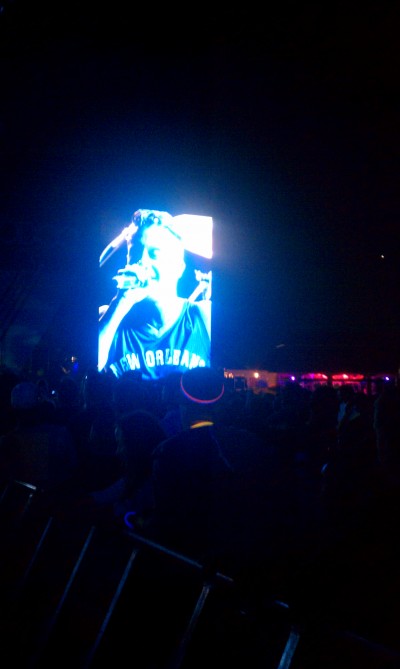 Of course, the third song is Can't Hold Us. Mackemore has brought his fire. To be fair, he does some other good songs, and makes some funny jokes (at one point, he says the crowd is like a penis at half mast, and he wants us to be like a full erection. "Can you be that penis, New Orleans?" is one of the better crowd pump up call and responses I've heard at a concert).
The Bangles make a impromptu appearance and perform Walk Like an Egyptian. J/k.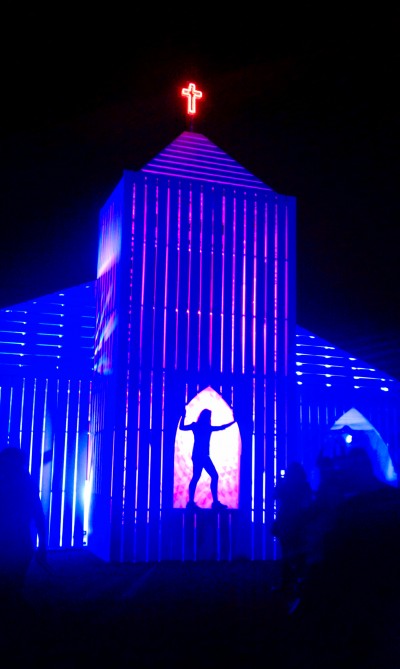 The 'merch church'. Voodoo's language, not mine. Ah well, worship of merchandise is half a festival's identity – at least Voodoo is honest.
'V' for 'vendetta' against the nearby funnel cake stand. Kidding.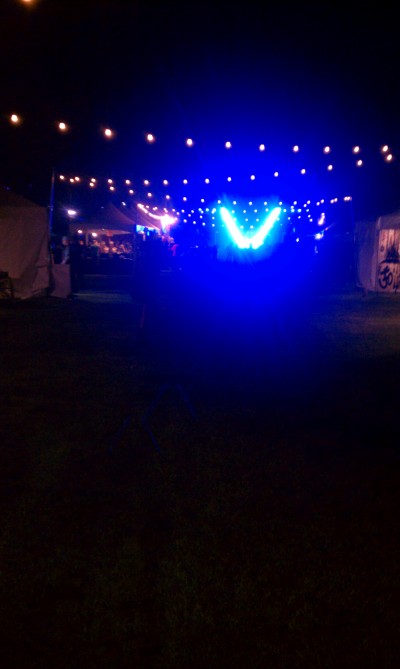 Walking around, I see an entrance to some kind of Loa zone. The what? The Loa are interceding spirits, or maybe demigods depending on how you define them, within the pantheon of Haitian vodoun. I appreciate the Voodoo Experience is being authentic with its allusions to its eponymous faith, but naming a music festival for one of our local religions is already kind of weird. I mean, wouldn't it feel off to go a non-Christian Rock themed-festival called "Catholicism" with a "Saints and Archangels" roped off VIP area?
'Oh, this Cone is nice, but Cone v3 in Brooklyn is amazing.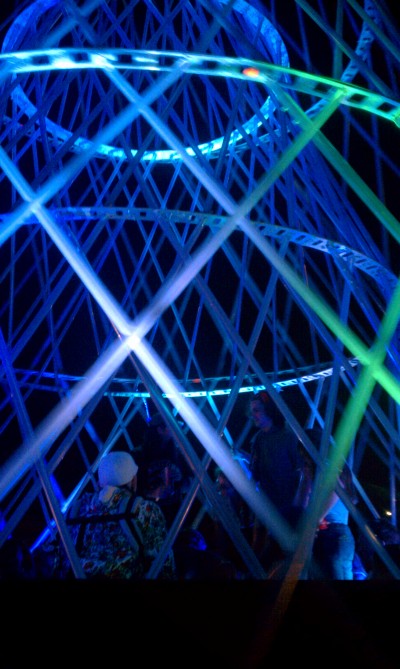 This is Cone v2: a 30-foot tall inverted birthday party cap made out of ribbons that rotates on what seems to be a giant turn table. Somehow, people got inside of the cone and were hanging out as if they were in a Manhattan cocktail bar. Pretty cool.
Can't find a better man.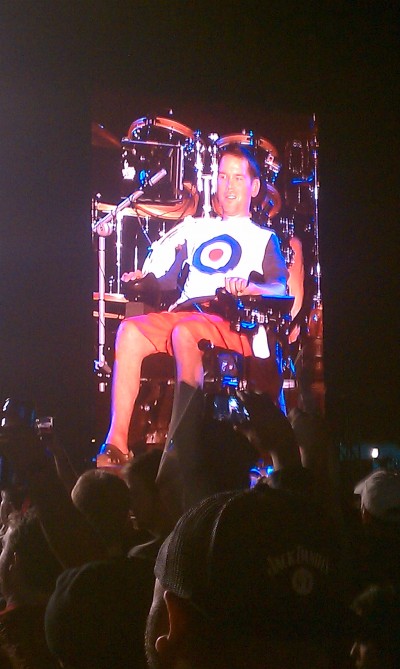 At around 9pm, Steve Gleason introduces Pearl Jam. Benign chaos ensues.
Eddie: sorta sounding his age, but to his credit, he's jumping around and slurring his consonants like its 1993.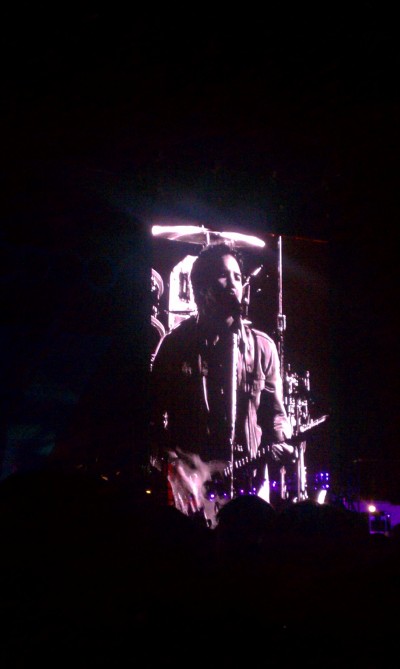 At this point, my note taking decreases, because honestly, I am back in the sound booth and rocking out. At one point, Mr. Vedder says, "if you get arrested tonight, call this number. It's for Macklemore. He'll bail you out of jail, or at least give you $10. So you can buy a thrift at the thrift shop." At another point, he says, "This song is about all the drug overdoses in Washington since we've legalized marijuana. It's a fiction song, because that has never happened." Crowd cheers. Later, after telling a friend about this, she remarks, "So I guess Eddie Vedder makes dad jokes now."
Viva Vitalogy!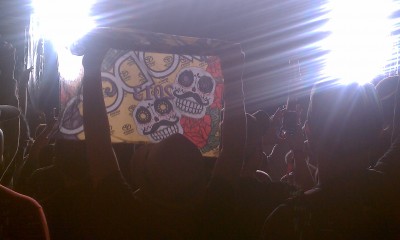 Well, it was Day of the Dead after all.
JEREMY SPOKE CAN CLAAAASS TOOOODAAAAY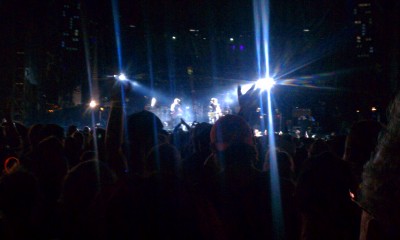 After that, Eddie sang my other favorite. "Don't call me daughter, ha hey hoo, na pickshuh kept will ma heinie heinie hee."
Those are the lyrics. Look it up.
That flash of light is Allen Stone, Eddie Vedder and Macklemore ascending back to Washington state for salmon.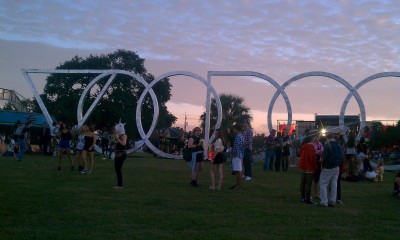 Eddie Vedder sang directly to my 15-year old, high school sophomore self. He put me in the backseat of car rides to the Taco Bell, to sixth period cafeterias and smoke breaks in the boys roof. In short, he brought me back to a youth angsty enough that I once sang "Jeremy Spoken" at the top of my lungs in my old bedroom, and I do it again tonight, at the age of 32, because rock and roll, people.
That said, the toilets were still pretty gross.