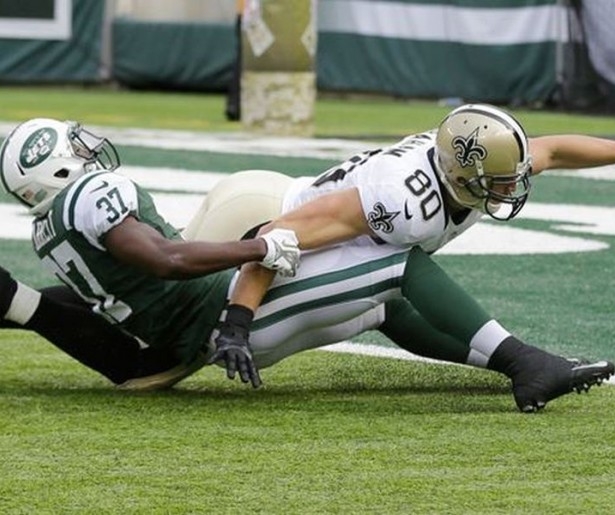 SHARE
Yesterday's game at Met Life Stadium was a Lovecraftian nightmare for the Saints, as their doom seemed fated by both external and internal dark forces that could not be overcome.
One of these was ally-turned-nemesis Chris Ivory, who we traded to the Jets for a 4th rounder a year ago. Ivory was electric, averaging 7.7 yards per carry and breaking big play after big play, finishing with 139 yards and a touchdown. It was a cruel juxtaposition to see an offensive line generate effective run blocking.
Our offensive line didn't do us any favors. Brees was constantly running for his life and could never find his rhythm. He was only sacked twice, but had to awkwardly throw the ball away after seemingly every other snap.
The limited confidence in our offensive line caused Sean Payton to make the worst play call in his time with the Saints, a double reverse to a rookie tight end on 4th and inches. This play got blown up as completely as a cutesy reverse to a slow player can be blown up, and we lost our best remaining chance (in terms of field position) to come back from a six-point deficit.
Doesn't it seem like you would go for a high percentage play here? Perhaps a one-yard pass to Lance Moore? Worst call ever.
The defense gave up some big run plays, which were designed by Rex Ryan to overcome his brother's blitz-happy ways, but Rob's guys mostly hung tough for the entire game, giving our poorly performing offense several chances to come back.
For Saints fans, Geno Smith picked a crappy day to not make any mistakes. The turnover monster only attempted twenty passes as he game-managed his way to a win. Also, he juked the hell out of Cam Jordan for a TD.
After Brees' second touchdown, the Saints took a 14-6 lead, but would never again find the red zone. One of Brees' two interceptions was not his fault, tipped into the air by Nick Toon, who also dropped a long bomb that he should have caught near the end of the first quarter. But the other Brees pick was entirely his own fault, and he could have thrown five or six interceptions had we not been so 'lucky'.
In fact, the Saints were lucky in terms of refereeing. We committed tons of bone-headed holding penalties at bad times but were saved by a few bad calls against the Jets, including this bad roughing the passer call.
The Saints now find themselves perched precariously atop the NFC South ahead of a resurgent Panthers team that has won five of the last six games and is on a four-game streak. They're also heading into the most difficult part of their schedule, facing the Cowboys and 49ers at home, then the Seahawks in Seattle two weeks later. A win yesterday would have been nice, because we will need to pad our win column wherever we can. Yesterday will not be the final Saints loss of the season.
But the Cowboys might be a nice team to rebound against, having just narrowly escaped a loss to a one-win Vikings team. Rob Ryan will have it out for his old employers, and will hopefully get into Tony Romo's personal space early and often with blitz packages. Brees and the offense will need to find their mojo and start scoring consistently again to keep up with the Cowboys, which is certainly doable against a team that was given a run for its money by Christian Ponder.
The Saints lost, but the weather was beautiful, so the GF and I decided to hit up the last day of Voodoo Fest for the heartwarming cutesy shtick of Matt & Kim. Whether or not you like their poppy bubblegum synth, Matt & Kim always put on a fun, upbeat show and did not disappoint yesterday in this regard. They are proto-hipsters from the early aughts, but also anti-hipstery in their way – cheerful and adorable, not the effete trolls we commonly encounter at cool coffee shops and vintage stores.
But even Matt & Kim's affable shenanigans could not fully distract me from this strange new corporate iteration of Voodoo Fest. In 1999, I attended the first Voodoo Music Experience, and my first George Clinton & P. Funk show blew my sixteen-year-old mind. Ben Folds and Wyclef and Moby were awesome too.
In 2008, I met my girlfriend at the festival, now called The Voodoo Music + Arts Experience. It was our first time seeing Ghostland Observatory. It was delightfully nostalgic for me to see Stone Temple Pilots again, who I had not seen since Voodoo Fest 2000. But my twenty-four-year-old self was more of a Lupe Fiasco and TV on the Radio guy, and both were spectacular. There was always a cool mixture of newschool and oldschool at Voodoo Fest.
Plus, the grounds in the middle of New Orleans City Park were perfect for this festival. You had to walk through a haunted forest of ancient oak trees with various craft vendors scattered around to get into the fest, and it really established a voodoo vibe.
This year the festival moved within the park for the fifth time in its history to the new Festival Grounds, a relatively flat and open space. It looked like a ramshackle state fair with corporate logos everywhere – signs of the new ownership by concert juggernaut Live Nation. There were less art installations and random hippie craft vendors. There were less eerie tree canopies. There were four stages instead of five. The mystique of the old grounds and much of the uniqueness of the event's brand were poignant losses to a Voodoo loyalist such as myself.
Were The Cure and Nine Inch Nails good? Yes, but they felt anachronistic. Were most of the DJ's at the electronic stage good? Yes, but they lacked star power. The the lineup featured a stark lack of hip hop and contemporary indie rock, as well as headliners that felt purposefully tailored to a very specific age demographic. Last year the main stage headliners spanned generations: Neil Young and Metallica offset by Jack White. In 2013, we have Pearl Jam, NIN and The Cure. You had to be a forty-ish generation X-er at the main stage or a teen on MDMA at the electronic stage to find your scene.
As we head into a Live Nation-owned Voodoo Fest future and the roughest stretch of the Saints schedule, it was a bleak Sunday for a Voodoo/Saints diehard. All we can hope is that the inevitable backlash resulting from both performances begets enough constructive action to right both ships once more.
Image courtesy of the Saints