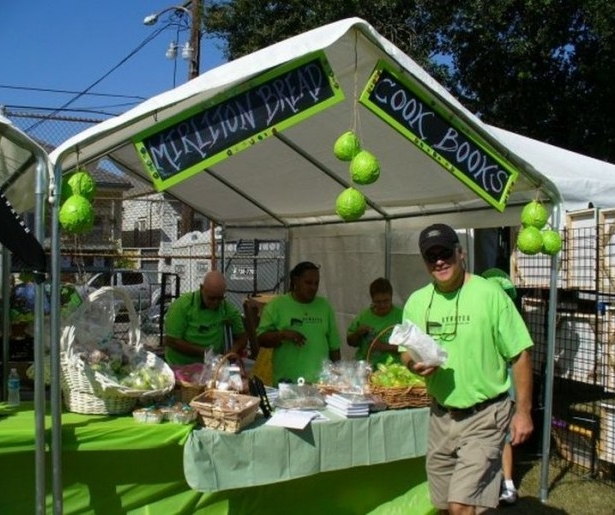 SHARE
It's a bird! It's a plane! It's a strange wrinkly pear-shaped vegetable that seems to have been named for a wizard! The time of year is again upon us to celebrate the mighty, yet humble mirliton. And what neighborhood could better understand, and therefore be the steward for this paradoxical cucurbit (that's a word, OK?) than the Bywater. This Saturday, November 9th, the Bywater Neighborhood Association hosts the 24th annual Mirliton Festival.
The festival is bigger than ever in its second year at The Brickyard (on Chartres at Montegut). Over the years the celebration has taken on more participants, evolving into its current eating, gardening, dancing, frolicking and shopping extravaganza. From 11 am to 7 pm, for a $5 admission (kids under 12 get in free) the festival includes a full line-up of New Orleans musicians, an Artist's Village, kid's activities and food booths from nearby Bywater eateries.
But the star of the show is the eponymous mirliton, whose name is pronounced in as many different dialects as dishes it can produce. A palm-sized unassuming green squash with a puckered seam on the plump end, the mirliton (or chayote as it's known in its Mexican homeland) stole the hearts of cooks across the state of Louisiana.
Its mild flavor and versatile shape lend it to many uses in the kitchen, from pickling to stuffing to roasting. It can be used in soups, as an edible bowl for shrimp salad, or diced up and sauteed. The festival will feature many of these renditions prepared by neighborhood restaurants like Pizza Delicious, Elizabeth's, Sugar Park and The Country Club. Additionally, Dr. Lance Hill will be in attendance with mirliton seedlings and instructions for home gardeners who are curious about cultivating the little vine on their own.
The festival also spotlights some of the personalities that make the Bywater as unique and mildly eccentric as the mirliton. Expect Fringe Festival previews, an Artist village featuring handmade crafts and a musical line-up of bands who play frequently in the neighborhood (Good Children Marching Band, Kristin Diable, The Tin Men, Meschiya Lake). Also in attendance will be documentary photographer Bryan Tarnowski and WWNO's The Listening Post, capturing resident's portraits and stories on one of the many days we celebrate this place and its food.