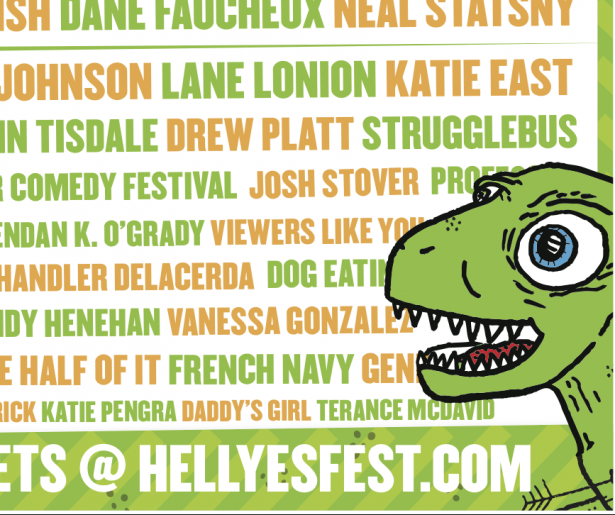 It's been a busy few years for the comedy scene here in New Orleans. There's been a theater opening, three new web series, a book release, and better and better shows. There has been a noticeably more frequent presence of comedy celebrities performing in our previously off-the-beaten-path city. And, returning next week, there will be Hell Yes Fest.
The event started with our sister theater, The (original) New Movement in Austin in April 2011. The multi-day festival brought stand-up, sketch, and improv together under the unifying idea of, "Let's make this the way we wished people did it already." There were no submission fees, and the curated acts featured performers we liked on a local and national level.
The scene in New Orleans grew, thanks to weekly shows and classes run by local sketch and improv troupe Stupid Time Machine. When Chris Trew and Tami Nelson (featured in this month's Gambit's 2013 40 Under 40) returned home from a Katrina-induced move to Austin, the foundation had been set. Fans of STM shows were now students, and many of those students were rapidly taking ownership in the growing community.
Many of those first graduates of The New Movement's improv and sketch conservatory now produce regular staples of the local comedy landscape (more on those featured shows below). Through weekly shows and teaching in art spaces, coffee shops and rented theater rooms around the city, a small but devoted pocket of performers had begun to form, at a time when successful individual performers consistently relocated to a bigger scene.
With The New Movement, however, the momentum began building in earnest. There are lots opportunities now available for comedians, improvisers and comedic writers in New Orleans. National tours, web series with five figure budgets, city-wide awards, nightly shows, and a genuine spirit of creative possibility, just scratch the surface of what's now available. But the easiest sign of growth to comedy scene outsiders is the behemoth known as Hell Yes Fest.
Grown in the short span of three years, the first New Orleans HYF highlighted mainstay favorites Sean Patton," Kyle Kinane":http://kylekinane.tumblr.com/, Moshe Kasher and other stand-up heavyweights, plus local and national improv and sketch acts. The second year, spurned on by a dedicated theater space, expanded to more venues, more nights, more name-recognition (like Master of Ceremonies Joey Greco, of Cheaters fame) and more seasoned performers from home and beyond.
This third year, Hell Yes Fest is a juggernaut of a festival. With over 100 performers doing shows over the course of seven days in venues all over town, this is not only the largest comedy festival in New Orleans, but the entire region. Some names are large enough to be on almost everybody's radar: best-of-list perennial Sean Patton returns home, Sara Schaefer of MTV and Todd Barry (who has been on HBO, Comedy Central, among others) all have wide enough recognition to pack a house. The following list, broken down day to day, features some gems that might not be as obvious.
Tuesday – The festival kicks off at One Eyed Jacks in the French Quarter with an all-local show, including sets with TNM founders Chris and Tami, national touring New Orleans sketch group Stupid Time Machine, stand up sets from Addy Najera and Sophie Johnson (a touring opener for Jamie Kilstein), and FunFunFun Fest featured performers Dean's List. Grab some great eats at Killer Poboys in the Erin Rose bar before the show, and stay out too late drinking at Turtle Bay on Decatur afterwards.
Wednesday – The New Orleans web series scene has exploded in the past six months. At TNM partner Prytania Theater, Sunken City makes its next episode debut fresh from a TribeCon appearance at 7:30pm, alongside Austin-based, Sundance-approved Bryan Poser's feature The Bouneback. Todd Barry headlines later that night with local stalwarts Andrew Polk (who is a tour opener for Barry in addition to running the weekly New Movement Theater's Hi-Ho standup nights) and Ariel Elias (who recently opened for Bo Burnham) at Café Istanbul at 10pm. You can hit both, so why not grab some Company Burger uptown before the shows? Kajun's is a safe bet for duets and drunken confessions later on.
Thursday – Stupid Time Machine, in addition to co-founding The New Movement New Orleans, writes sketch shows that sell out around the nation (Chicago SketchFest and SF Sketch Fest, among others) and featured videos on Web sites like Funny or Die.
Watch their brand new sketch show debut at TNM at 7pm. For some up-and-coming TNM improv, catch the Dusty Show at 9pm at the Shadowbox with Brows, Moonsault and Sapphire. Round your night out across the street with the 11pm Hi-Ho Stand Up set, featuring John F. O'Donnell. Start out your night with food at Thrillest BBQ best-lister The Joint, and polish off drinks at Hi Ho.
Friday – Local improvisers and sketch writers Lauren Laborde and Colleen Allerton went viral a few months ago with their My Purse, My Choice video and Rude was born. Check out their debut sketch show at 7pm, along with UCB performers Kelly and Lindsey. It's a great night for podcasts, with Nerdist's Terrified with Dave Ross recording at TNM at 8:30pm.. For a later set, don't miss local storytelling platform Shipwrecked!'s final show at Café Istanbul at 9:15pm. Last year sold out, with Dave Holmes as the final storyteller. You've had your meat and po-boys, so load up on some nationally-lauded Pizza Delicious. Oh, and there are some funny people doing a stand-up show at One Eyed Jacks at 10:30 (severe understatement).
Saturday – Feeling the burn yet? Saturday is no slouch night. At 7:15pm in Café Istanbul, New Orleans favorite and constant sell-out You Don't Know The Half of It brings improvisers, actors, and writers together for a show that is half-written, half-improvised and completely hilarious (and the YDKTBand, members of Sweet Crude, Alexis and the Samurai and The Plus One Show, among other bands, are no slouches either). The high-wire act doesn't stop there, with silent film improvisation team (that's a thing!) Quiet on the Set at 9pm, also at Café Istanbul. It's magic to watch, complete with live music and narration from that elderly couple that lives down the street. Sara Schaefer is the Megaphone guest monologist for TNM's longest running show, at TNM at 9:30. If you're coming from uptown, why not start your night with food from Milk Bar Drinks at Kerry's Irish Pub are good for a black-and-tan in the French Quarter.
Sunday – The penultimate night, ladies and gentleman. We bring the shows closer, with duo night at The New Movement featuring all TNM talent: Chris and Tami, breakneck absurdity with French Navy and national festival and NPR-featured machine A. Afterwards, hit the Hi-Ho Lounge for some stand-up with special guests (who've included Craig Robinson, Totally Biased's Aparna Nancherla, and Pete Holmes' show writer Chris Thayer, among up-and-coming local favorites). Food recommendations? Detox before it's too late. Or enjoy some of Theo's Pizza, locations all 'round town.
Monday – We end with a bang of absurdly epic proportions: Adult Swim's live talk show The Eric Andre Show at One Eyed Jacks. It will haunt your dreams.
The fun doesn't stop with Hell Yes Fest. The New Movement is also packing a huge show schedule for Fringe Fest; check out what's on offer here.