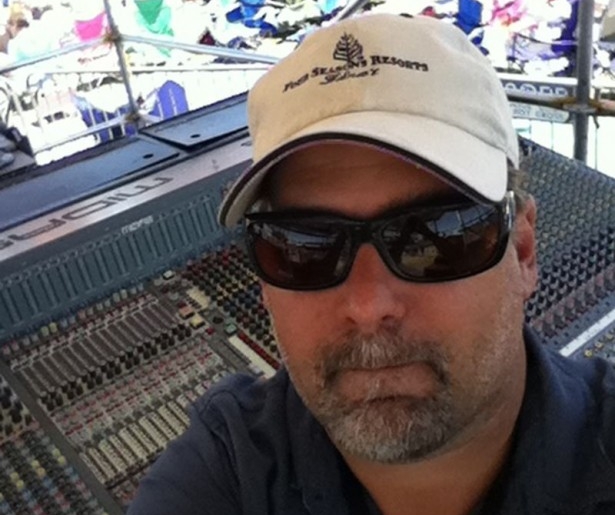 SHARE
We don't lack for interesting folks in New Orleans, and at New Orleans & Me, we like to tell their stories. Kevin McKenzie is an independent sound engineer and technician currently on tour with Pearl Jam. He was in town for Voodoo last weekend and will be following the band on their current itinerary. He was born in New Orleans, grew up in Mississippi and moved back to the Crescent City after college. When we met Kevin, he was in Voodoo's central sound booth; the bass positively rocked the earth every few seconds. You truly felt like you were at the center of a sound explosion.
How do you see your role in the concert experience?
I am one of many people who help to translate the artistic presentation to the audience. But I personally don't like to take the credit for being a creator. I'm more of a conduit if you will. Whoever is on stage is 99% of the art, and it's my job to relay that.
How did you get into sound engineering?
I was into sound long before college. I started in elementary school, setting up microphones. I was always fascinated with every part of the process – both the music and the gear. But I eventually found out I was a lot better at the technical, gear side of the equation.
So was New Orleans where you started doing this sort of work professionally?
Well, professionally means paid, and my first paid gig was in college, in Mississippi, where I worked for a local stage crew when they had concerts come through. But New Orleans was where I started engineering, and my career really took off there.
So how did your career start?
It started, indirectly, with bands. I had a good friend who played with local band s in the' 80s – I helped them as an engineer, but that gig wasn't really a money maker. But because I had connections to the scene, I was able to use those to find a job with a sound company. Working for a sound company gives you a large variety of work – doing a band, a wedding, corporate events, what have you – and then, afer that you start working local, regional and national acts coming through. So there's a great diversity: a big rock show in a club one night, a hotel ballroom the next week, then a big festival again.
Is New Orleans, with its constant live music and busy conventions schedule, a particularly good city for your line of work?
There's a lot of those things in New Orleans, but they are also in other markets around the country. I lived in Los Angeles for several years after Katrina, and there's obviously a lot of film and TV work there. Whereas Phoenix and Orlando are huge for corporate events.
Speaking of film and television, have you seen an uptick in that sort of work with the whole Hollywood South phenomenon?
I haven't personally because of my work with bands, but I have seen that benefit a lot of people I know who work in the film industry.
When did you start getting gigs outside of New Orleans?
Somewhere around the early 90s, I started working with sound companies that do local and regional festivals. I started really touring in 2003 when I started working with Pearl Jam, and I'm still working with them today a decade later.
So how did that Pearl Jam connection happen?
Like everything in this business, it was timing and luck. I had made a contact with a sound company in Los Angeles, and it just so happened that Pearl Jam was out on tour and were using that company. They were coming through New Orleans, and someone who had been on the crew couldn't make it to the gig, and they needed someone, and that's how it happened.
Were you into Pearl Jam at the time?
I was into them in the early 90s, but I hadn't really kept up with it, to the point that when I got that call I was like, 'Oh, they're out doing shows? OK, that works.' But after working with them I was pretty blown away with what a show they put on, and the powerful energy they had with the audience. And it turned out they were pretty cool guys. On the flip side, there have been artists I was into, and after working with them I haven't been able to stand them.
I've developed a personal rule – in general, I don't want to work for a band I liked when I was younger because it might ruin them for me. If for no other reason than this: they're 30 years older, The visuals are different, and it takes away some of the magic of whatever my memories are of liking something when I was in high school. When you're involved with that band first hand – they still might be good, but it's a completely different take. I think everything worked out so well with Pearl Jam because I wasn't so into them before, but gained a lot of appreciation and adoration for the band after working with them.
So, can you name some bands that you didn't like working with?
On the record?
Yeah
Nope (laughs)
Fair enough. How about the bands you did like working with?
That list starts with Pearl Jam. I knew them but wasn't in the fan club so to speak. I did a few tours with the Foo Fighters – they were established, but I wasn't that familiar with them when we started working together, and they were great. Then there are artists who do opening acts who I have never heard of who end up being great. Glenn Hansard from Ireland really stands out in that regard.
What makes someone easy to work with versus hard to work with?
Easy to work with would be first and foremost true talent and intelligence. A good player or singer who knows what they want and has a professional attitude and mentality – they come in, know what they want and how they want it to be.
A difficult artist is someone who is never happy. Sometimes really well known artists will have stage fright, and they will manifest that by directing it towards the crew or band mates or all of the above. So say a singer isn't in key – they might blame the engineer. Another example is artists who have, shall we say substance abuse problems – one day they're great, the next you need to stop your ears up. Years ago I did a gig with George Jones. He was so drunk they actually carried him on stage. He started singing, then stopped and started yelling at this monitor engineer in the middle of the set. His monitor guy took it for a minute, and then got up and quit.
What's your favorite part of the job?
My favorite part is ironically also the biggest drag, which is the traveling. That's the excitement that keeps me going. I've been to lots of different countries, and it's always fun once every year or two to go to Europe and check out the little pub I always go to in Berlin, in addition to seeing all sorts of new things. That's the favorite amazing part, but it's also the biggest drag, because of course traveling takes a lot of time and it can be hard on people at home. The other biggest plus is a certain sort of high that comes with being able to go into a big arena and walk in there and then within a day, just build up a huge sound system, then build up the energy of all those people, from 15,000 in an arena to 80,000 in a South American soccer stadium.