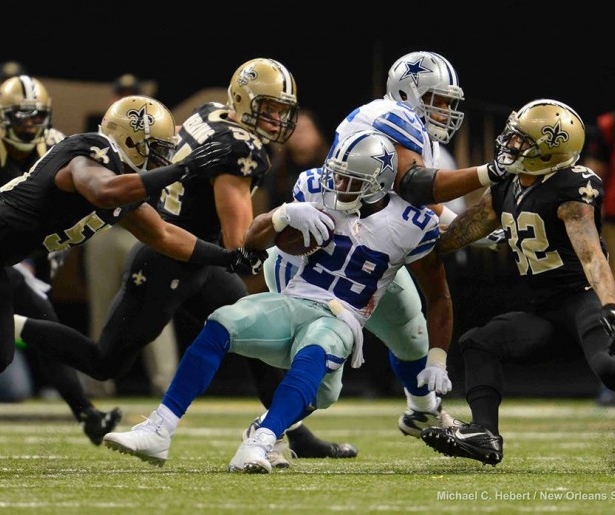 SHARE
It's a good thing that Jerry Jones got his partying in on Saturday, because we utterly decimated the Cowboys last night.
Things got off to a scary start as Sproles muffed the first punt of the game, but the defense held them to a field goal. After that, it was off to the races.
The Saints called 41 passes and 38 runs. Everything worked. We notched an NFL record forty first downs (on eighty plays), as the Cowboys' injured and ill-coached defense wallowed. They had a good defensive coordinator last year but he works in New Orleans now.
Brees completed 34 of his 41 passes for 392 yards and 4 touchdowns to four different wide receivers and zero interceptions. Brees was surgical throughout the night, and Dallas was helpless as the Saints scored seven touchdowns on eleven drives and punted only once.
Colston looked like his former self, boxing out for a few catches on the first drive, then busting through a Jeff Heath tackle attempt for the first TD. Jeff Heath was filling in for free safety J.J. Wilcox and he was abysmal, giving up big plays all evening long. The other passing TDs went to Stills, Sproles and Pierre Thomas.
Sproles and Pierre also scored rushing TDs, but so did Mark Ingram. I have been an Ingram detractor for a long time now, but he looked great, racking up 145 yards and a TD on 14 carries. No one was as shocked as Ingram, who was so excited after his first good run all year that he spun the ball in celebration – and then got penalized.
If you take out Luke McCown's two kneels at the end of the game, the Saints ran 36 times (a 14-17-5 split between Ingram-Pierre-Sproles) for 244 yards, averaging 6.78 yards per attempt. That's massive. The balanced Saints attack totaled 625 yards. Again: massive.
Much will be made of the Cowboys' defensive injuries sustained before and during the game. But the teams entered the Super Dome on a mostly even keel, with an outside linebacker on IR and a free safety sitting out. During the game, Dallas lost superstar middle 'backer Sean Lee to a hamstring pull, which certainly didn't hurt the Saints' ground game.
The Saints' defense, eclipsed by the prodigious performance of the offense, deserves recognition for stymieing the potent Dallas offense. Demarco Murray started off hot, hitting holes and showing good vision, single-handedly leading the first Cowboys touchdown drive. But this was ultimately one of the few bright moments for a Dallas offense that was constantly beleaguered. We sacked Romo three times, hit him four more times, and tackled Cowboys running backs six times for a loss. Perhaps most notably, Keenan Lewis shadowed phenom receiver Dez Bryant all night and held him to one catch. We stopped them from converting a single third down.
This was the Saints playing at their highest level. When they play this way they can beat any team. Which is good, because we are now in the gauntlet of rough matchups that comprises our brutal remaining schedule. Next up is the 49ers, likely steaming after getting thumped by the upstart Panthers, who we still have to play twice. In two weeks we have Seattle, where we'll play in their loud, tempestuous home turf. The Rams, and arguably the Falcons, cannot be written off either. The Panthers are only a game behind the Saints in the NFC south and are on a five game win streak.
But the Saints team from last night is the 2009 or 2011 Saints. It's the impregnable black and gold machine that imposes its will upon all opponents. Last night was a much-needed, timely confidence booster for the team and Who Dat nation alike. The greatness of yesteryear is still available to the Saints. Last night they chose to grasp it.
Image courtesy of the New Orleans Saints.