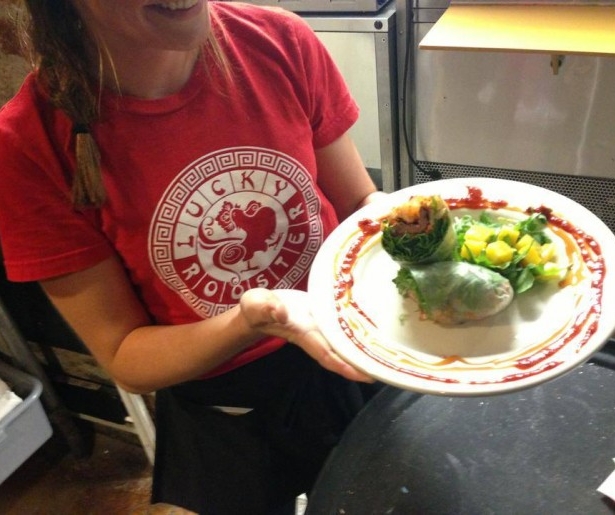 SHARE
Good service is key to a good restaurant anywhere, but it's particularly crucial to the New Orleans dining experience. By and large, we as citizens crave localism, the sense of feeling connected to businesses and the people who work in them. That's a good and bad thing – it reduces the anonymity of modern life, but on the flip side it can make us likely to, say, hire a friend of a friend over an unknown, potentially better employee – but whatever the impact, personal connections are simply how things are done here.
Which is all my way of saying that I really appreciated the warm welcome and intimate menu knowledge my wife and I got from our server when we walked into Lucky Rooster, an noveau-Asian bistro in the CBD. The friendliness was nice and all, but more so, our server established an immediate intimacy that felt quintessentially New Orleanian. And I was worried this place wouldn't be very New Orleanian, despite the fact that it is owned by the same people behind Juan's Flying Burrito and Slice.
First of all, it is in the CBD. Architecturally and by dint of a small amount of residents, that part of town is the least New Orleans part of New Orleans – and to be fair to our CBD, this is true of any downtown, glass-and tall-building central business district anywhere in the world. Still, there are residents of the CBD, and we met some before we went into Lucky Rooster: a group of friends and friends of said friends. The latter actually lived almost practically above Lucky Rooster, and immediately sang its praises when we mentioned we were eating there.
I looked them up and down. They seemed perfectly lovely: young, well-dressed, chic and undeniably hip. Which is to say, not the sort of folks I generally associated with neighborhood New Orleans restaurants, which are my favorite kind of New Orleans restaurant. A quick peek into Lucky Rooster did not assuage my fears; the crowd and décor could have been transplanted from a Fatty Crab branch in New York, and whatever else nice I say about Lucky Rooster (and I will say lots of nice things), throughout the night I had the annoying sense the Rooster was, indirectly or not, emulating that jazzed-up-Asian-fare-for-bicoastal-bohos experience Fatty Crab so carefully crafts. There was dark wood accoutrement set off by modern steel chairs and Chinese dragon wallpaper; Asian enough to know the general neighborhood of your food, but hip enough for the CBD. Or Williamsburg. Or the Mission.
I figured I should dial back my prejudice. Chill out, self, said self to self, you don't come to the CBD for a Mandina's-esque dining experience. Which is probably why the instant, Mandian's-esque warmth of our waiter (and I can tell the difference between good New Orleans server warmth and faux-Chili's-flair-warmth; the latter vanishes as soon as that 18 year old hostess flips on her iPhone 5 the minute you're brought to table 17 by Luke-who-will-be-your-server-tonight-hello-sir-would-you-like-one-of-our-signature-electric-blue-Kalua-Kazowie-cocktails?) was a welcome touch.
Actually, our server did offer some signature cocktails right off the bat. My wife had a White Lotus Clan (all the drinks make some kind of martial arts reference, although I guess the Liquid Swords are a Wu-Tang Reference, but that in and of itself already is a martial arts reference, and that's too much meta for the drinks section, so I'm stopping). You can follow the link to see what makes up a White Lotus Clan; I'm not going to pretend I know what 'enlightened grains' are (yoga-practicing wheat?). I can tell you this: that shit barely filled the bottom of a tumbler glass, and it tasted good, and it was strong as all hell.
The food menu is deceptively small. Lucky Rooster does a nice job of balancing small and large plates, and the impulse is to try a little bit of columns A through D, which is exactly what we did. Warm waiter explained a special so glowingly we ended up ordering it, and to Lucky Rooster's credit, everything came out in with precision timing, with enough time between starters and mains to allow for minimal intermeal digestion and bloating.
The Korean fried chicken was excellent, especially if you're into hot food. These are small glazed wings, not big Popeye's bucket fried chicken, and that's a good thing, as said glaze has a shiny, ginger-and-vinegar-and-chili kick; lovely in small amounts, but too much to stomach even for fire lovers like myself in larger quantities. The red ginger shrimp bao wasn't as enjoyable; the shrimp were nice, but overwhelmed by their doughy bao blankets.
The special, a Vietnamese beef stew with a dark beef stock, was the standout. As you may have noticed, it's getting dios mio kinda frio here in New Orleans, and this thick, hearty bowl was like a liquid fireplace in my belly. It was something akin to pho, but satisfyingly French; where pho is a light balance of elements, this was stick to your ribs beefy excess. I was worried the rice noodles would be unnecessary, but they soaked in the broth in a good way, although enough was left to sop up with bits of lovely crusty sesame toast.
That dinner for two came out to about $50 with tip, which isn't bad for the CBD. And throughout the meal, I could see the crowd was more local than downtown tourists and conventioneers. Bartenders knew clients by first name and prepared favorite drinks from memory. This was a local spot – it's just that the CBD is it's owns special brand of local. More cosmopolitan, less hyperlocal. International. Modern, sometimes hip. But recognizably New Orleans. And "international, modern, sometimes hip but recognizably New Orleans" is a good one phrase summation of Lucky Rooster, with the positive caveat that 'recognizably New Orleans' always means good food. And that's what we ate.
Lucky Rooster
515 Baronne St
(504) 529-5825
Mon – Thu: 11:00 am – 10:00 pm
Fri – Sat: 11:00 am – 11:00 pm
Images courtesy of Lucky Rooster