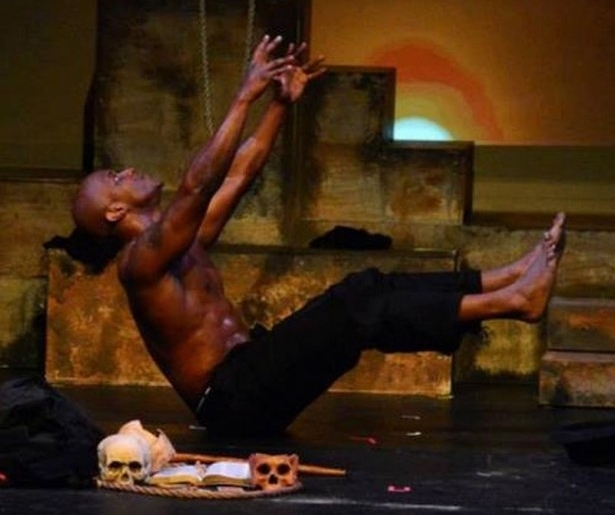 SHARE
I have this bit I sometimes use in my stand-up routine (it may help to point out that I'm British before I go on). Anyway, I talk about a reviewer seeing a one man show of mine at the New Orleans Fringe Festival, and how he later wrote, "If you're coming to this show expecting Monty Python, prepare to leave disappointed."
I act aghast that anyone would come expecting to see some of the world's most successful comedy for eight dollars in the back of a pottery studio. I then invite the audience to look his reviews up online, but tell them "If you're expecting Noam Chomsky…"
It's a frivolous side note of self deprecation about an event I'm proud to be a small part of. What started off as a small, St Claude-based theater festival in 2008 has grown into an established part of the New Orleans' arts calendar, which many simply call 'Fringe.' This showcasing of independent and cutting edge theatre will manifest from Nov 20-24, with 77 shows played across multiple venues in the Marigny and Bywater.
"It quickly got out of hand," says festival founder and Executive Director Kristen Evans. "I've heard people in the tourism industry say that November used to be a slow month. No more! I'd like to think [Fringe Festival] is a part of keeping that energy strong all year long."
Fringe Festivals are a tradition that harks back to 1940s Edinburgh, when experimental theater groups were excluded from mainstream festivals and so formed their own shows on the fringes of the city.
The Fringe this year operates six official venues: Mardi Gras Zone, Marigny Opera House, Den of Muses, Shadowbox Theater, Old Firehouse and Backyard Ballroom.
In addition, there are 30 'Bring Your Own Venues', which Fringe acts organize themselves. These can be anywhere from people's houses to bars to sections of City Park (check the Fringe website for details). It's an eclectic mix, though as Evans says about the festival's evolution, "Our venues now have electricity and toilets. At least, most of them."
Patrons can take in three or four shows a day thanks to the staggered times and proximity of the venues. There's a nationwide coterie of quirky acts arriving, though the host city is no slouch when it comes to incubating weird performance art and is strongly represented. All aspects of performance are here – drama and comedy, dance and puppetry, magic and multimedia. There's burlesque, poetry, kids' shows and improvisation, with scrappy, seat of your pants productions to slick, high-end shows.
There is a unifying spirit to it all, though. "It's about putting aside all of that other stuff you were supposed to be doing to gather with a bunch of other interesting people in quirky places to revel in life," says Evans. "We want people to immerse themselves in what is weird, challenging, fantastical and funny."
Evans notes that it's interesting how the themes of the Fringe subtly change. This year, productions addressing race have a strong showing, as do female-lead comedies. "The Fringe is simply a platform," she says. "Artists bring their art and it is a fascinating way to sense trends of what people are talking about."
As well as the performances, the Fringe Festival has a wealth of free activities designed to engage and inspire locals. Family Fringe offers free workshops for children, there's a parade on the 23rd along St Claude, free previews (five minute tasters of each production) at the Fringe headquarters and a free Yard Art Tour featuring local, wacky whimsical art that people put up in and around their homes.
Such is the diversity of the line up that it's tricky to pick highlights. The Fringe-managed venues have the cream of the crop, with Icarus, an aerialist-based circus from San Francisco looking to be among the most daring. This show shares the Den of Muses with New Orleans' own Negras Quilombolas, an energetic, kid-friendly, Afro-Brazilian dance troupe.
City of Bones (pictured above, courtesy of Fringe) at Mardi Gras Zone is a strongly-recommended performance piece from New Hampshire, and uses multiple disciplines to tell the story of the African American male throughout history. Washington DC's Cabaret Macabre bring dark vignettes from the world of Edward Gorey to life at the Marigny Opera House while For Kingdom and Fatherland at the Old Firehouse features a Norwegian Muslim comedienne examining identity through storytelling.
Life After Death (Moonshine Theater) looks like a wonderfully dark comedic play about a romantic zombie starring NOLA's very own Chris Fontana. Another local hit, The Adventures of Butt Boy and Tigger, reprises its successful run. The latter plays at Mags 940 (formerly John Paul's) and if you wanted to stay at that venue and catch a guy who is NOT Monty Python in a show called Nothing You Ever Wanted to Know About Sex, then I won't kick you out of bed for eating biscuits.
The main thing, though is to enter the spirit of risk and originality that the Fringe embodies. "Get all messy," says Evans. "Take a risk on something which you don't know how is going to turn out but which is going to be a wild ride and you'll definitely have fun. Our performers go through the same process every year. Our audience does too."
The New Orleans Fringe Festival runs from November 20th – 24th. The full Fringe schedule of acts and free events, plus online ticketing is available at www.nofringe.org. Tickets are typically $8, plus a one-time purchase of the Fringe Button ($3).