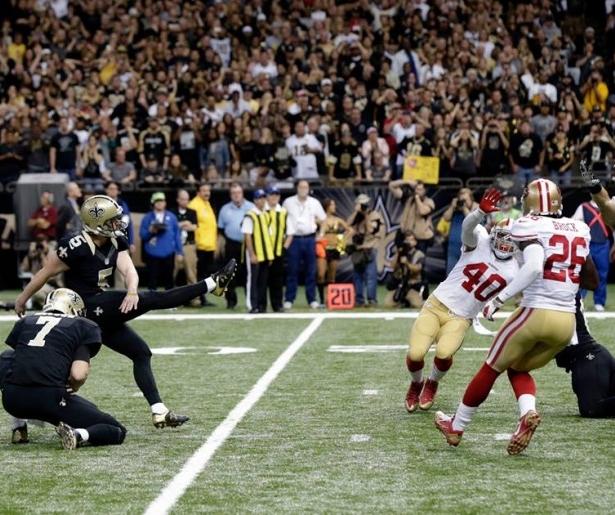 SHARE
Yesterday afternoon the Saints beat a playoff team. The only other playoff-bound team we played this season was Patriots, which didn't go so well (the Bears could arguably win the volatile NFC north, so that might count too). Yesterday's game was a weird game. An ugly game. But an ugly win.
Brees was effective when it counted, converting some big third downs and leading the offense to twice as many total yards as the Niners, while throwing for about thrice as many yards as Kaepernick. Colston became the Saints all-time leader in receiving yards, and now holds franchise records in most relevant positional categories. Drew spread the ball around to 11 different receiving targets.
The Saints also spread the turnovers around, committing them on special teams, offense and — yes, somehow — defense. The first of these was a punt muffed by Lance Moore that breathed life into San Fran's floundering offense and led to their first score. The second was a bonkers interception by Corey White that he fumbled out of the end zone trying to escape Kaepernick for a touchdown. There has not been a Saints turnover this bizarre since the 2009 Redskins game, but this one didn't result in a fortuitous Saints touchdown. It gave SF the ball back with a fresh set of downs, and they kicked a field goal.
To open the second half, Ahmad Brooks made his first of two plays that would change the course of the game, intercepting Brees to set up another 49ers touchdown. During the Saints penultimate drive, Brooks sacked Brees and forced a fumble, but was flagged for a questionable roughing the passer call, which kept the drive alive for the game tying field goal.
Speaking of field goals, they won the game. Garret Hartley has not lived up to his clutch reputation lately, having missed 4 of 6 attempts leading into this game. In fact, this is likely why Payton attempted a 4th and 4 on San Fran's 40-yard line in the third quarter. The theory behind this is likely that asking a struggling kicker to kick a 55-yarder to snap an inconsistent streak is setting him up to fail. We had to let Hartley learn to crawl again before he could relearn to walk. We did this by ensuring we were in a more reasonable range before allowing him his first attempt of the game.
How do you win a game against a good team when you are turning the ball over, not converting fourth down attempts and have no faith in your kicker? Defense. The defense snapped on in the clutch, forcing two three and outs on the last two 49er possessions. Both of those punts led to Hartley field goals, the latter going through just as time expired. Rob Ryan's defensive packages on the final two possessions were varied and aggressive, featuring lots of movement in the front seven, smokescreens and delayed blitzes. It was a beautiful thing to see, as the defense and fans in the dome fed off of each other's energy and completely shut down Kaepernick.
Next up is a very short week and a Thursday night Atlanta game that likely seemed highly relevant when it was scheduled last summer. It will be interesting to see whether Atlanta continues to give up early in games and play doormat, or whether they are inspired by the division rivalry and decide to play spoiler. After that. we get the Seahawks in Seattle, which is our toughest matchup of the season and should be one for the ages.
People are gonna say Ahmad Brooks lost this game for the Niners, but in reality, the Saints won it with hardnosed defense after giving San Francisco every chance to take the win. We inadvertently dangled the carrot in front of them all day, and then took it for ourselves. An ugly win is a win nonetheless. Jim Harbaugh, you have been owned.