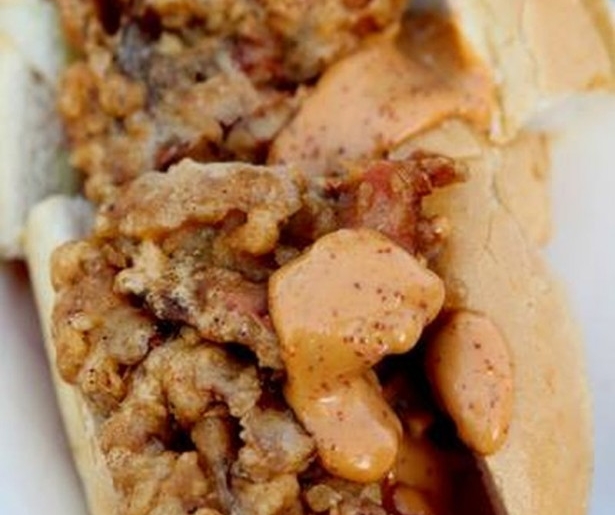 SHARE
As a Cajun guy born and raised in Lafayette, LA, when I think of the word "sandwich" in the abstract I envision a chunk of crusty French bread stuffed with fried seafood. The po-boy sandwich, devised by Louisiania brothers Bennie and Clovis Martin in 1920's New Orleans, is a regional institution. Down here, it is the platonic ideal of the sandwich.
My favorite po-boy ever was at Crabby Jack's, which has fallen from grace somewhat recently given its bevy of health code violations. An employee told me years ago that the paneed rabbit po-boy was discontinued for being a high cost/low margin offering, but it was amazing.
I can testify to how good this sandwich was via anecdote. In 2004, I was a college junior and my mother was visiting New Orleans for the weekend. Always looking for a free meal, I asked her to pick up a rabbit po-boy for me while I was in class. She did, but went shopping for a few hours in the New Orleans May heat without thinking to refrigerate the sandwich.
The lactose in the remoulade sauce went bad whilst sitting in her car and I resultantly had the worst food poisoning I have ever had in my life. This type of experience can color a person's worldview toward a certain food indefinitely. It can put you off of it for life.
Three days later, I had the exact same sandwich for lunch. And it was awesome.
This Sunday, November 24, from 10am-7pm, New Orleanians will shelve their paleo diets to gather on Oak Street and pay homage to our regionally exalted sandwich. There are three stages and performances by over ten local music acts throughout the day, as well as offerings from over thirty food vendors.
Here are a few veteran pro tips for maximizing your Po-Boy Fest:
1) Get there early. Take it from me, Po-Boy Fest gets PACKED and Oak is not the roomiest of streets. As the day goes on, vendors and music create chokepoints that can impede your gastronomic pursuits. Don't forget about the Food Truck Village on Leonidas St.
2) Don't worry about missing the Saints game. They don't play on a Sunday for two weeks!
3) Don't overcommit; diversify. Be judicious with the capacity of your digestive system. Bring along a buddy or two and split everything. The key is to take approximately two bites of as many po-boys as possible.
The large number of culinary options at Po-Boy Fest can be intimidating. As a man who has eaten many po-boys in this town over the past 13 years, I will suggest a few not to be missed.
1) BBQ shrimp po-boy from Boucherie. This is my favorite BBQ shrimp po-boy in town.
2) Duck BLT from Mahony's. Because all their stuff is great.
3) Sausage po-boy and/or jambalaya from Crescent City Pie & Sausage. Made by a legitimate Cajun dude.
4) Surf & turf (roast beef and fried shrimp) from Parkway. Timeless classic.
5) Prime rib dipper from Rib Room. Because gravy dipping.
6) Slow Food Nola's locavore chaurice po-boy. Bellegarde Bakery makes amazing bread and the sausage guy from Cleaver & Co is among the best artisanal sausage guys in town.
Support local food, y'all.
Those interested in volunteering to help out at the Fest can sign up here.
All images courtesy of the New Orleans Po'boy Festival