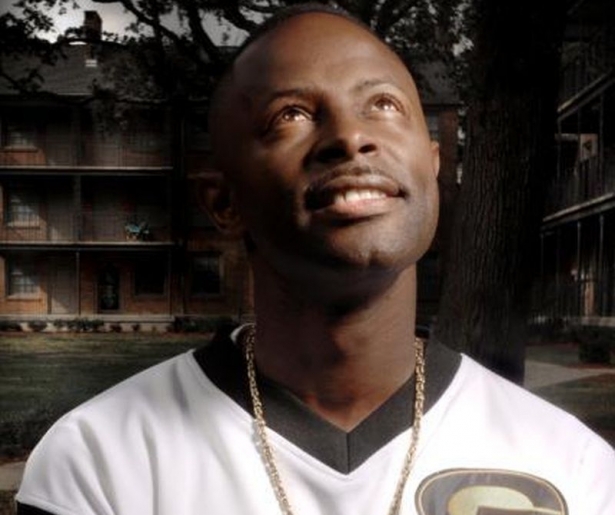 SHARE
Bounce music doesn't initially seem to lend itself to acoustic anything; the rapid fire beats needed to really emcee a proper bounce set seem best produced by a drum machine. Or so I thought.
Also, bounce music requires a danceable space. It's music for moving, not sitting and listening. Or so I thought.
But my clichés about bounce are gonna get exploded on Saturday, Nov 23, when the first acoustic bounce concert in…well, ever, takes place at, of all places, Preservation Hall. The show is at midnight, so I'm not expecting the usual trad jazz aficionados to be lingering in the area, but if they are – and I love trad jazz and her fans, but let's be honest – I would love to see the shock on their faces when DJ Jubilee (pictured above) takes the stage.
Jubilee is one of (if not the) godfathers of bounce, and he'll be backed by the Big Easy Bounce band, who tear it up with Big Freedia here. According to a concert description, "In contrast to the usual dance-club and festival settings, this show will take place in the historic Preservation Hall where the audience will get a unique chance to listen, watch, and absorb the first acoustic bounce show in New Orleans history."
I'm intrigued, if admittedly skeptical. I feel like bounce needs movement. I wrote a piece in July about Seattle's lukewarm reception to Big Freedia, and why it was was disappointing, but unsurprising; my thesis was the Northwest doesn't embrace the booty pop that is integral to a bounce show. Bounce and dance are intertwined to the point the genre has invented its own dancing style – twerking – which via a young Miley Cyrus scandalized America at the VMAs (aside: from Congo Square to jazz to Storyville to Carnival, New Orleans has a long and proud tradition of scandalizing America. As you might gather, it is usually our African American music, dance and performance which first shocks the USA, and is then embraced as pop. So please, rest of the country: stop your passive-aggressive love affair with our culture. The next time New Orleans invents something, let's skip the horrified affront to your sensibilities part and get straight to the acknowledgement that we are awesome).
Anyways, while I do think dancing and bounce are peanut butter and jelly, I also know jazz was originally played as waiting room music in brothels, so maybe bounce can work, sans twerk. If you want to see for yourself, buy tickets for DJ Jubilee at Preservation Hall (that felt weird to type) here.