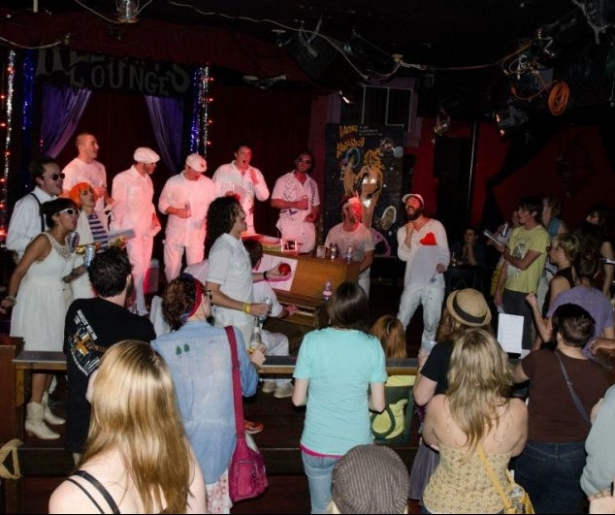 SHARE
Sorry about the headline. We know we shouldn't joke about things like athletic juicing, etc, but look — the Natural Light All Stars put on a fun freaking show.
The gig setup is hard to explain. Essentially, over a dozen folks dressed in white (I don't know why they're in white, but it does give the gig a uniform, flash mob-y vibe) get up on stage with a piano and rock the hell out. They launch into raucous vocals in what can distinctively be described as pub voice. And they pass out programs so the audience can sing along.
And sing along the audience does. Usually while waving many, many drinks in the air.
It's a fun show because it taps into a universal human need for singling along loudly while wasted and banging mugs of things together and pounding tables. I know, you're out there going "Wait, I thought food, shelter and socialization were universal human needs" and yes, yes, they are, but so is singy-boozy-table-slammy time. Trust me. And if you don't believe, check out this video the All Stars at One-Eyed Jacks singing "I Am the Walrus." I get shivers.
*Photo of the All Stars killing it courtesy of Ross Peter Nelson