POSTED Wed. Nov 27, 2013
Escape from New Orleans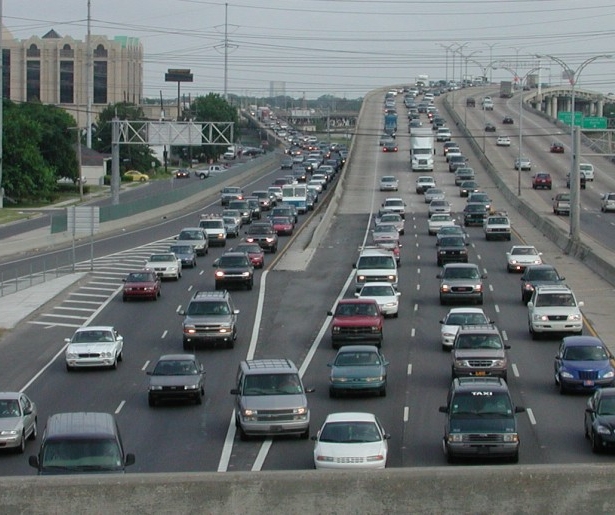 SHARE
Leaving town to see family? Have fun. Getting out of New Orleans during high volume holiday traffic can be a straight hassle. This is clearly true of other American cities, but I think New Orleanians don't pay as much attention to the issue because we prioritize, in terms of crappy traffic conditions, an admittedly worse time to be on the road: when evacuating from a hurricane. Sure, it sucks to be late for Grandma LeBlanc's turducken out in Lake Charles, but it sucks worse to be bumper to bumper when a mid-August Cat 3 is bearing down on your ass.
Anyways, because I am born to kvetch, I'm gonna give you guys a gripe about Nola's holiday traffic woes. In listicle form!
1 No way out
Given our weird, water-bound geography, our city lacks the multiple highway entrance and egress points of similarly sized cities. This isn't Houston, where you can go in any direction and still be on land. The river and the lake squeeze us into a little jelly bean of limited major highway access. It doesn't matter that you know the quick way to Calliope from O.C. Haley or how to use Franklin to get to Elysian and the interstate: we're all still gonna end up on the same road.
2 What about 90?
Because you like lots of traffic and traffic lights? And by the time you get to Mississippi, you realize everyone in Gulfport and Bay St Louis had the same clever idea.
3 But I'm going west!
I once had some amazing fried chicken at a gas station on some lonely stretch of 61 between Norco and Laplace. This is the best thing I can say about that particular road. I find Airline option can be faster (or at least less frustrating) than I-10 around half the time, but during the other half, I end up cataloguing all the airport parking options by MSY as I sit at my fifth red light. Also: MSY. Being near an airport during the holidays is a bad idea.
4 Residential Roads
Yeah but where do they go? Once, all roads led to Rome. Now, unless you're going somewhere within a 30-or-so mile radius, they lead to I-10, 61 or 90.
5 The ever-closed Causeway
First: the Lake Pontchartrain Causeway is an absolute marvel of human engineering and ingenuity. I love it. With that said, it closes a lot. Especially when there is bad weather or accidents, both of which happen a lot when you mix winter weather with holiday traffic. At which point it's a race to get to 55 or 10 and hope no one else heard the traffic report.
6 C'mon. Is it really that bad?
No, of course not. I'm just drinking a jug of hater-ade. New Orleanian DIY- ness gets us through hurricane evacuations, so some holiday traffic isn't that bad, even if sometimes it is that bad. I know this hasn't historically been the case for regional traffic patterns, but I've had surprising luck getting to Plaquemines and St Bernard, two communities that are truly limited in the road access department. Although maybe that's partly because I love the Waffle House in Chalmette and don't mind taking a detour there. Anyways, in general the roads that lead to Venice haven't treated me too badly, but maybe that's because I've never been stuck on 23 behind a shipping liner.