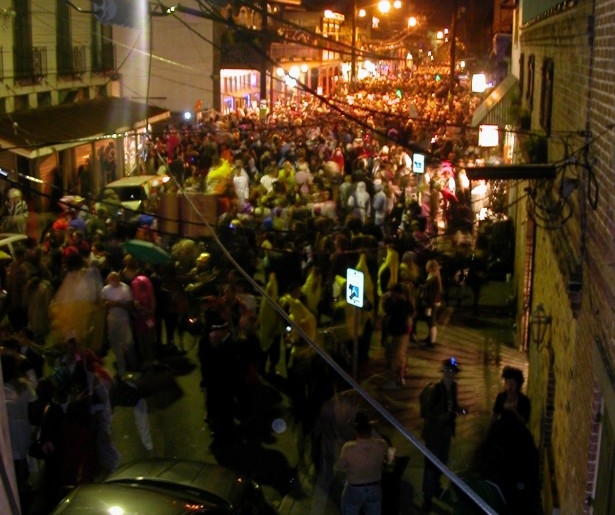 SHARE
I've been keeping mum on the whole 'crackdown' on Frenchmen St, which has been covered widely by the local press, including a genuinely agonized platform taken by Offbeat nd echoed on Frenchmen Street Live. Actually, the Frenchmen Street Live link goes to a pretty tame 'lets-all-work-together' blog post; previously, a fairly long and pissed off article occupied said space. The owners of the site manage Maison, so we're guessing they're trying to keep peace within the neighborhood. The whole fight is provoking plenty of the usual internet anger, which is why I've kept out of it – everyone seems to have an agenda that goes deeper then the face value problem – but I recently realized this assessment can be applied to pretty much everything ever, and I need to voice my thoughts on the matter.
The issue, in a nutshell, is the same auditory one cropping up again and again across the city: old zoning laws are suddenly being enforced. The Frenchmen Street Arts and Cultural Overlay District, created by city officials and Marigny residents in 2004, states that clubs cannot play amplified music (which eliminates singing outside the smallest venues); that there can be no bands over three people (so no horn sections in the best brass music city in the world); doors and windows must be closed and shows must end at 11pm (1am on weekends). The police ostensibly started enforcing the ordinance last weekend, but I haven't heard reliable on the ground reporting on how that turned out. Anecdotally, it sounds like they gave businesses warnings, with the promise that they would shut places down in the following weeks if said warnings were not heeded.
Except the warnings concern rules that will not be consistently applied to every Frenchmen St club. Establishments that existed before 2004 will be grandfathered in, which gives them a clear self-interested stake in perpetuating enforcement of the regulations. Why go to Mojitos, where there's an un-miced singer, guitar and drum, when a 9-piece brass band is tearing it up at Blue Nile?
"Maybe because I just want to listen to some soft acoustic music?" you say, and that's valid. But no mic is tough for the best singer night after night. And local businesses live and die more on big loud sets then little intimate shows. That's the nature of New Orleans, with her party-friendly, danceable music; there's a place for trad jazz, but it appeals to a smaller demographic, and most members of said group are happy with Snug Harbor or Pres Hall.
One issue at play is fears over Frenchmen becoming another Bourbon Street. There's no doubt that a night out on Frenchmen has become more aggressive and nerve wracking, especially on weekends. Such is city living, especially in a city that is so fueled by tourism; things get discovered, and the locals go somewhere else. There's an interesting side element in the sense that New Orleans is made up of so many locals-centric spot, but the dynamic isn't particularly new. The question is: should we battle this organic phenomenon by regulating, and ultimately hurting, post-2004 businesses?
I'm not sure, and the entire question then gets back at questions of law, zoning and trust in institutional authority. This situation wouldn't exist if sound ordinances had been originally enforced, but musicians wouldn't be in New Orleans (and jazz would never have developed here) without the city's generally anarchic, screw-the-law anti-authority attitude. The experience of the Marigny post-Katrina is a testament to unregulated grass-roots growth – the businesses that flocked there post-storm – and the dangers of said lack of regulation, i.e. the semi-Bourbon-ization of the area. The question: do we trust an authority that isn't always enlightened to sort us out, or our own self-interest, which hasn't always been considerate of the neighbors? Rand versus Keynes, go!
Oh, that fight is played out every day, everywhere. Hm. Where do we go from here? St Claude? Maybe. Plenty of us already do. But we hope neighborhood associations, businesses and the city hash out some kind of agreement that keeps music on Frenchmen, residents happy and the puking bros and pink-boa-ed bachelorettes near the Hustler Club. We're a city that can DIY anything. A balance between sound, good neighborliness, arts and economic interests should be within our grasp.