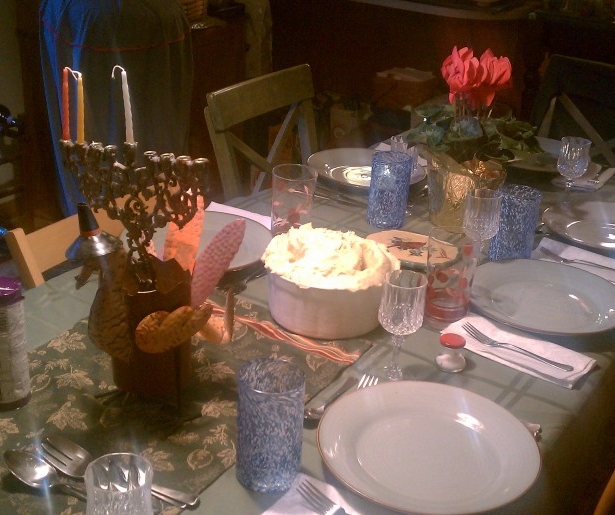 SHARE
From our house to yours: Happy Thanksgiving, or in my case, Thanksgivukkah, from New Orleans & Me.
There are a lot of love letters to New Orleans. It's practically become a sub-genre of the travel essay – out of towner visits, falls for the city, pens around a thousand words about why it's like nowhere else. I'm certainly guilty of contributing more than a few drops to the online ocean of New Orleans love. David Simon did it over the course of four television seasons, with varying degrees of success. This website is more or less an entire URL dedicated to the sentiment.
There's a reason for this: New Orleans is special. She is different, in ways cute and meaningful. Yes, the food is good, and the music is too.
But she has her issues, and I don't just mean boil advisories. We have our faults: our corruption, poor infrastructure, and most damning, our crime.
But shit. At the end of the day, I still love this city. And on a day dedicated to being thankful, I'm working through why.
I know I am thankful for its unceasing dedication to finding the beautiful and the sensual. New Orleans knows the ephemeral soul responds most easily to the bodily tangible experience. I am thankful that I make a bad Buddhist, because I love the sensory, the temporal and the now, the beauty in front of me and the song I can dance to, and if I didn't like these things, I'd live in Toronto.
I am thankful for the great and true friends I have made, who do interesting work, much of which makes New Orleans a better place to live. I'm not just talking about non-profit managers and entrepreneurs, although they do good things. But so do the waitresses and bartenders who, via a smile and some conversation, contribute little drops of goodness to the sometimes indifferent sea of humanity we're all swimming in.
I am thankful for go-cups. Not just actual go-cups (although I am thankful for those); I am thankful for what the go-cup represents. Namely, in a nation divided between the impulses of individual freedom, puritan morality and the good of the public, the go-cup is a nod to the first instinct in a daiquiri-friendly carrying case. It's a sign of either trust in the citizen or neglect of the public good, depending on who you ask. Either way, it means I don't have to deep throat a beer when I leave the bar.
I am thankful for a home to live in, and the beautiful homes and architecture that give us the most distinctive streetscape in the country.
Here's what I am not thankful for: I enjoy all of these things without really fearing the conditions that are endemic to our underserved underclass. I am removed from the disenfranchisement that houses so much of the culture I consume. I can listen to brass bands without having endured anything like the obstacles their members go through.
New Orleans makes me aware of this gulf on the Gulf, which is truly everywhere at the end of the day. And I guess I'm thankful for that realization: that the things that are messed up in New Orleans are messed up across the country. Across the world. To greater or lesser extents, of course, but they're out there. I'm thankful New Orleans, via her extremes of happiness and tragedy, reminds me of this situation, but more accurately, I'm pissed off by it.
But this isn't a holiday or a time for anger. It's a time for reaching across the table and embracing our families. So on this cold Louisiana evening, love the one you've got. Realize New Orleans isn't perfect, but that she can be a damn fine place to live, and as we segue into a holiday of giving, let's try and make it fine for all New Orleanians, up, down, lake and river.