POSTED Fri. Nov 29, 2013
The Weekender: Bid farewell to November and greet December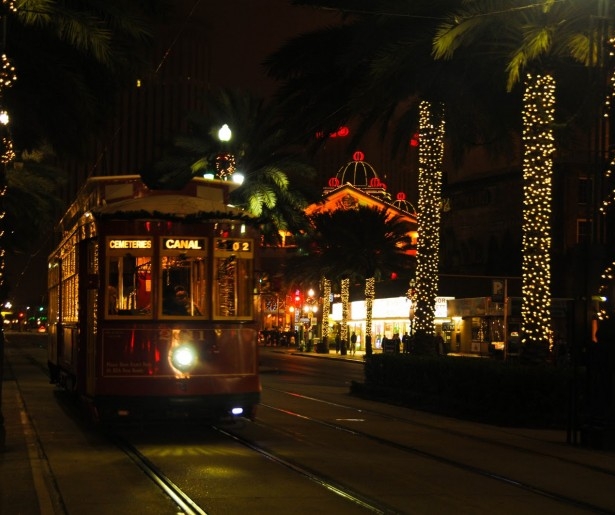 SHARE
Alright you gluttons: loosen your belts, shake off the Tryptophan coma (which is apparently not a thing) and put down the brass knuckles from your Black Friday shopping spree. It's time to get your post-Thanksgiving weekend, New Orleans. Along with the below, don't forget about the Bayou Classic and Celebration in the Oaks, which we covered earlier in the week.
1 Merriment on Magazine
We hope you didn't do all your holiday shopping yet, because this weekend affords you a chance to shop and support some local businesses. Head to the city's longest commercial strip for Merriment on Magazine, on Nov 30 from 5-9pm. Shops will be decked out in holiday accoutrement, stores are open late and nothing fuels your decision to nab that cute outfit from a boutique shop like a beer and a shot at Ms Mae's.
2 Santa's Slay Zombi Walk
If you're on Magazine St on Nov 30 and don't like shopping, but do enjoy a spot of fresh, fresh braaaains, may we suggest the Santa's Slay Zombi Walk. Zombies take off at 4pm from Dat Dog (3336 Magazine St) and shamble past the Rendezvous and Balcony Bar before an after party at Tracey's. Register at the NOLA Zombi website.
3 Draw-a-thon
If neither shopping nor the undead is your thing on Saturday, you can also draw. And draw and draw. The 8th Annual Draw-A-Thon is a 24-hour festival at the Marigny Opera House ((725 St. Ferdinand St)). For 24-hours, from 6am on Nov 30 to 6am on Dec 1, participants can attend arts workshops or just let their creativity loose on paper. Fun for kids by day and adults in the evening after a few at Mimi's*.
4 Santa Paws is coming to town
I'm going to be out of town on Sunday, which annoys me to no end because the only thing I like better than a New Orleans costume party is a New Orleans costume party FOR THE ANIMALS. Hashtag #wooflife. The Santa Paws NOLA party begins at 2pm in Heritage Park (between John Churchill Chase & Gaienne Streets), with the pet Second Line rolling from the park at 3:15pm, down Convention Center Boulevard to the corner of Julia Street (Convention Center Plaza). An LA-SPCA adoption booth will be set up, and there's a 4pm pet costume contest (the above picture, by the way, is from last year's Barkus).
5 50 Shades of 'Stache
Tonight, at 8pm, you can watch men who look like porn stars read literary porn at 50 Shades of Stache II: A Movember Event. Men who have grown their lip wigs out for Movember will read passages from 50 Shades of Gray, otherwise known as the book your mom and wife hide under the nightstand. The event goes down at The Rusty Nail (1100 Constance St); a $5 admission fee and onsite fundraising goes towards prostate cancer research.