POSTED Mon. Dec 2, 2013
Where to watch the Saints tonight (or any night!)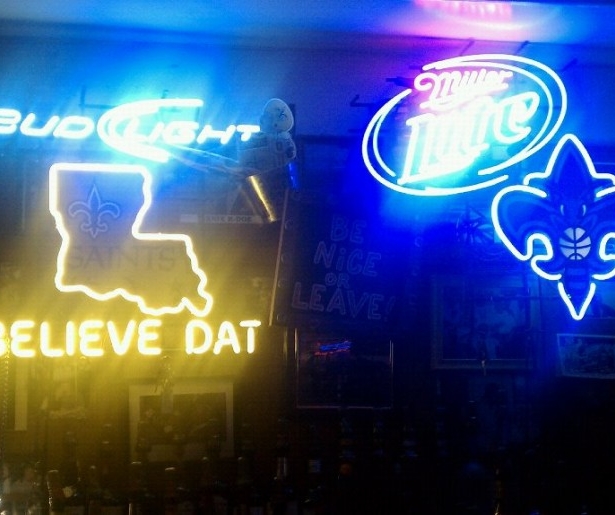 SHARE
We're taking on the Seahawks tonight (7:40pm CST), which means it's time to check out ur game day bar guide. Some of these are Saints bars, some are a good bet for out of towners who want to watch their respective teams plays, because apparently there are other teams in the NFL, not that'd you'd ever think that living here.
1 Cooter Brown's
Cheap oysters, a stupendously deep beer selection, lots of big screen televisions, a sandwich menu that includes the Radiator's Special (oysters and shrimp and melted cheese; good Lord) and did we mention the oysters? There's a good chance you can catch another game here even during Saints' games – if watching in silence while inebriated bros scream WHO DAT is how you like to enjoy your NFL franchise. Fair warning: indoor smoking, and thanks to Tulane/Loyola proximity, you tend to get a lot of backwards baseball caps.
2 Finn McCool's
Finn's may be the only bar in town that loves football as much as it loves football. Headscratch? That is to say, Finn's loves soccer as much as the NFL, so if you like to watch foreigners without last names running around aimlessly for 90 minutes, this is your spot. With that said, it is also a great spot for NFL. And Gaelic football. And Hurling. This isn't some faux-faith-and-beggorah Irish pub; they keep true to the Emerald Island here, at least as far as sports go. It's a neighborhood spot that attracts a crowd as diverse as Mid-City itself. The burgers are the bomb, and there's always free food on gamedays. As with Cooter Brown's, they may show other games on smaller screens even when the Saints take the field. Expect lots of cigarette smoke.
3 Freret Street Publiq House
Like the Swiss Army Knife of New Orleans bars, the Publiq House does it all. Well, it does live music and great gameday specials, but what else do you need? Smoking? Look elsewhere: the Publiq House is smoke-free. It's also eclectic, friendly and has a deep well of drafts as well as a nice cocktail menu; toast that Colston reception with a strawberry-basil margarita. Proximity to the excellent eating options of Freret St is a huge plus.
4 BJ's
The bad news first: BJ's is small, crowded and smokier than a meat curing shed. The good news: it's a great neighborhood bar, and sometimes, Robert Plant pops in and has a little jam sesh. Also, local legend Queen Dawny is often on hand making delicious food that you can subsequently stuff your face with (for gratis!), and the local cast of characters is like a Who's Who of 9th Ward quirks. There's the guy who swears at his can of Miller Lite every time a play happens (good or bad, doesn't matter. He just swears a lot), the lady with the raspy voice who probably puts cigarettes on her cornflakes in the morning, assorted bar flies, the odd Bywater gentrifier and a lot of dogs. Good times.
5 Bullets
Bullets is all the good things of New Orleans in general, and New Orleans sports fandom in particular, wrapped into one location. It's neighborly, friendly, obsessed with good food and fanatic about the Saints. Kermit Ruffins plays a regular gig here on Tuesdays, and that guy has a Fleur-de-lis inked over his whole chest. There's an old cliché about how some places don't just make you feel welcome, but part of the family. This is actually true at Bullets. I will explain how.
One time, I had to use the bathroom and (sorry for the gory details) count to number 2, as it were. There were no walls or stalls at the time in the men's room, although there was a toilet you could sit on. I had desperately tried to hold it in, but the time had come, so I swallowed my pride, went into the bathroom and plunked myself on the throne. Of course – of course – several men came in while I was doing my business. Not a one blinked an eye. One older gentleman even nodded and said, "Do your thing, bro, I'd do the same," a sort of friendly vote of support and comfort during a very uncomfortable situation. What I'm saying is, the regulars at Bullets saw me take a crap and they were cool with it. That's marriage levels of comfort, people. I love Bullets.
6 The Avenue Pub
The Avenue has a great beer selection, laid back clientele and likely the best gameday food in the city. A specialized menu is made for every game; examples include the 'bowl of Bucs' for the Tampa showdown (venison, i.e. male deer, or buck, chili) and smoked mahi (aka 'dolphin') for the Miami match up. Da Brees (debris, haha) fries – Béchamel Fries topped with beef brisket and coleslaw – are a sinfully good mainstay. You can smoke on the bottom level, but the upstairs is smoke free.