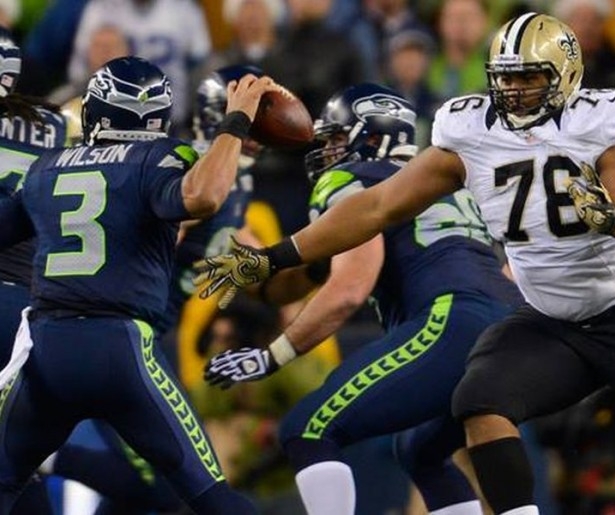 SHARE
The Seahawks annihilated the Saints last night in primetime, outcoaching them and hammering them on both sides of the ball. Seattle is the toughest place in the NFL for visiting opponents and it looks all but certain that the road to the Super Bowl will snake through the wet, frigid moors of the Pacific Northwest.
Brees was uncomfortable from the start, both harried by the pass rush and unable to find open targets amongst the suffocating secondary. On the second drive, he fumbled directly into the hands of a defender who ran it in for a touchdown, giving Seattle a 10-point lead and a head full of steam. Brees was only sacked once, but had an abysmal game, completing 23 passes for 147 yards and a touchdown, snapping his 43 game streak of 200+ yard games.
Russel Wilson, on the other hand, was unstoppable. He actually looked very Brees-like, as his drop backs and rollouts were decisive and his release was lighting quick and accurate on both short and deep routes. His awareness and poise allowed him to consistently find the open man and counterpunch blitzes with big gains, especially the early completions to Doug Baldwin and Zach Miller. Wilson's throws were mostly perfect and he was as elusive when scrambling as I've ever seen him. In the first half he threw for 226 yards, amassing a nearly flawless QB rating of 148.1.
Pete Carroll called a great first half, throwing knockout punches at every opportunity. Seattle threw big on first down, threw big on third and short, executed the read option perfectly. Russell Wilson is fast as hell in space, which doesn't hurt. Say what you want about Pete Carroll, but the dude is ballsy. After the Seahawks brass brought in Matt Flynn for $26 million, Carroll drafted some undersized scrub out of Wisconsin and audaciously handed him the starting job after he outperformed Flynn in training camp/preseason.
I used to work for an NFL team, and you rarely, if ever, bench the big money guy before at least trotting him out for a few games. But it was totally the right move. The point is that Pete Carroll is a ballsy, aggressive guy, and he attacked the Saints defense right out of the gates. And it worked. We got thumped.
Our misfortunes didn't end with the ass whooping, as our plane broke down last night and shortened an already short practice week. Said week culminates in a Sunday night game against Carolina, which is fortunately in the Super Dome. We must win one of our remaining two games with the Panthers to hang onto the number two seed and clinch a playoff bye, but Carolina is playing very good football and are nursing an eight game win streak. If we lose against the Panthers in the Super Dome, we will likely end up a wild card team, as we have shown consistent mediocrity on the road and will be hard-pressed to beat them in Carolina.
After last night, the writing is on the wall. The Saints have beaten a lot of bad teams and a few good teams, but we are going to need to step it up to beat NFC playoff teams. We need to play to our strengths and attack. Use the pass to set up the run. Be less predictable with play calling. Sean Payton needs to realize that this conservative approach he has taken lately asks too much of the defense. In 2009, our offense forced opposing offenses to take desperation shots early in games, which led to all the turnovers that made a pretty good defense seem great. The Saints are being widely discounted by the media as 'pretenders' rather than 'contenders.'
We have to figure out how to win on the road. The best way to do this is to start every game aggressively and to keep the gas pedal punched down for sixty-minute intervals. Also, hopefully some other NFC team eliminates the damned Seahawks in the playoffs before we find ourselves headed back to Thunderdome.