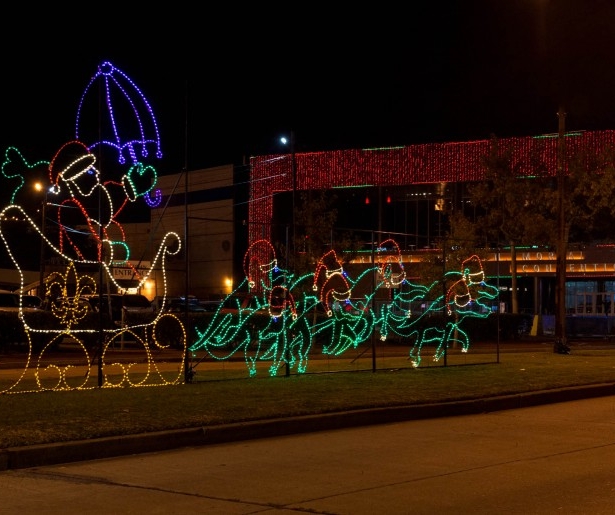 SHARE
Christmas in New Orleans is a hot mess of events, from caroling in Jackson Square to reveillon dinners to bonfires to some kind of Christmas party kicking off seemingly every other day. Well, add a new date to your packed December calendar: Christmas in the District, which officially kicked off on Saturday, and features its first midweek concert this evening.
Christmas in the District smears the Warehouse District with holiday cheer, including 70 trees and digitally animated lighting effects synchronized to music (tune in to 93.9 FM on your car radio to hear Christmas music synchronized with the light display). It's a nice move; while we're not generally fans of the monotony of high rise downtown areas and big convention centers, we admit a sprucing up of Christmas lights, festive neon and banners always puts us in that gift giving spirit. The light displays last from 5-10pm Sunday through Thursday, an until 11pm on Friday and Saturday
Starting at 5:30pm at the convention center (900 Convention Center Boulevard), the Greater St. Stephen's Choir* will begin the night with choral singing, followed at 6pm by Rebirth, because this is New Orleans, and even the holidays need a horn section. The concert is free and food and drink will be on hand for pucharse.
Christmas in the District lasts from now until January 5; check here for more information.