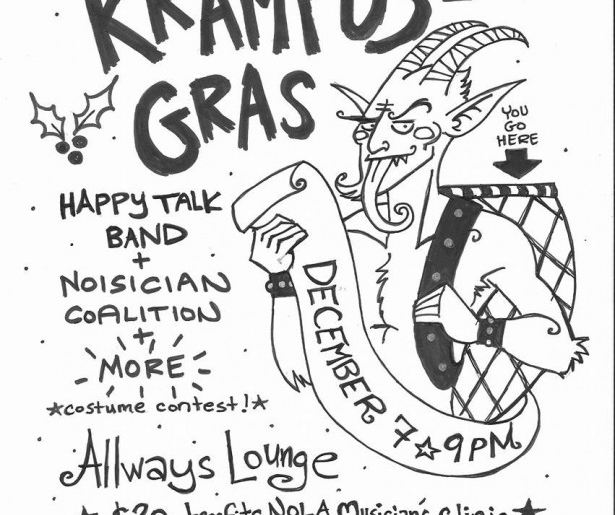 SHARE
New Orleans has always been a melting pot of different cultures and their traditions and a demographic gumbo and all that good stuff. Sorry, we're not really that cynical, but the trope has been getting beat with a stick lately.
But seriously, as a city we do love sprinkling in the Christmas traditions of each new wave of immigrants to New Orleans, from bonfires to reveillon to caroling. And tonight, we're letting the freshest batch of Nola residents (hipsters) bring their special form of Christmas tradition to town – cultural appropriation with a twist of irony. Enter: Krampusnacht.
If you don't want to click on the link, here's the important bit: While Saint Nicholas may bring gifts to good boys and girls, ancient folklore in Europe's Alpine region also tells of Krampus, a frightening beast-like creature who emerges during the Yule season, looking for naughty children to punish in horrible ways — or possibly to drag back to his lair in a sack. In keeping with pre-Germanic Pagan traditions, men dressed as these demons have been frightening children on Krampusnacht for centuries, chasing them and hitting them with sticks, on an (often alcohol-fueled) run through the dark streets.
Alchohol? Crazy costumes? Running through the streets fueled by alcohol while wearing crazy costumes? Sounds right up the New Orleans alley. And as such, Krampus Klaus is coming to town – specifically, on Saturday at 9pm at the AllWays Lounge. Twenty bucks gets you int 'Krampus Gras' (of course), where you can see a Krampus costume contest (clearly, you should make your own), Happy Talk Band and the Noisician Coalition. Fun times? Believe, lest you want Krampus to beat you with a stick and stuff you in a sack. Merry Kramp-mas!