POSTED Mon. Dec 16, 2013
George Rodrigue: a retrospective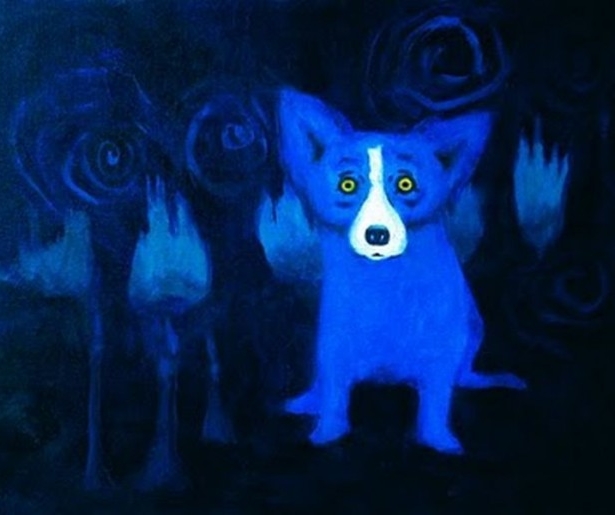 SHARE
The living members of the roster of beloved Louisiana sons was reduced over the weekend when George Rodrigue, painter of Cajun culture, folkways and life, best known for his iconic Blue Dog, passed away from lung cancer in Houston on Dec 14, 2013. He was 69.
Rodrigue was the state's most renowned contemporary artist, but he was no distant icon. Rather, Rodrigue was an active and vibrant participant in the workings of Louisiana. It was not just his work that reflected the temperament and character of the Pelican State, although that was part of his appeal. Born in New Iberia, raised on Bayou Teche and educated at Brothers of the Christian Schools and the University of Louisiana, Lafayette, Rodrigue was, through and through, of the wet soil of south Louisiana. Herein is a reflection on the man's work, and where to find it.
1 Aioli Dinner
One can be from a place and not of it. What made Rodrigue the latter was his dedication to capturing, via his art, Cajun culture, at a time when the word 'Cajun' itself was considered pejorative. While a politician like Edwin Edwards is often credited with establishing Cajun identity as a point of pride, he could not have done so if artists like Rodrigue were not reclaiming Cajun heritage via their art.
Painted in 1971, Ailoi Dinner is Rodrigue's earliest painting with humans as a primary subject. The work depicts a Cajun garden dinner, yet during the time the image was painted and the period (late 19th-century) when the painting was set, the Cajuns in the painting would not want to be called 'Cajun'. As Rodrigue's wife Wendy explains
…George's mother never claimed to be Cajun. She was French. This is true of the members of the Creole Gourmet Societies as well. As late as the 1970s, the word 'Cajun' was considered to be a derogatory label among the French and Canadian settlers. A Cajun was poor and ignorant. A Cajun worked hard and lived off of the land. When George announced to his mother after completing the Aioli Dinner that he is[sic] a 'Cajun Artist,' she was offended and begged him to reconsider this label.
Aioli Dinner can be seen in New Orleans; it splits time between the New Orleans Museum of Art and The Ogden Museum of Southern Art.
2 Early Cajun scenes
While the subject of Aioli Dinner is a Creole Gourmet Society, the swampy landscape of South Louisiana infuses the painting, and would go on to characterize and much of Rodrigue's work. And just as the land and water shapes the identity of Louisianans, so does scenery shape the people Rodrigue chooses to paint. The world he depicts has an ethereal, supernatural quality, and land, water and individuals were depicted with the same primal, surreal beauty evoked by the marshes and flooded forests of South Louisiana. Numerous renditions (not originals) of this phase of the artists' life can be found in Jolie's Louisiana Bistro in Lafayette, which is partly owned by Rodrigue's sons, Andre and Jacques.
3 The Blue Dog
The first Blue Dog, pictured above, was painted in 1984 for Bayou, a selection of Louisiana ghost stories released in conjunction with the 1984 Wor;d's Fair, held in New Orleans. Rodrigue decided to paint a version of the Cajun loup garou, or werewolf, and in so doing created the ghostly visage of the Blue Dog. At once approachable, mysterious and riotously colorful, the Blue Dog would go on to become, in the eyes of the public, a stand-in for Cajun culture and Louisiana as a whole and the vehicle for Rodrigue's considerable commercial success. Said success is most obvious at the George Rodrigue Studio, located at 730 Royal St in the Quarter.
4 Blue Dog on Veterans
This became problematic, because Cajun and Louisiana are two different things; if all Cajuns are from Louisiana, not all Louisiana is Cajun. Yet the powerful simplicity of the Blue Dog's visual appeal also allowed for a simplification of the complex cultural strata of Louisiana society; the Blue Dog was standing in front of bayous, plantations, Spanish moss, Live Oaks, crawfish, zydeco and jazz, and so all of the state became all of those things, even if those things have distinct identifies, histories, roots and roles. In the meantime, as the 1990s and 2000s rolled around, the Blue Dog itself grew into its own category of art, a nationalized, then internationalized symbol. At the same time, Louisiana itself was further integrated into a globalized world, and in the process lost some of its provincial insularity. As with any major cultural development this was a double-edged blade; the state was growing, but some of its deep cultural roots were withering. The Francais Cajun of Rodrigue's childhood was increasingly diminishing in its backyard, yet Rodrigue was increasingly a symbol for the state. His mass appeal is best realized in the 800-pound, 16-foot Blue Dog sculpture displayed at the corner of Seventh Ave and Veterans Blvd in Metairie.
5 Lake Charles murals
But even as his work gained more and more traction outside of Louisiana, Rodrigue never lost touch with Louisiana roots. He was consistently dedicated to the life and livelihood of his state. I have to come clean here: I'm not a huge Blue Dog fan. While I like the original ghost dog imagery of '80s era Rodrigue, I find the increasing inclusion of the Blue Dog in portraits and landscape work a little cheesy. But whatever; I don't have to like all of Rodrigue's work to know the man himself was a stand up guy. According t its website, The George Rodrigue Founation for the Arts raised $2.5 million after Katrina, and based off admittedly anecdotal evidence, my understanding is Rodrigue often made considerable anonymous donations to charity. In a state that frankly can have a messed up relationship with its local art and artists, this was a guy who consistently supported and fostered the talent of new generations of Louisianans. I can't dislike someone like that. His commitment to the public good seems best realized, to me, by his murals at Lake Charles Memoria Hospital in Lake Charles, LA.
6 The Dark Period
We often associate Rodrigue with the bright, the colorful and the cheerful, but I think his best work was produced during what his wife called his post-Katrina dark period, from 2006-07. In these paintings the Blue Dog is, by turns, fearful, depressed, confused and later, cautiously optimistic. It was during this phase that Rodrigue also began painting landscapes again, which I find a little ironic and frankly compelling; it speaks to the artist that he turned to nature after a force of nature – compounded, of course, by manmade incompetence and corruption – drove him to such depths. It's that kind of willingness to challenge himself, and paint through his pain, that defines a great artist.
We'll miss you, George.