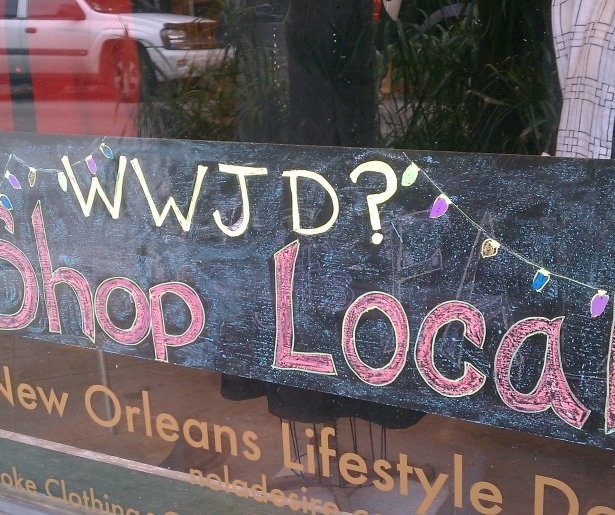 SHARE
One of the delights of being a New Orleanian is sharing the love with others who get it. At year's end, that sharing often takes the form of gifts.
Lord knows it's easy enough to find New Orleans souvenirs in the French Quarter. But if "Drunk One" and "Drunk Two" T-shirts don't quite sum up your experience of the city, there are plenty of creative locals marketing their own expressions of what it means to love New Orleans.
Marking local markets
Markets are great places to get a lot of shopping done at once.
The Piety Street Market will hold a holiday market from 11 a.m. to 4 p.m. on Saturday, Dec. 21, at The Old Ironworks, 612 Piety St.
The Arts Market of New Orleans will hold a special two-day holiday show from 10 a.m. to 4 p.m. Saturday and Sunday, Dec. 21 and 22, at Palmer Park, at the corner of South Carrollton and South Claiborne avenues.
Operating daily is the Dutch Alley Artists Co-op gallery, at 912 N. Peters St. in the French Market, 10 a.m. to 6 p.m., (504) 412-9220.
The Frenchmen Art Market will be open from 7 p.m. to 1 p.m. Dec. 19-20 at 619 Frenchmen St.
Crafty and clever
The New Orleans Craft Mafia will be holding its "Last Stop Shop" in conjunction with the Frenchmen Art Market from 7 p.m. to 1 a.m. Friday, Dec. 20, at 619 Frenchmen St. Members of the Craft Mafia include:
Bayou Salvage started off with skeleton key and lace debris accessories, and has expanded into custom-made, vintage-inspired clothing.
Bonga-Chop Designs has wallets and clothing made from recycled textiles, including some fun cartoon motifs
Flambeaux Design Company includes king cake earrings among the polymer clay jewelry items designed by Tressa Procter-King.
Lucky Nola, with its handcrafted ceramic wall hangings, ornaments, tags, and other functional home decor by Raegan Robinson. I like the "Coffee Run" tag
Miss Malaprop, who has bold rings on adjustable bands for just $12
Sweet Olive Soap Works, which counts among its 'flavors' absinthe, Sazerac, and St. James Infirmary, which "provides relief for dry, damaged skin and a lifetime of raising hell."
UP/Unique Products, which, among other things, transforms Mardi Gras beads into "Mardi Lights"; a nightlight is just $25.
Go Dutch
The Dutch Alley Artists Co-op website is a good starting place those who want to seek out handmade trinkets with a New Orleans theme at home, on their own time. Among the artists are:
Harriet Blum, who creates moody, sepia-toned and tinted photographs of landscapes filled with live oaks and Spanish moss.
John Fitzgerald, who creates fine art prints combining linoleum cuts and hand-set type
Carol Flannery, who creates lampwork beaded jewelry with themes centered on New Orleans cuisine, such as oysters, chili peppers, red beans and rice, and beignets.
Kimberly Parker creates collages of salvaged architectural objects layered with painted metal images that celebrate coastal wildlife, from crabs to redfish.
Ric Rolston and Darron Newman create lightweight tiles inspired by New Orleans street tiles.
Tracy Thomson is known for incorporating the New Orleans water meter design into potholders, pillows, prayer flags, and bandannas.
More New Orleans stuff, courtesy of New Orleans Stuff
New Orleans Stuff is an assemblage of arts, crafts, jewelry, music, and cuisine relating to the culture and lifestyle of New Orleans. Among the producers featured are:
Jenise McCardell, whose Clay Creations depict historic buildings and homes along the Gulf Coast in fine white clay, sculpted into a bas relief and fired.
The Praline Connection, offering not just pralines but also seasoning mixes for savory favorites such as gumbo, jambalaya and red beans.
Go local, online
Etsy has lots of New Orleans-themed gifts. Among the available items are:
New Orleans Saints voodoo candles from *Patois Art*operated by Brett Henderson of New Orleans, in eight designs: Brees, Payton, Thomas, Colston, Graham, Ryan, Vilma, and Smith.
Frilly, glittery second-line umbrellas from the New Orleans Umbrella Co.
Kiln-fired, flattened wine bottles for use as platters or for hanging on the wall. Labels, with New Orleans or custom themes, are embedded in the glass to preserve them and create and smooth surface. From New Orleans Glass Creations operated by Cori Levitt.
Eye-catching masks from New Orleans Masks operated by Laura Ann Guccione
Herb garden markers using New Orleans street tile lettering from Screen Door Art operated by Barbara Roberds of New Orleans.
Four seasons of seafood coasters from *Beyond the Canvas*m operated by Sarah Karlow of New Orleans.
Wear your New Orleans pride Probably the leading distributors of New Orleans shirts for non-tourists are Dirty Coast and Fleurty Girl. Besides the T-shirts, Dirty Coast has fun coasters and mouse pads, and Mr. Okra in Your Pocket. Fleurty Girl also carries street tile necklaces, and dishtowels with K&B or Schwegmann's logos.
The central T-shirt image for Nola Til Ya Die is a skull with hurricane eyes and a crooked, sheepish grin. The image is also available on a flask, a flag, or a temporary tattoo.
Among the T-shirts at Shultzilla is a "Breesy like Sunday morning" design that was on sale for $15 at this writing.
PS:Our above image? Courtesy of Bon Castor in the Bywater, a lovely local boutique that specializes in handmade New Orleans goodness. It's simply a great shop, and comes highly recommended by New Orleans & me staff.