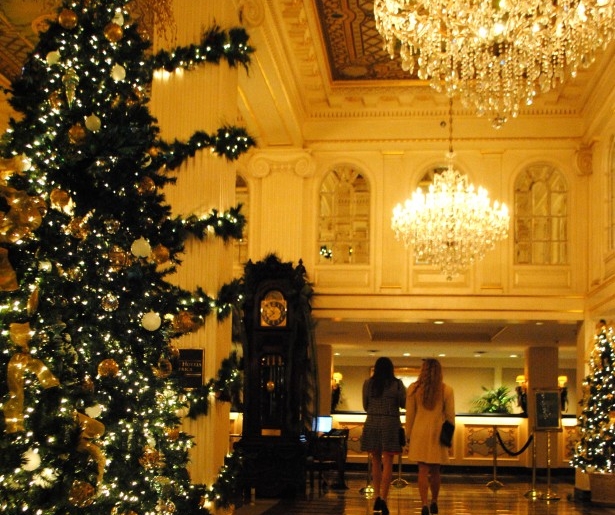 SHARE
It's officially late December. You've stopped telling Thanksgiving stories and exaggerating turkey dimensions. You've either worked through the tupperware menagerie of leftovers in your fridge, or can't stomach another turkey-stuffing sandwich. You find yourself wistfully daydreaming about what you'd actually LIKE to eat again. Good news for you: Reveillon season is now upon us and in full swing. Buck up and put your feasting helmet back on, you have duties, and dishes, to attend to.
In a nutshell: Reveillon is a long dinner, traditionally held on Christmas and New Year's Eve. The meal owes its etymology to the French word "reveil," which translates to "waking," and there are a couple theories about the relevance of wakefulness to what is essentially a decadent celebratory feast.
Some say it's because participating in a meal of this caliber involves staying up for hours and hours, unhurriedly and perhaps without a terminal point of satiation, enjoying dish after dish well into the midnight hours. It could also be related to the Catholic tradition of Midnight Mass on Christmas Eve, after which families would stay awake and go out for a giant meal together. Reveillon has also historically been held on New Year's Eve and then stretches its party legs a bit more.
These days in New Orleans we've done what we generally do to a fabulous celebration, make it last longer. Thanks to a brilliant turn of tourism in the '80s from French Quarter Festival (FQF), Reveillon now extends from just after Thanksgiving, all the way to New Year's Eve. An entire month of extravagant multiple-course meals with friends and bubbly drinks.
FQF keeps a watchful eye as participating restaurants submit menus for their 4-5 course Reveillon dinners, generally prix fixe from around $50 a person, up to a handful around $90. As much a celebration of opulent portions as flavors, diners can expect to see heavy hitters like oysters, truffles, chestnuts and foie gras. Roasted game, rich lamb and veal dishes are usual suspects as well.
In recent years more contemporary restaurants have joined the ranks beside some of New Orleans' classic Creole joints to allow for a wide spectrum of imaginations at play on Reveillon menus. Places like Arnaud's, Antoine's, Court of Two Sister's, Upperline, and the recently reopened Tujague's offer the most tradtional experience.
Newer (both in operation and in technique) establishments like R'evolution, Kingfish, and SoBou promise some unique twists on seasonal treats. All of John Besh's and Emeril's restaurants will feature a Reveillon menu as well, which could be a fun way to explore each of their concepts from within the confines of a historic culinary celebration.
FQF publishes a guide with a comprehensive list of all the participating restaurants for Reveillon this year that you can find here. Happy holidays and happier feasting!