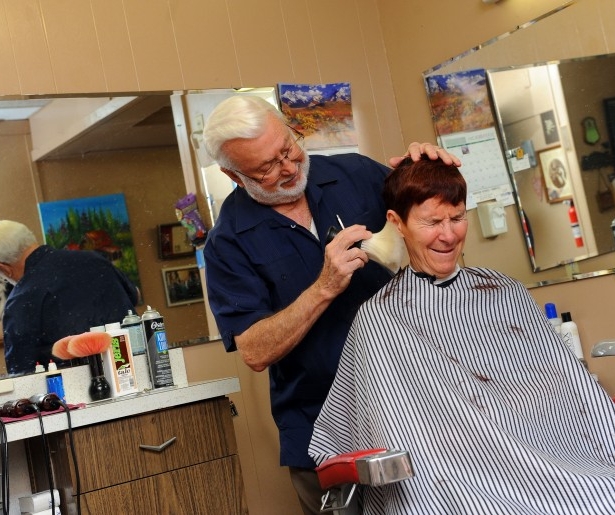 Sleepy, but can stay up all night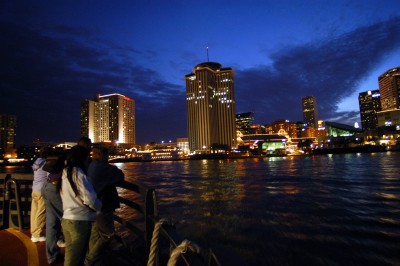 From their vantage point on what they call "the Best Bank," Algiers Point neighbors boast about the relative, almost idyllic peace and quiet – "a relief from the constant roar of the French Quarter," said resident Russell Blanchard, who recently began giving two-hour tours of his neighborhood.
Many describe the neighborhood as a small town within a city – of people who have settled down and maybe had children. But they still like late hours, on occasion, and might wear bright pink wigs on Valentine's Day, just because they feel like it.
"It's peace and tranquility with a New Orleans spice to it," said former Councilman James Carter, describing how his son and his friends ride their bicycles around the neighborhood, getting into watergun fights with historic homes as their backdrop.
Algiers neighbors track each other to an extent that might be called nosiness in other, less neighborly places. They can tell you where Cita's husband George eats dinner most nights and the route he typically takes to get there. And whenever a repairman puts a ladder outside Vanessa Thurber's home, she almost always gets a call at work. "Did you know someone is working on your house?" a neighbor will ask.
Can't get back home: ferry cutbacks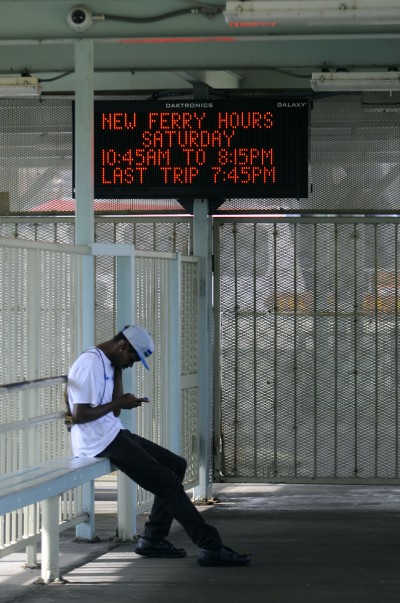 While Algiers neighbors thrive on their tight-knit isolation, they also like to be close to the action. That's made clear by recent ferry cutbacks.
When the ferries are operating, they still run every 15 minutes. But only for pedestrians and bicyclists – no cars. And instead of running until midnight, the latest ferry now leaves Algiers on Friday night at 7:45 pm. On most days, the ferries barely run through dinnertime.
The reduced schedule is the talk of Russell Templet's barbershop, a few steps from the ferry terminal. "They're hurting us real bad," said Templet, 77.
The damages listed by neighbors give a glimpse into the neighborhood itself, which has begun to cater to tourists in recent years but has long been a stronghold of service-industry workers.
Because of the new ferry schedule, guests are canceling reservations at Algiers bed and breakfasts. Even worse, the neighborhood has lost longtime residents who work nights as bartenders, waiters and hotel managers. "They could take the ferry to work, but couldn't get home," Blanchard said, noting that city buses only carry two bicycles – a staple of many ferry commuters – and that the buses depart from the corner of Elk Place and Canal Street, which is a little too far out of the protective hubbub of the Quarter to be comfortable for people carrying a night's worth of tips.
Clearly, residents say, transportation officials didn't understand they were separating the Quarter from its closest, and oldest, sibling. The history of the communities is deeply intertwined; first came the French Quarter, then eight months later, in 1719, came Algiers, said Steven Thurber, who with his wife Vanessa owns Vine & Dine, a bistro and wine bar that shares a front door with Templet's barbershop. Thurber said that the ferry would have disappeared altogether if he and many of his neighbors hadn't taken buses to Baton Rouge to plead for its existence.
Templet is certain that they're not talking about ferries in the shops across the river – which, by the way, charge double what he does for a haircut. He suspects that bureaucrats and officials simply aren't taking the issue as seriously as they should, even though Algiers holds key votes in certain elections, including Council District C, a position now in play because Councilwoman Kristen Palmer-Gislesen announced she won't seek re-election.
Templet predicts Algiers will be lavished with attention by candidates in upcoming months. "Orleans only recognizes us around election time," he said. It's a sore point. Without quiet Algiers, the noisy Quarter would be nothing, neighbors say.
Work horse for the Quarter, rail and river hub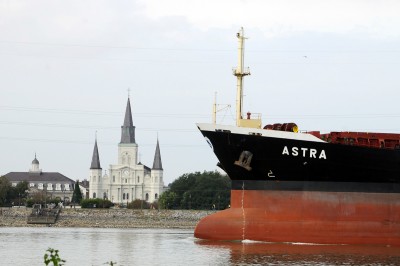 Historically, starting in the early 1700s, powers-that-be looked to Algiers for everything needed by the growing city: a holding pen for slaves who had just arrived from north Africa, gunpowder, slaughterhouses, ship-building and repair docks, and an enormous Southern Pacific Railway yard that once employed 4,000 men.
Because of those rails and ships, even working-class Algiers neighbors were well-traveled. Once, black-and-white photos hung on the walls of many shotgun houses here, of porters, firemen or brakemen posing during a New York stop with trumpeter Henry "Red" Allen, an Algiers native made good. When they came home, they'd report in with his daddy, Red Allen, Sr., who ran a busy barbershop on LaMarque Street and headed up the Henry Allen Brass Band for 45 years.
At the time, Algiers was a "through line" – a hub for transcontinental railcars loaded with goods headed to destinations around the globe. Locomotives drove onto a large train ferry to cross the Mississippi River, said James Robichaux, who writes Jimbaux's Journal, a blog about New Orleans rails.
Now the Algiers line is a mere branch off a bigger line. So most trains start and end on the West Bank, he said.
And though some older neighbors still call the neighborhood "old Algiers," its most common moniker – Algiers Point – stems from its importance on the river. Algiers Point is the navigational name for the treacherous, 120-degree bend in the river that gave New Orleans its Crescent City nickname. A federal judge's 1985 decision in a ship-collision lawsuit describes the turn as "fabled in history, beautiful in aspect and a peril to navigators."
The broad turn provides Algiers Point residents with a wide-angle-lens view of river traffic. Some, like Russell Templet's wife Sheron, 66, are regularly drawn to the levee. "When ships leave for a cruise, I'm out there like a nut, waving," she said.
Historic homes an open secret


The Point's leafy streets lined with shotguns and cottages are not well-known, even to some West Bank residents, said Amelia Reaves, an Algiers Point resident who grew up in a newer section of Algiers. Reaves first visited the Point because of an 8th-grade art assignment requiring students to draw historic homes.
"That's when I learned that there were houses that old on this side of the river," Reaves said, as she pushed her daughter Amie in a swing in Confetti Park, a popular gathering spot. "And I think a lot of people from other parts of the city still don't know that this is here."
"I like Algiers Point, because it always looks exactly the same," said Alyssa Falcon, as she celebrated her 11th birthday in the park.
That changelessness takes effort.
In recent years, neighbors have launched separate efforts to save the ferries and to save the Algiers courthouse. And to save the Cita Hubbell Library, an historic Carnegie building, located not far from the park on Pelican Street, neighbors put together a old-fashioned phone and letter-writing campaign to demand repairs, much like an Algiers neonatal nurse named Cita Dennis Hubbell did in the early 1970s.
Much of the neighborhood, including its distinct Romanesque courthouse, was rebuilt after a massive 1895 fire, though some pre-Civil War structures remain. Templet paid $3,200 – $20.04 a month – for his first home in the Point, which had been knocked off its blocks by a massive 1915 hurricane.
His housenote those days wouldn't even amount to a downpayment today. "I'm like everyone else: I think the West Bank is the best bank," Templet said. "But everyday when I pick up the paper, I can't believe the money that people get for these houses now."
Bands of brass and Indians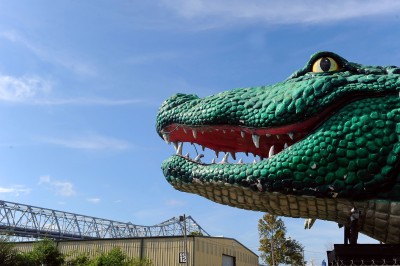 New Orleans culture spans the Mississippi, according to Carter, who grew up on the East Bank, but his wife, Algiers native Rene Lewis-Carter, is a near-celebrity on the West Bank, where she. is the principal of Martin Behrman Charter School, the area's first public school. "The linkages between the two [areas] are very clear," Carter said, noting the deep jazz history that also exists in Algiers.
In addition to Allen and his dad, jazz-history buffs often bring up early players from Algiers like clarinetist George Lewis, a key part of the traditional-jazz revival in the 1940s, and Manuel "Fess" Manetta, who taught hundreds of neighborhood kids in addition to playing violin for Kid Ory's band. Some residents wryly note that after Buddy Bolden was committed to a mental hospital, the band looked – of course – to the West Bank for a more stable bandleader: trombonist Frank Dusen.
These days, the most prominent patriarchs of Algiers culture are Ruddley Thibodeaux, who leads the Algiers Brass Band, and Big Chief Tyrone Casby of the Mohawk Hunters, the West Bank's only Mardi Gras Indian tribe, which – in another testament to the area's go-your-own-way attitude – hosts its own Super Sunday parade on the fourth Sunday in April.
The Mardi Gras Indian tradition on the West Bank dates back to Casby's uncle, Frank Casby. And the Casbys are loyal to Algiers. On Mardi Gras Day, Indian tribes from all parts of New Orleans show off their suits first in their own neighborhoods – that's an Indian tradition. But then many Indians leave home to travel downtown, to the intersection of Orleans and Claiborne , or Uptown, near A.L. Davis Park.
Not the Mohawk Hunters. They stay in Algiers.
Years ago, Mardi Gras World owner Blaine Kern – who still returns to Templet's shop to get a haircut – hosted a Mardi Gras Day parade in Algiers. But that stopped awhile back. "So we're the biggest show on earth on Mardi Gras Day in Algiers," Casby said. "And we'll never leave."
Casby also sees how the culture spans the river. Yet he works on the East Bank, where he regularly talks with people who have never been to his side of the Mississippi and have little idea about the area's deep history and culture.
Casby, like his neighbors, doesn't aspire to being overexposed and overrun like the Quarter. After all, the Best Bank can't be best unless there's something to compare it with. In that competitive spirit, he disagrees with the description of Algiers as a stepchild whose contributions have long been overlooked.
"It's not a stepchild," he said. "It's a step up."
All photos by Cheryl Gerber