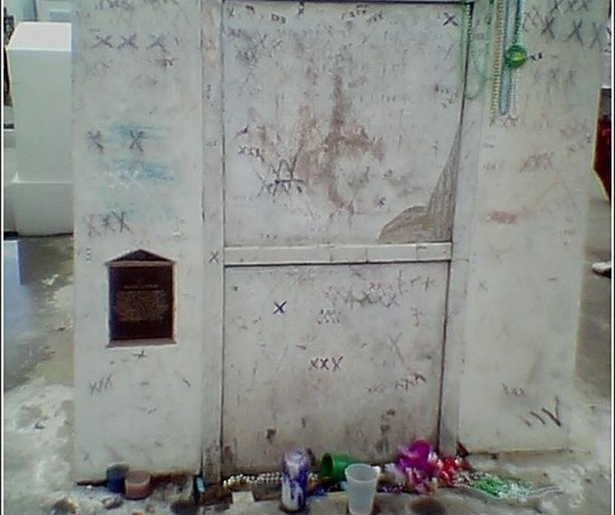 SHARE
Someone – no one else in New Orleans media has come up with a title yet, so I'm gonna make the call and label them the Pink Panther – painted voodoo priestess Marie Laveau's tomb pink.
This poor bit of local funerary architecture just can't catch a break. As the T-P article points out, hundreds if not thousands of visitors have already desecrated the grave (pictured above, pre-pinkness) with a series of 'XXX's'. The symbol is meant to grant wishes, but the Glapion/Laveau family, which has relatives interred in the crypt, rightly considers the practice vandalism.
There's a debate in the comments section of the T-P article that doesn't descend into personal attacks or hyperbole at all (sarcasm) over the intent of this latest paint job. A few people think the Pink Panther had good intentions, and was trying to cover up the triple X's. The problem is, he or she used latex paint, which is damaging to brick and mortar materials, as well as marble.
This is usually where I sign off with some snarky joke like, "Hope Madame Laveau doesn't sic a zombie on someone," but nah. I'll just say this: if you love the city's monuments and want to protect them, don't be a vigilante. Go to the authorities or the Preservation Resource Center and make your case. On the flip side, if you just want to paint a famous New Orleans landmark, in particular landmarks that are still owned by living families, and you do that without said family's permission, then, frankly, you're an asshole.
Image courtesy of Wikipedia.