POSTED Mon. Dec 30, 2013
Ring in the New Year with New Orleans & Me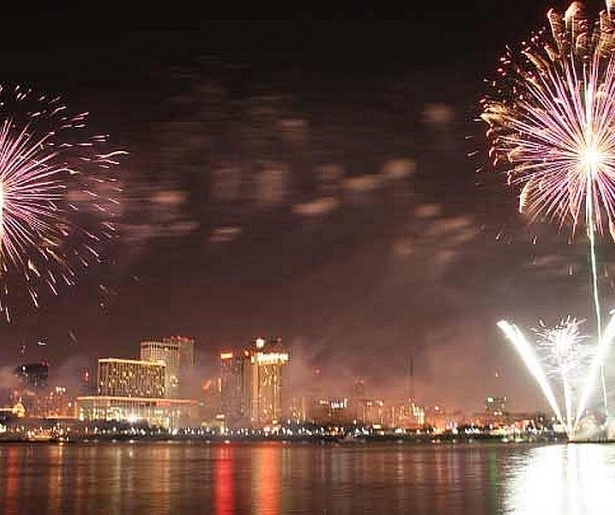 SHARE
New Orleans was recently named, after an exhaustive, scientific, peer-reviewed process (No. that's a joke) the best city in the country for New Year's Eve. But I'm guessing this is for a specific kind of New Year's celebration. When people think of New Year's in New Orleans, I doubt they think it's the perfect spot for a quiet night in with friends and family, a little Port wine and a chaste kiss at midnight while Ryan Seacrest mugs on the TV.
Nope. We're thinking of getting raging drunk and making terrible decisions that culminate in slurring the first verse of Auld Lang Syne, ramming your tongue down a stranger's throat, and a splitting hangover and greasy breakfast on Wednesday. Happy 2014.
I have done both iterations of New Year's Eve, and have tried to point you in directions that strike a happy balance between these two poles of behavior. Some of the following activities are a little more low key, and some are a little more Crazy McFunTimes. Pick your poison, and happy New Year.
1 Jackson Square (of course)
Jackson Square, as with many things New Orleans, will be the fulcrum of a lot of NYE pubic celebration. It's not Times Square (it's warmer, for one), but it's going to be crowded nonetheless. That said, the presence of crowds also lends itself to the presence of police, so people tend to get sort of crazy, but not full on cray cray, as it were. There's gonne be lots of music, including Eric Lindell and Honey SIland Swamp Band, and at midnight, fireworks pop over the river while (of course) a giant fleur de lis is dropped atop the Jax Brewery condos. Then the singularly creepy Who Dat Baby New Year lights up (see above, from 2012; image courtesy of Frank Stansbury). See Crescent City Countdown for more details.
2 The Roaring Twenties at Republic
Republic is hosting a party where the theme is 'Roaring Twenties', which is either a devilishly clever bit of marketing or spectacularly unintentionally ironic, in the sense that the '20s at this party will be both flapper outfits and a largely college age and over crowd (the admission is '18 and over for the ladies, 21 and over for men' – can't have some 19-year old guy screwing up a just legal gents game, can we now?). You're expected to come in your best Gatsby-esque attire. Aerialists, burlesque and DJs shall abound. Above image courtesy of Republic.
3 Live bounce at the Hi Ho
Live bounce is kicking off at the Hi Ho Lounge – six bounce performers breaking it down, hosted by DJQ. Major perks for this fun? No cover. That's a deal on NYE, when every bar tries to push you into an all night ticket so you can swill cheap champagne from an open bar packed with half the student body of Loyola. Also: it's a live bounce show with six performers. C'mon.
4 Rebirth at The Maple Leaf
I don't like to hyperbolize too much on this site, but I think we can all agree on this: Rebirth is one of the best brass bands in the city. And they will be playing at the Maple Leaf at 10pm. I don't tend to like big crowds on NYE, but I'd brave what is almost certainly going to be a packed house for this show. Image courtesy of Rebirth.
5 Cajun jams at Rock 'n' Bowl
Don't fancy bounce or brass? Rock 'n' Bowl's party is headlined by Cajun music masters Tab Benoit and Amanda Shaw. The fais-do-do gets rolling at 8:30pm. Above image (of Tab Benoit) courtesy of the Rock 'n' Bowl.
6 Brass Bed at Gasa Gasa
To focus a little on NYE for the indie and folkster set, we head out on Freret St, where Gasa Gasa*is hosting local talent Brass Bed at 9pm. NPR producer Robin Hilton, co-host of *All Songs Considered, named Brass Bed's album The Secret Will Keep You as one of his top 10 albums of 2013. Above image courtesy of Gasa Gasa.
7 A literary Masquerade Ball
Finally, the Hands-On Literary Festival is hosting their own masquerade ball at 8pm at the Prytania Bar (3445 Prytania). Some of the city's leading local literary lights will be there (hopefully they won't shank me for that onerous alliteration), coming off of panels on writing horror, sci fi and fantasy – the sort of thing that always gets me in the mood to welcome the coming year (that's not sarcasm. Really, that sounds like lots of fun).